Aloo Tikki. Pan-fried potato patties that are crispy on the outside and soft inside. These are delicious, indulgent, and stuffed with the goodness of cashew nuts and raisins.
Aloo Tikkis are one of the most popular chaat aka street food items in the Indian subcontinent. Each region is known for its version of the best available aloo ki tikki. Potatoes are the hero here. Actually, they are the star here if I'd say so. Potatoes or aloo are much loved nationwide. There are endless recipes galore. You could say that these are the Indian equivalent of hash brown.
I have a big soft corner for all things that spell chaat. Delhi is home and Aloo Tikkis are big there ! The people of Delhi love their food, street food in particular. Evenings in Delhi are busy for all the street-side vendors. My Dad and my husband are from UP; they love their potatoes and aloo tikkis are their all-time favorite!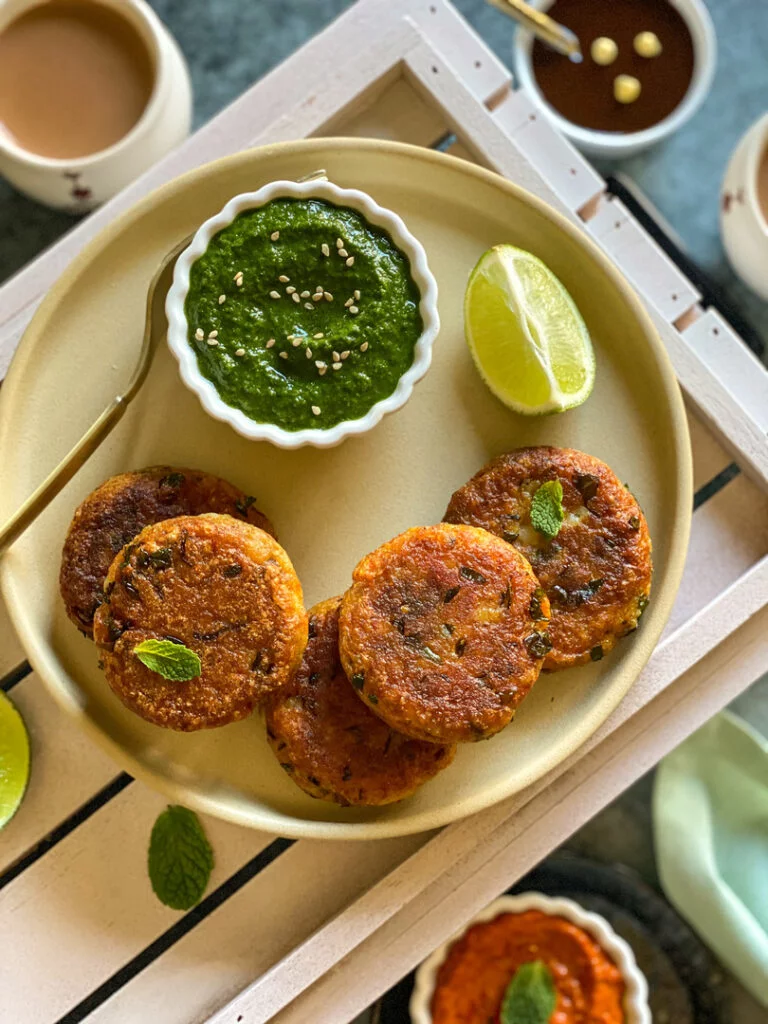 To make aloo tikkis, potatoes are simply mashed, mixed with spices and herbs, and pan/ deep-fried thereafter. To make them indulgent, there is an option to stuff them with dry fruits, crumbled khoya, or paneer. I like to add some cashew halves and a couple of raisins whenever there are festivities. The essence lies in adding the right flavors and then frying them well so that they are crispy and soft at the same time. I do not fry them twice like they usually would in restaurants or roadside vendors.

To begin with, I usually like to ensure that the potatoes are good and once they boil, they should not soak any extra water. Any excess moisture in the potatoes will not let the potatoes bind well to make good tikkis. I like to add 1-2 tbsp cornstarch for that crispiness that makes tikkis so special. Breadcrumbs help to bind the potatoes in case the latter are soft, although they are not mandatory always. You may omit the breadcrumbs if you want to avoid gluten and add powdered oats instead.

Usually, aloo tikkis may be deep-fried as we all have seen at street-side vendors and weddings. However, to avoid the extra oil, I prefer to pan-fry them in a cast iron pan/ skillet as well. Pan-frying helps to get that beautiful golden sear as well. I love my cast iron pans. They heat slowly and ensure slow, even cooking.

Aloo tikkis are best served hot straight off the pan with a sauce and chutney of your choice. I also like to turn hot aloo tikkis into a chaat and serve alongside a creamy yogurt sauce, and the very famous green and tamarind chutneys.
While this is the most authentic aloo tikki recipe, I also like to mix different vegetables in various combinations to make healthier versions for my family. My personal favorites are with beetroots, edamame, and spinach. I like to add masala oats for that texture; oats make an excellent binding agent as well.

We love these aloo tikkis. They are a favorite at home and this is a wonderful recipe. Hope you make these for Holi or the next time you have a get-together with family and friends. I can definitely vouch for its authenticity and taste!
Aloo Tikki
Aloo Tikki. Pan-fried potato patties that are crispy on the outside and soft inside. These are delicious and very indulgent.
Ingredients
4

Large Potatoes

2

tbsp

Cornstarch

1

tsp

Red Chili Powder

1

tbsp

Grated Ginger

2

Green Chillies

finely minced

½

cup

Coriander leaves

finely chopped

1

tsp

Lime Juice

1

tsp

Chaat Masala powder

½

tsp

Garam Masala powder

½

tsp

Roasted Cumin powder

1

tsp

Salt

4-6

tbsp

Oil

for pan frying

6-8

Cashew halves

6-8

Small Raisins
Instructions
Boil the potatoes. You could use a pressure cooker, instant pot or boil them in a pan on the stove.

Once they have boiled well, remove from the water immediately. Peel them and keep them aside to cool.

Once cool, mash them evenly using a potato masher or else grate them into a mixing bowl.

To the potatoes now add all the dry spices, ginger, chillies, coriander leaves, cornstarch, lime juice and mix everything very well. Make sure there are no lumps.

Oil your palms very slightly and divide this potato mixture into equal portions.

Take one portion, shape into a sphere, flatten it on one palm and place a cashew and raisin, or you may choose to add either one of the two. Bring the side together so as to make a sphere again and gently flatten into a tikki/ patty shape. Follow the same procedure for the other tikkis too and keep them aside.

Heat a pan and add 2-4 tbsp oil. A cast iron pan works very well here and give a very good golden brown sear to the tikkis. Pan fry the tikkis for 2-4 minutes on each side until you get a beautiful golden brown on both side. Traditionally, these tikkis are deep fried. That is completely your choice.

Fry all the tikkis in a similar way; add more oil whenever needed. Remove the tikkis on a paper towel.

Serve hot immediatelt with chutneys and/ or a sauce of your choice.