Baigan Bharta is a spicy roasted eggplant vegetarian dish that is extremely popular in North India. It is flavorful, delicious, and comes together very quickly.
Baigan. Eggplant. Aubergine. It is one of my very personal favorite vegetables right from childhood. I love all cooked versions of eggplant and we have so many dishes across our country and even outside.
I grew up in Delhi and Baigan Bharta made this way is extremely popular there. My Dad is from Western Uttar Pradesh and they usually eggplant with potatoes in a tomato base. Eastern UP on the other hand enjoys a roasted eggplant mash but that isnt cooked any further. They usually mix in chopped onions, garlic, chili, salt and a dash of raw mustard oil to finish it off.
So because I was born and grew up in Delhi, this became my favorite version. While Mom made a delicious version that was simple, delicious, and without any frills. We also had a helper as kids who cooked sometimes whenever Mom was at work. He made a mean Bharta if I may call it that. I have seen him cook a few times and he made sure to mash and smash the roasted eggplant so well while cooking the bharta in the kadhai. The end result used to be a smooth, lump-free bharta that would taste so good with ghee-smeared hot rotis.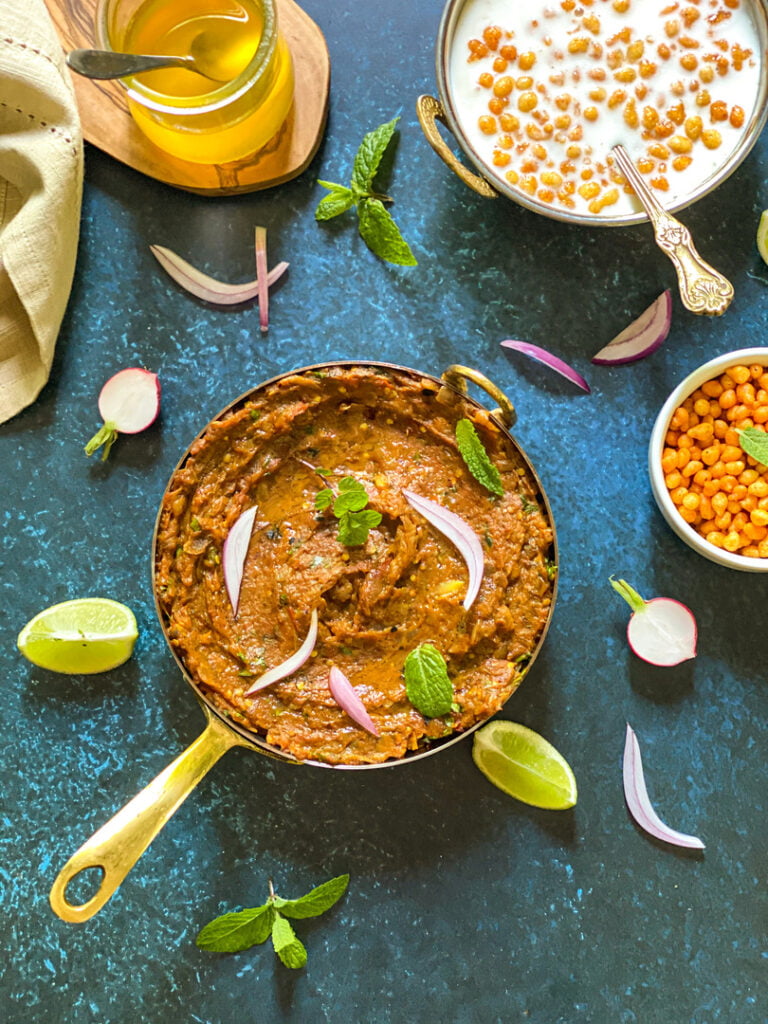 The recipe is extremely easy and straightforward. It comes together so quickly once the eggplant is roasted. One can roast the eggplant in an oven or on a gas flame; the latter is the more traditional and easier way back home and I like to follow that.
After roasting, the only steps are to peel, mash and cook the eggplant with onions, tomatoes, and basic spices. My personal preference is to continuously stir and saute the mixture so that it is smooth and lump-free. Once ready, I like to serve this along with ghee rotis or parathas.
I'd love to know how you liked this recipe !
Baigan Bharta
Baigan Bharta is a spicy roasted eggplant vegetarian dish that is extremely popular in North India. It is flavorful, delicious and comes together very quickly.
Ingredients
1

Large eggplant

2

tbsp

Oil

2

Garlic cloves chopped

2

Green chillies

1

inch

Ginger chopped

1

Large red onion

finely chopped

4

Small red tomatoes

finely chopped

1

tsp

Red chili powder

1

tbsp

Coriander powder

Salt

to taste

¼

cup

Coriander leaves

finely chopped

1

tsp

Ghee

optional
Instructions
Wash and dry a large eggplant. Rub some oil all over and roast the eggplant directly on a gas flame. Turn every now and then until it gets roasted evenly and completely.

Once you have checked that is well roasted and completely cooked from inside, remove from heat and keep aside on a plate.

After it has cooled, remove the skin and discard. Mash the cooked eggplant well using a fork.

In a mortar pestle preferably or a small grinder, coarsely grind the garlic, ginger and green chilies into a coarse paste.

Heat a pan or a kadhai and add the oil. Add the coarse ginger garlic chili paste and saute for 2 minutes. Add the chopped onions and saute well until light golden brown on medium flame.

Now add the tomatoes, mix and cook for a few minutes until they soften and mash well. Add the chili and coriander powders and mix well again.

To this now add the mashed, roasted eggplant and give everything a good mix. Add salt to taste and on medium flame, continuously keep sautéing and stirring the eggplant mash until it all comes together and changes color. This should be done for around 6-7 minutes until the quantity reduces a bit and the bharta comes together.

Add 1 teaspoon ghee and chopped coriander leaves to the cooked bharta and remove from the flame.

Serve hot with fresh hot rotis or parathas.