Bathua Paratha. Parathas stuffed with bathua, a seasonal winter leafy green. Bathua is also known as Chenopodium album or lamb's quarters in English.

Bathua. Chenopodium album or lamb's quarters is extensively cultivated and consumed in Northern India as a food crop known as bathua.

Bathua leaves possess many nutritional qualities which can do wonders for your health. Bathua also has the essential minerals and antioxidants. It is a powerhouse of Vitamin A, C and B complex vitamins. The leaves are also a good source of amino acids too. Minerals like iron, potassium, phosphorus and calcium are also present in abundance in Bathua. Rich in fiber and water content, bathua also cures constipation(due to its laxative properties). Bathua's role in keeping your liver healthy has also made these lovely greens.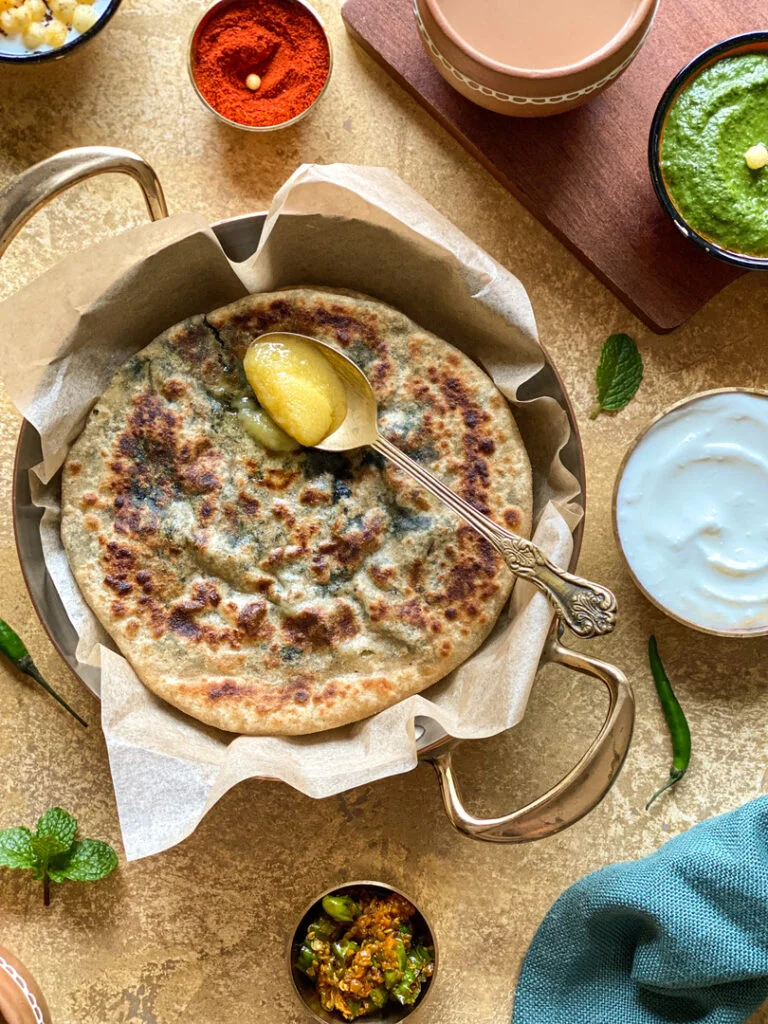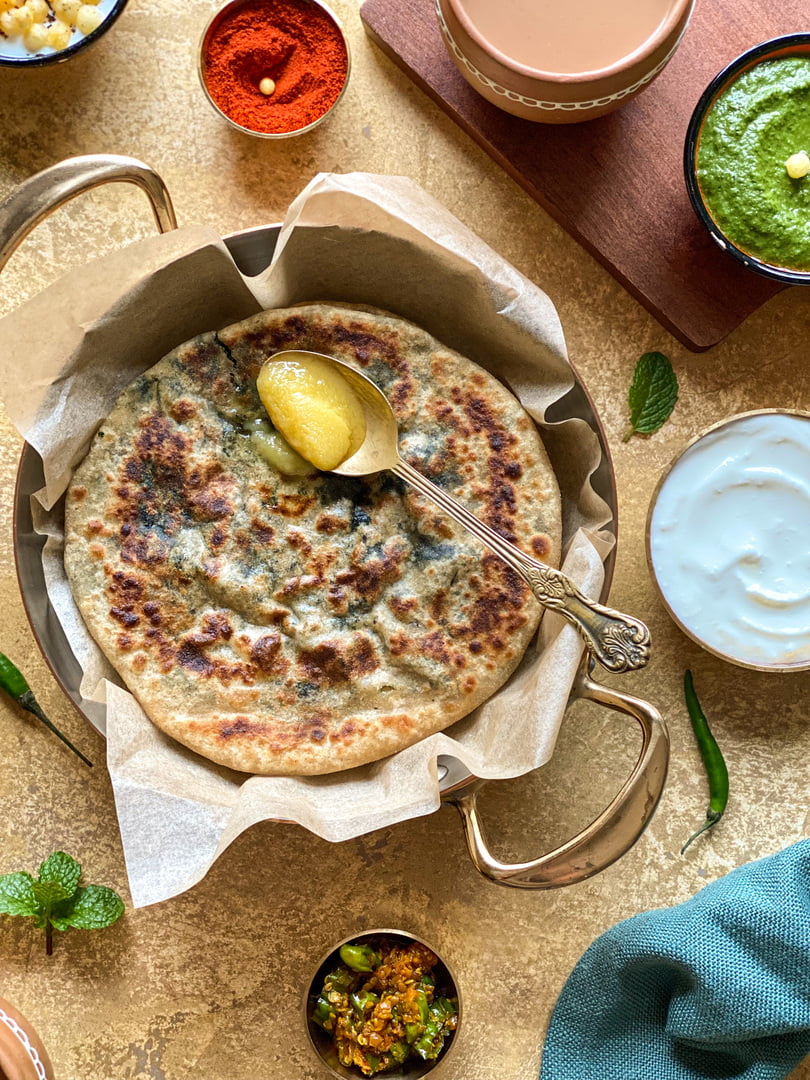 Bathua is available at most Indian vendors/ stores. You must always choose the firm, dark green variety. They are sharp, bitter and yet very delicious. We grew up in North India. Bathua grows in abundance in that region hence making it very popular. People adapted to eating this seasonal winter green as a part of their diet during the cold, winter months.

Our Mom and grandmothers used bathua as a part of their cooking once seasonal bathua was available in the local markets. The most common ways to eat these leaves are in stir fries, saag, rotis, parathas, poori and raita. My personal favorites are bathua paratha and raita. The raita is a delicious and healthy way to consume fresh yogurt and cooked batha together.

Bathua can't be consumed raw. Mom makes delicious stuffed Indian flatbreads, both rotis and parathas. Since it is winter here and I am so lucky to get good bathua here in the USA, I knew I had to blog this recipe.

I start by making a regular chapati/ roti dough using wheat flour and water. It must rest for sometime before we start making the parathas. Alongside, clean the bathua leaves and discard the stems. After washing and rinsing well, I blanch the leaves in boiling water for a couple of minutes and remove. Once they are cool, I rinse all the excess water and squeeze very, very well using the hand. Keep aside and let it rest on a kitchen roll. In a bowl, mash the blanched leaves well using fingers.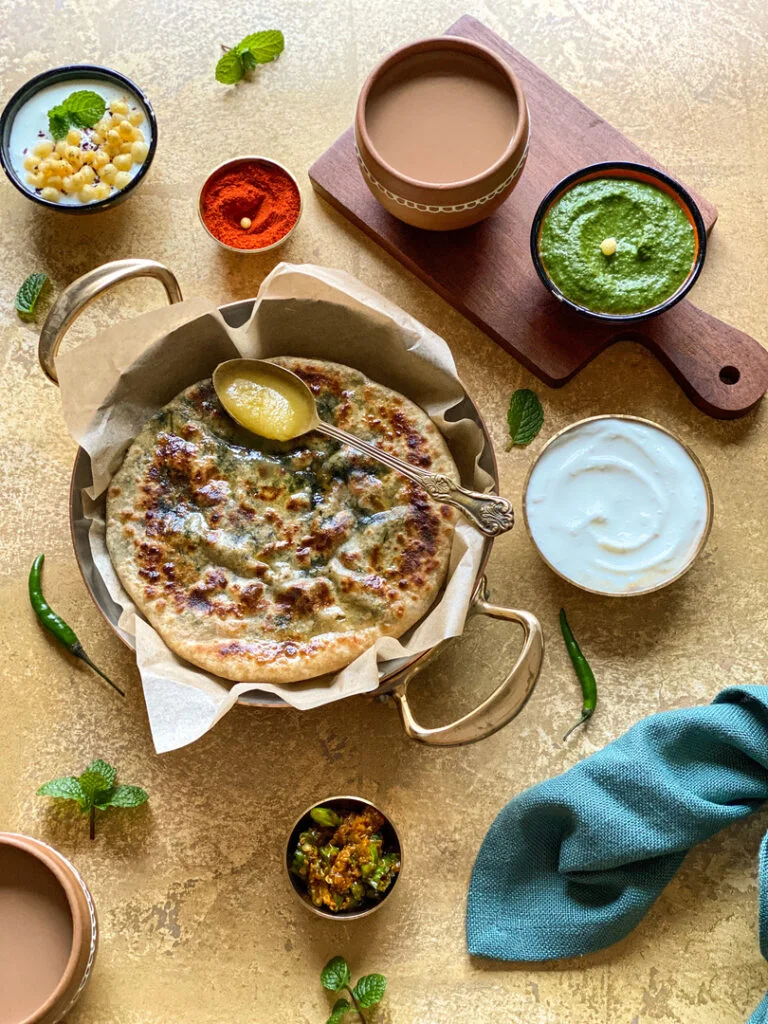 This process is very easy and mom has always mashed the leaves like this. After adding the spices, the mixture is ready for making delicious stuffed rotis or parathas.

My recipe below is very straightforward and I am sure you will love these parathas. Please feel free to ask and do not forget to share your pictures!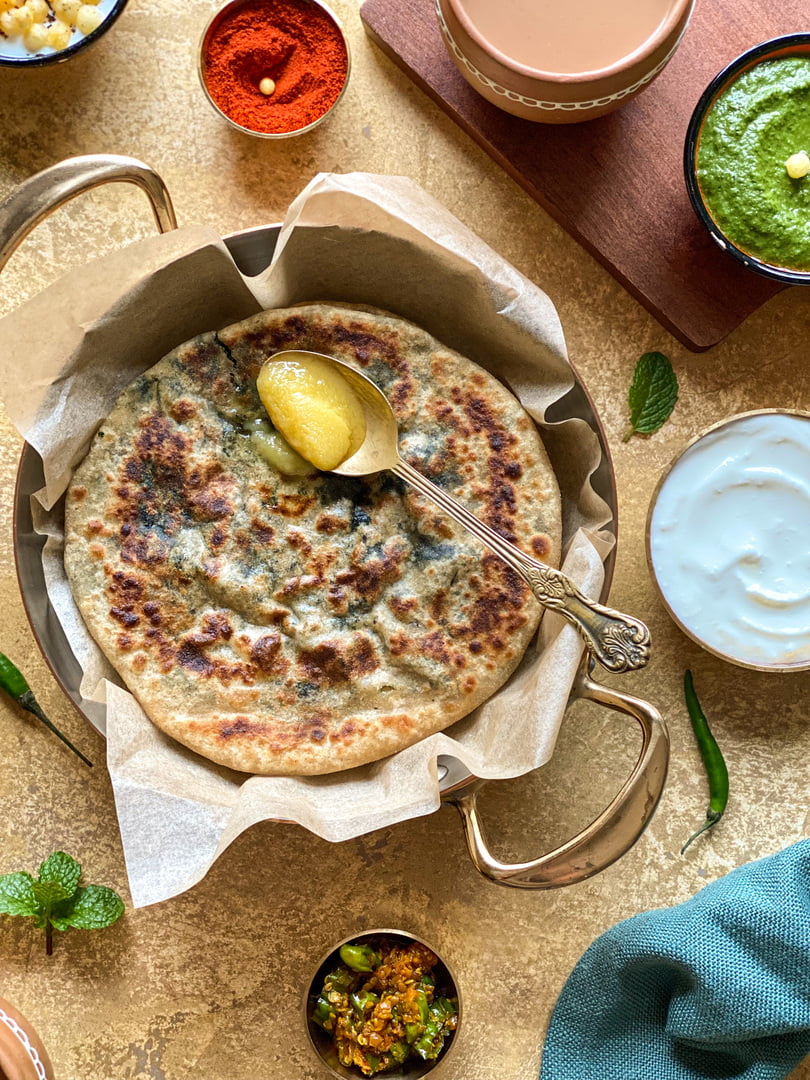 Bathua Paratha
Bathua Paratha. Parathas stuffed with bathua, a seasonal winter leafy green. Bathua is also known as Chenopodium album or lamb's quarters in English.
Ingredients
For the Dough
1.5

cup

Whole wheat flour/ Atta

(plus some extra for rolling the parathas)

1-2

tsp

Oil

Warm water

(as per needed)

1

tsp

Salt
For the Bathua leaves filling
2

bunches

Fresh Bathua leaves

1

tsp

Red Chili Powder

1

tsp

Coriander Powder

1

tsp

Cumin powder

1-2

Green chilies, crushed

½

tsp

Saunf, crushed

¼

tsp

Ajwain

½

tsp

Freshly grated ginger

Salt

(to taste )

Oil or ghee for pan frying the parathas
Instructions
To make the Dough
Take a large mixing bowl, or the traditional big platter. Add the flour, salt and oil.

Give everything a good mix.

Now slowly begin to add the warm water and begin mixing with the flour using gentle hands. While kneading, let the flour come together to form a soft yet pliable dough. The water may vary as per personal preference and the flour you may use. I used a little over half a cup.

To make good parathas, the kneading process is the key. You must knead for over 5 to 7 minutes, sometimes even 10 minutes. Feel free to add a few drops of water in the process if the dough feels dry or tight.

Once the dough is ready, cover with a wet/ damp soft cloth and set aside to rest for 20 to 30 minutes.
To make the Paratha Filling
Clean the bathua leaves, discarding the stem and separating the leaves only.

Wash the leaves very well and keep aside.

In a pan, boil 4 cups water and add the bathua leaves. Blanch for not more than 5 minutes and remove using a sieve.

Using a spoon, press the leaves on the sieve so that all excess water is removed. Collect the leaves in your palm, and using both the hands, squeeze all the excess water.

Transfer the leaves in a bowl and using your fingers mash them well. Since they blanched and soft, they will mash easily, do not use a grinder.

To this now add the spices, red chili powder, coriander powder, cumin powder, saunf, ajwain, grated ginger, green chilies and salt. Mix this well and keep aside.
To make the Parathas
Heat a pan/ tawa/ cast iron griddle on the stove top on medium flame. Keep a bowl with dry atta/ flour ready and a bowl of oil/ ghee on the aside.

Divide the resting atta/ dough into 6 equal portions and make equal spheres and keep them covered on the side.

Take one dough portion and dust it in dry flour. Using a rolling pin, roll into a 4 to 5 inch circle on your rolling board/ surface. Take about 2 tablespoon of the bathua filling and place it in the center. Leave 2 inch space around the sides. Carefully, collect and bring together the sides of the dough, pleating in the process. Make sure this stuffed dough is symmetrical.

Dust some flour around the stuffed dough again and roll this gently into a 6 to 7 inch circle/ paratha. Be gentle and ensure it is uniform while rolling. Do not press too hard.

Transfer this rolled out dough on to the hot griddle. After about 30 seconds, flip this over to the other side. Make sure the griddle is on medium heat and not cold, else the paratha will not cook well.

Brush about 1 tbsp oil/ ghee uniformly on the side that is facing you, it will be light brown that time. Flip again and let the bottom side cook. Brush oil now on the second side. Flip and cook again until both the sides are light golden brown. Being gently while oiling and flipping is the key here.

You may choose to only cook on both sides without applying oil to make stuffed rotis and instead apply ghee on one side once the paratha has cooked well.

Make all the bathua parathas in the same way and store them in a casserole.

Bathua parathas are best served hot with plain curd/ dahi and some green chutney/pickle of your choice.