This Beetroot and Chickpea Salad is the best salad you will make over the summer. We have been enjoying this salad at least twice if not once a week definitely for the past two months. It is packed with the goodness of beetroots and chickpeas, herbs of your choice, and a fantastic vinaigrette that will want you to go for second and third helpings.
I love a good salad, but with everything else that keeps me busy, I rarely get to make one for myself. I usually put together whatever is available at dinner time for all of us and finish it off with the basic seasoning and some lime juice. Hearty salads were a convenient working lunch back in Singapore. They were perfect for that hot and humid weather and made life very comfortable.
My obsession with Beetroots is very new and very, very real. As a kid, I remember not relishing it all whenever Mom served it as a salad. An occasional piece here and there was fine, but it was not an integral part of my diet until very recently. The husband started to include beets in his diet for the past couple of years and we followed suit. After a recent (health) diagnosis, I have religiously included beetroots in my weekly grocery list and my daily diet. And because I am always on the lookout for quick and easy hacks to incorporate beets, I happened to put this salad together one day and we fell in love instantly.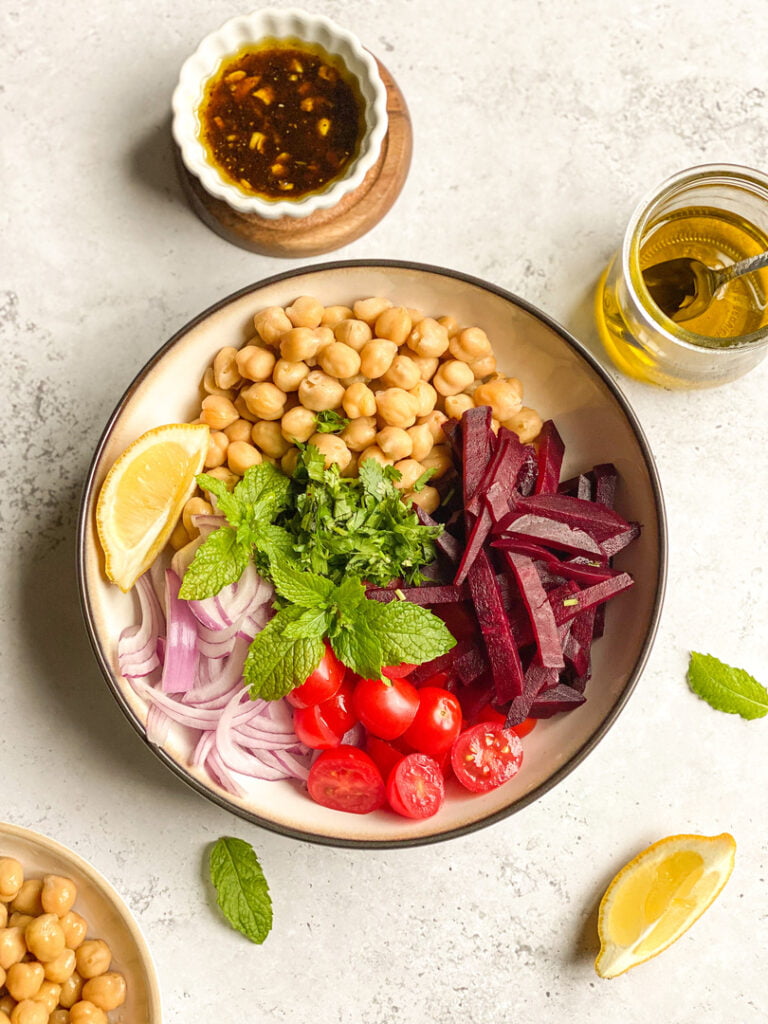 Beetroots are a great source of fiber and vitamin C. Beetroots are delicious when raw but more frequently cooked as well.
Beets have an impressive nutritional profile. The carbs in beetroots are mainly simple sugars, such as glucose and fructose and yet they are low in calories. They are also very delicious and easy to incorporate into one's diet.
Beets can be juiced, roasted, steamed, or even pickled. Personally, I try to roast or pressure cook them on a Sunday for the entire week and store them in the refrigerator. Doing so is convenient and one doesn't get overwhelmed or rushed as a result.
I have used boiled beets here along with some boiled chickpeas. Summer is all about fresh herbs so I have liberally used homegrown fresh mint here. I love the crunch of chilled red onions and cucumbers so feel free to add those as well. For this salad, I have created a very flavorful vinaigrette that is truly lip-smacking. It has some good quality balsamic vinegar, cold-pressed extra virgin olive oil, and a hint of coconut sugar. Salt freshly ground black pepper and a dash of lime juice finish complete the dressing. After mixing everything well, I add some good quality feta cheese crumbles and chill the salad in the refrigerator.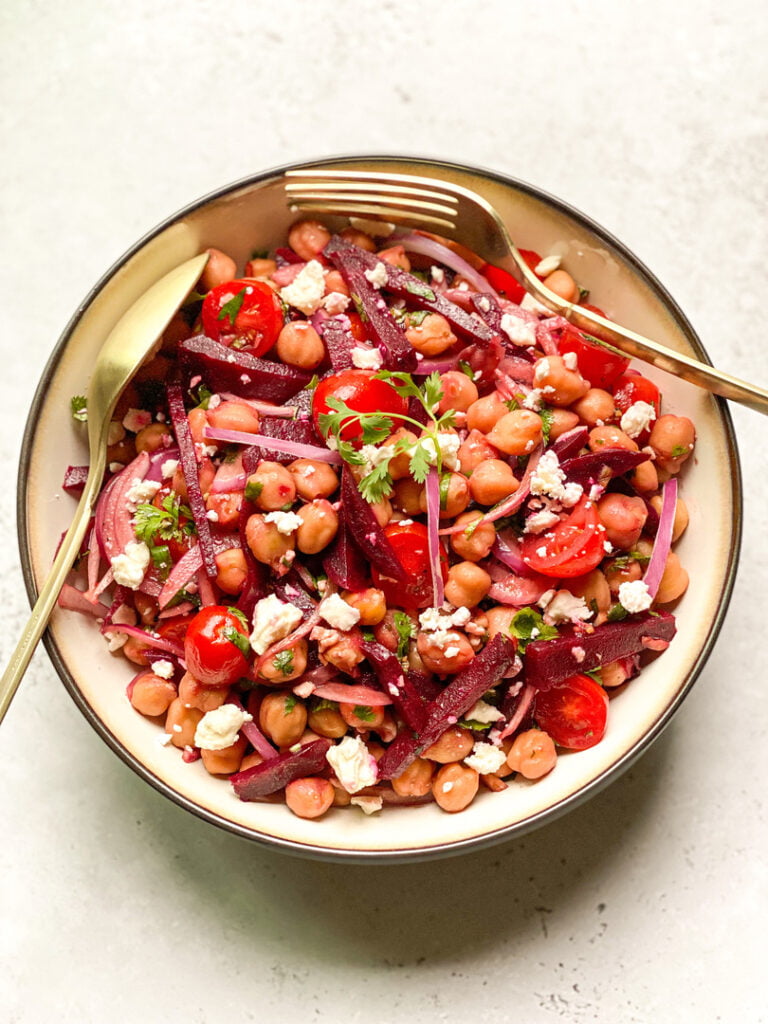 This beetroot and chickpea salad is perfect as a side on your dinner table. It even serves as a complete and filling meal at lunch if you choose to add some cooked quinoa. Hope you make this salad very soon for your family and friends. Don't forget to share pictures and tag #mymasalabox
Beetroot and Chickpea Salad – The Best Summer Salad
Beetroot and Chickpea Salad is the most refreshing summer salad. It is filling, hearty and packed with all the nutrition.
Ingredients
For the Salad Vinaigrette
¼

cup

Balsamic Vinegar

aged, good quality

½

cup

Extra Virgin Olive Oil

good quality

2

tbsp

Fresh Lemon Juice

1

tsp

Coconut sugar

½

tsp

Coarsely ground black pepper

1

clove garlic, minced

Salt

to taste
For the Salad
2

small cooked/ steamed/ roasted beetroots

thin slices/ wedges

2

cups

cooked and drained chickpeas

1

small red onion finely sliced

¾

cup

chopped cucumbers

½

cup

cherry tomatoes

halved

½

cup

roughly chopped mint leaves

½

cup

roughly chopped cilantro leaves

¼

cup

feta cheese crumbs
Instructions
Combine the olive oil, balsamic vinegar, coconut sugar, minced garlic, salt and pepper for the dressing in a glass jar with a lid and close the lid. Shake the jar well until the ingredients are well combined.

In a mixing bowl, add everything for the salad except the feta. Give this a rough mix.

When ready, drizzle 2-3 tablespoon of the dressing from the balsamic vinaigrette prepared earlier. Toss the salad well, cover and refrigerate for about 20 to 30 minutes.

When ready to serve, mix in some feta cheese crumbs and transfer to a serving bowl.

Serve immediately and enjoy !
Notes
You may substitute coconut sugar with honey or date syrup.
Feel free to add lettuce or any other salad leaves.
Feel free to add any herb combination; some days I only add fresh basil and it is so good.
Add cooked quinoa if you want this to be a full meal at lunch.
The beetroots may be steamed/ pressure cooked/ roasted.