Besan Ladoo. One of the most popular ladoos made using gram flour, ghee and sugar across India for Diwali and many other celebrations and/ or prayers.

Ladoos, besan ke ladoo in particular, are mandatory on Diwali. They're made in almost every house on Diwali across the country with a lot of love and enthusiasm.

Growing up, Mom never made besan ladoos at home. We would usually get them from our favorite sweet shop in Bengali Market, Delhi.Now that I think about it, we weren't such big fans of these ladoos too. It was usually milk-based mithai for us, like barfi, kalakand, coconut sweets, and gulab jamun.

The husband on the other hand has always adored these ladoos. My mother in law has made besan ke laddoo for him very often. We still go back to find a box of freshly made ladoos waiting for us. It was but obvious that I began to make these ladoos after I married, more often now that we are a family of four, and the girls love, love these.

We wait for Diwali and then the winter months here to enjoy these ladoos. I usually try to look out for the coarsely ground besan popularly known as Ladoo Besan. This type of besan gives a delicious crunch and bite to the ladoo. If you like your ladoos smooth, you may go for the fine besan.

Besan is a super fine flour made from chana dal. This flour is gluten-free and its binding nature makes it an essential ingredient for making Indian sweets, cookies like the nan khatai, fritters, crepes, etc. It is high in protein and has good fats that makes it very attractive as an alternative flour.

The most important tip in making a good besan ladoo is to roast the besan well. It will just not taste right if the besan is undercooked or overcooked.The heat must be kept a low/ low-medium at all times to ensure even cooking. You will able to see a light golden brown color and smell a beautiful nutty aroma.

The process of making these ladoos is not overwhelming at all; you just have to follow the recipe and directions well and patiently cook the besan and ghee.

Make these ladoos next time and you will love them. Do let me know how they turned out for you.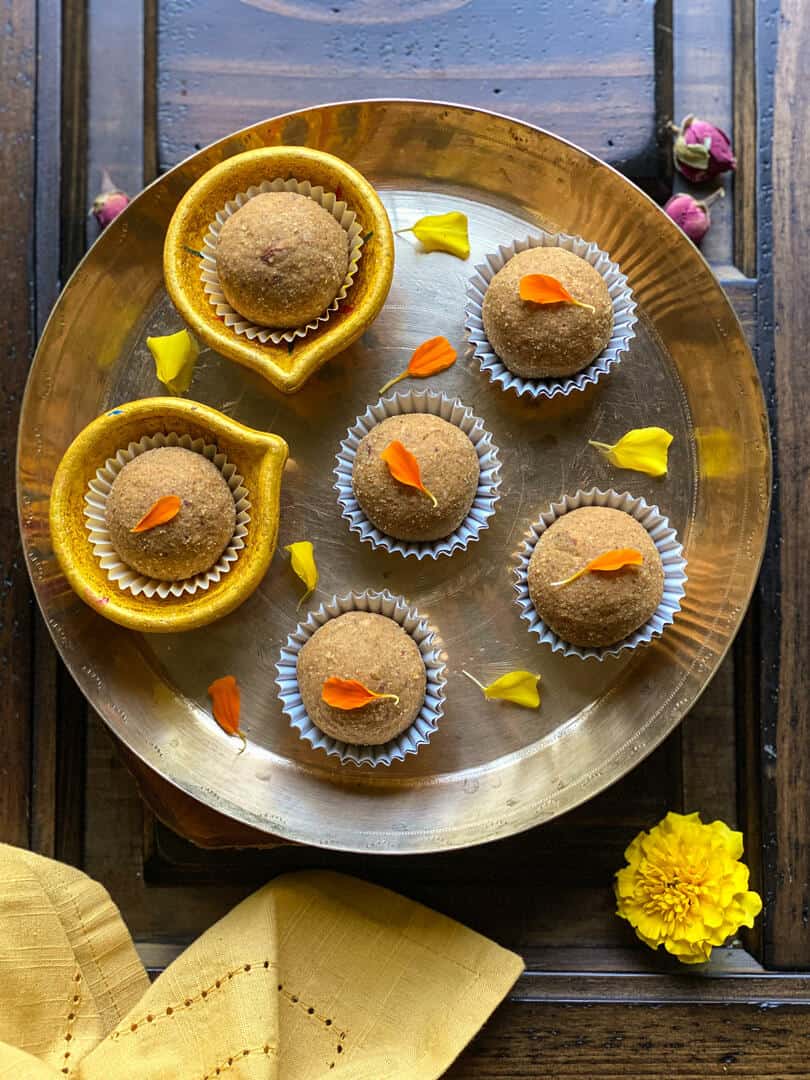 Besan Ladoo
Besan Ladoo. One of the most popular ladoos made using gram flour, ghee and sugar across India for Diwali and many other celebrations and/ or prayers.
Ingredients
2

Cup

Besan/ gram flour

3/4

Cup

Powdered Sugar

1/2

tsp

Cardamom powder

3/4

Cup

Almonds

(optional)

1/2

Cup

Ghee

(may need 2-3 tbsp more)
Instructions
If you will use almonds, first in a tablespoon of ghee, lightly roast them and keep them aside. Once cool, coarsely grind them.

In a heavy-bottomed pan/ kadhai, start dry roasting the besan on low to medium flame so that it roasts well and doesn't burn.

This may take around 12-15 minutes; you will begin to smell a nice, nutty aroma once the besan gets roasted well and the color will change to a light golden brown.

Separately melt the ghee and keep it ready.

Mix the soft ghee in the besan and keep stirring for about 5-7 minutes more till it mixes well and there is a nice aroma. I like a nice, golden brown color for my ladoos.

Feel free to add 1 to 2 tablespoons of ghee if the mixture looks dry.

Switch off the flame and keep the pan aside.

Add in the sugar, cardamom, and the ground almond and give this a very good mix.

Once warm and comfortable to handle, you can start making the ladoos. You may rub some ghee on your palms to smoothen the ladoo making.