Bharwa Shimla Mirch – Bell Peppers stuffed with Spiced Potatoes. Green Bell Peppers stuffed with a spiced potato filling. A delicious North Indian vegetarian side dish.
Bharwa Shimla Mirch is nostalgic about growing up in Delhi. It is not an everyday/ weekly dish in most households. But it is one of the very special vegetarian side dishes in North Indian cuisine. It makes use of small to medium-sized green bell peppers/ capsicum/ shimla mirch as we popularly know them in the North. These raw green capsicums are stuffed with a delicious mashed potato spiced filling and then slow cooked thereafter. The seasonal green bell peppers are very flavorful and they pair so well with the spiced potatoes.
We grew our own capsicums this season in our little kitchen garden. The entire process and the harvested organic, clean produce were so gratifying.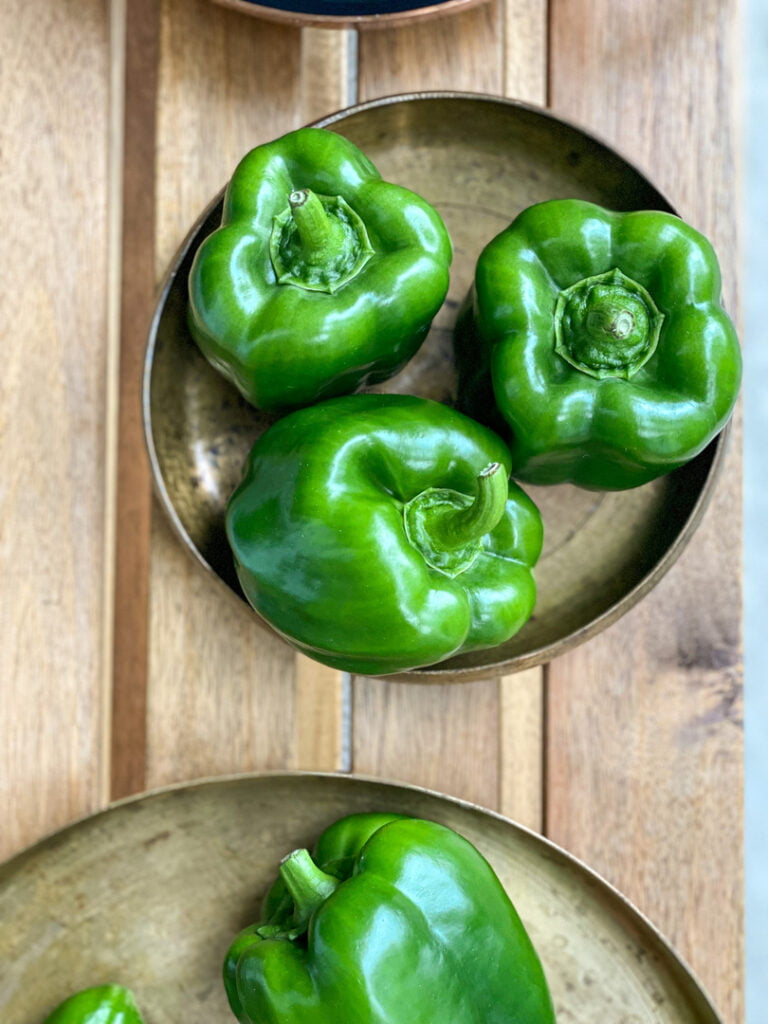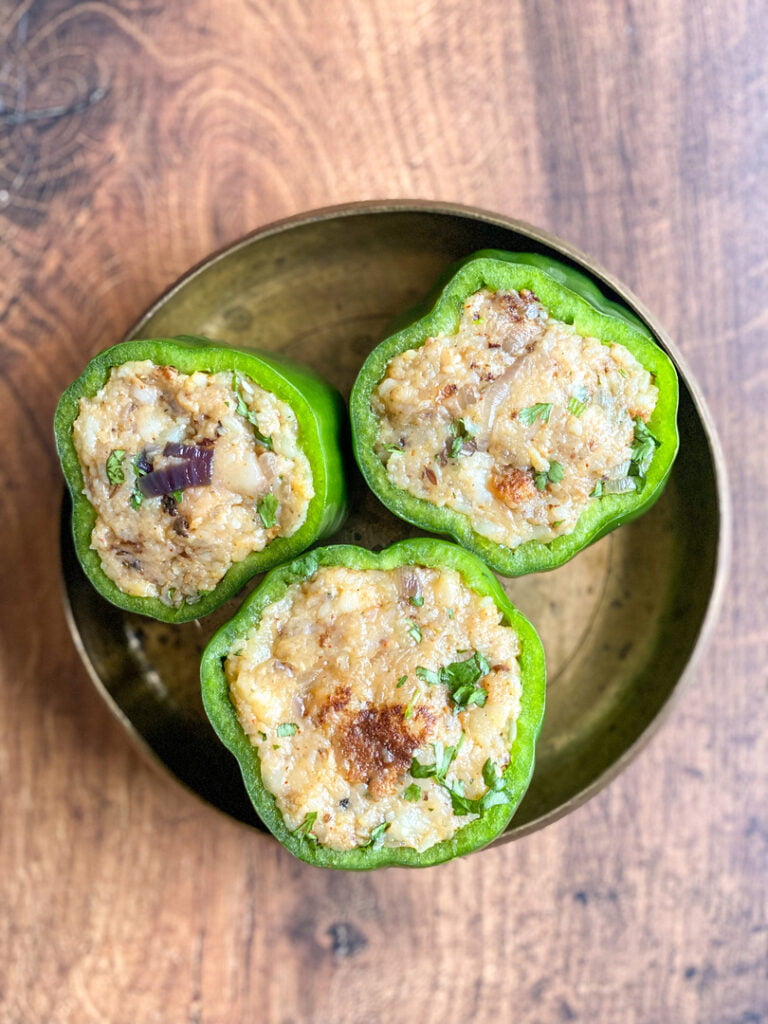 The key is to prepare a delicious potato filling that is first stuffed tightly inside the bell peppers. The skin of the bell peppers will get soft and wilted slightly once they cook well. Once cooked, they pair well with hot ghee rotis/ parathas when eaten fresh, or even as a lunch box meal. They are also an excellent combination with dal-rice or even a rajma-chawal meal. The flavors and texture are so good here.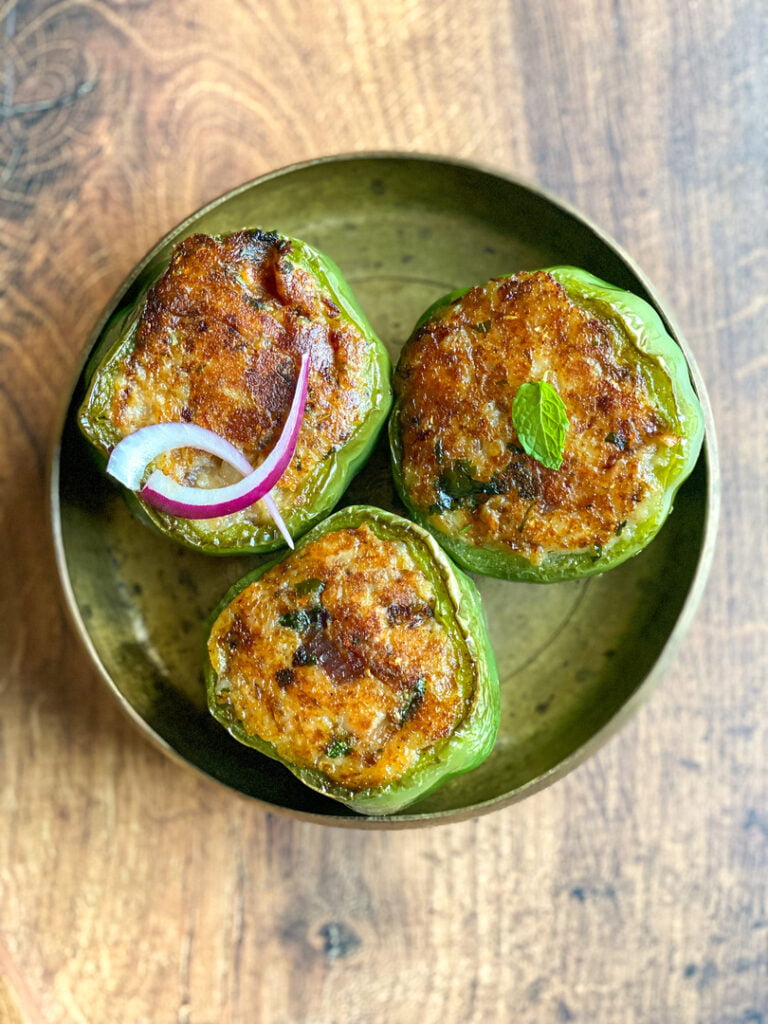 I have shared details on how to prepare the delicious potato filling with those spices. I am especially very fond of fresh coriander leaves/ cilantro so that is mandatory to be added at the end. When picking capsicum/ green bell peppers for this dish, make sure they are small to medium and not huge in size. This ensures even cooking inside and even outside. Do make sure that you remove the seeds and stem well so that the stuffing goes inside properly.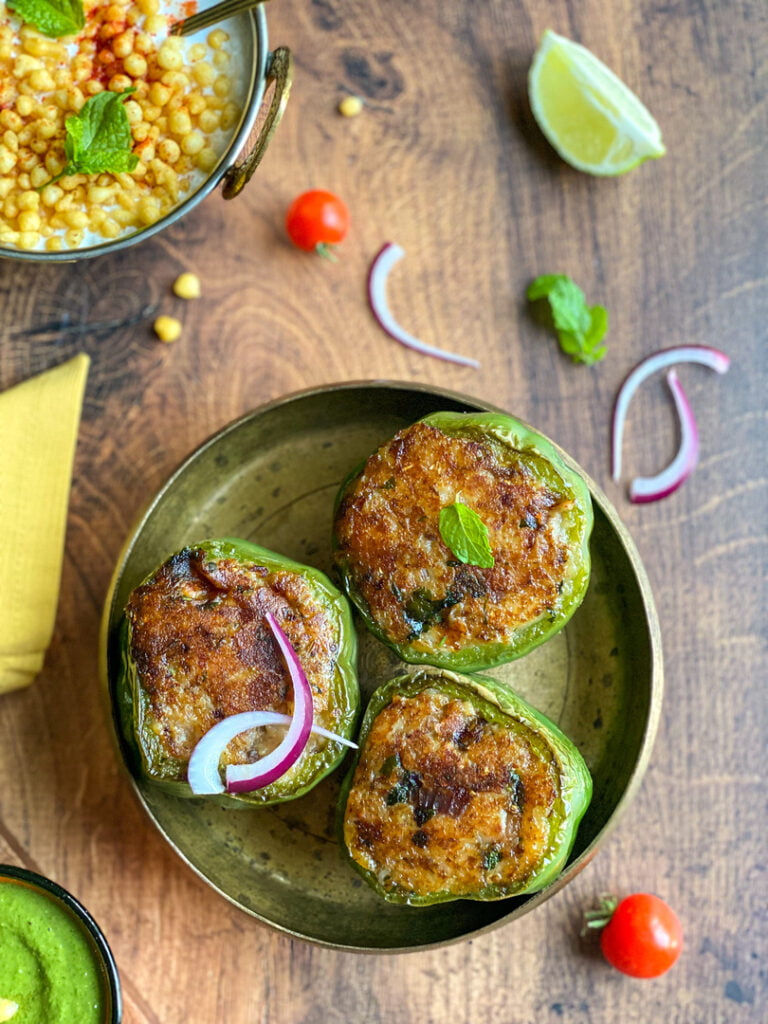 I hope you like the recipe and will try to make these soon. It is delicious and very flavorful. They pair with rotis/ parathas and even with a rice meal. Enjoy!
Bharwa Shimla Mirch – Bell Peppers stuffed with Spiced Potatoes
Green Bell Peppers stuffed with a spiced potato filling. A delicious North Indian vegetarian side dish.
Ingredients
4

small/ medium Green bell pepper/ capsicum

2-3

medium boiled potatoes

1

medium red onion finely chopped

1-2

green chilies finely chopped

1

tsp

cumin seeds

½

tsp

fennel seeds/ saunf

coarsely crushed

1

tbsp

coriander powder

½

tsp

red chili powder

¼

tsp

garam masala powder

¼

tsp

dried mango powder/ amchur

¼

cup

finely chopped coriander leaves

salt

to taste

3-4

tbsp

neutral oil

I mostly used avocado oil
Instructions
Boil the potatoes, peel and mash them while slighlty warm. Keep aside.

Take washed and dried green bell pepper/ capsicums. Slice across the top most part uniformly. Gently remove the seeds so that the inside is clean and hollow.

Heat 1-2 tbsp oil in a pan. Add cumin seeds and let them sizzle. Add the chopped onions and green chilies. Saute them till light golden and add coarsely crushed saunf/ fennel seeds and saute for another minute.

Add the mashed potatoes, along with the coriander, chili powder, amchur and garam masala. Mix well and add the salt. Keep stirring this mixture until everything mixes well. I usually like to keep mixing until there is a light golden sear on the potatoes as well.

Add in the chopped coriander leaves, mix and remove from the flame.

Now is the time to assemble. Take 1 bell pepper and add some spiced potato mix. Stuff it all the way and pat using a spoon so that the mixture is tightly packed. Repeat the same for all the bell peppers.

In a wide and heavy bottomed pan, heat 2 tablespoon oil. Assemble the stuffed bell peppers and close the lid. Keep the flame low to medium.

After about 3-5 minutes, turn the bell peppers so that the other side gets cooked and browned slightly. Cover the lid again. Repeat the same every now and then so that the skin of the bell peppers gets cooked all over. The flame should be low always else the skin will burn very easily.

Towards the end, turn all the bell peppers so that the open part with the potato mixture faces down and gets a nice golden sear as well. Thats our favorite part !

Once done, remove very carefully from the pan taking care of the stuffing.

Serve hot along with ghee rotis/ parathas. It is so good with dal-rice and rajma-chawal as well.