Butter Masala Chicken Koftas. Delicious chicken koftas that are simmered in a beautiful, warm and rich, butter masala gravy.

Kofta is a meatball dish. It is popular in the Indian subcontinent and Middle Eastern cuisines. In the simplest form, koftas consist of balls of ground meat – usually beef, chicken, lamb, or mutton, or a mixture.
However, in India, as we know, vegetarian varieties predominantly use potatoes, various seasonal gourds, paneer, or even raw banana at times.
In India, we usually cook the koftas in a spicy curry and eat them with steamed rice or an Indian bread. I like to shape the koftas I make into patties, meatballs, or even cigar-like shapes.
Vegetable Kofta Curry is a popular, regional Indian gravy dish that we make using mixed vegetable dumplings dunked in an onion-tomato-based gravy. Koftas are usually small round or oval-shaped deep-fried dumplings made from minced vegetables, paneer, etc. The Koftas can be simmered in a broth-like light curry, or an indulgent curry using onions, tomatoes, masalas, and cream.

We love our koftas and kebabs. I love making bite-sized chicken meatballs at home because the girls love them. Often, I make a sauce to go along as well and that makes for a complete meal. I also like to make these mini koftas for our little snack on most days.

For this particular dish, I have used MayaKaimal's Butter Masala sauce for the koftas. Mild and buttery with a hint of chili, this sauce is warm and rich and traditionally simmered with chicken. As a result, it goes beautifully with vegetables as well. This sauce is great for making a quick butter chicken and for simmering vegetables as well for your busy nights.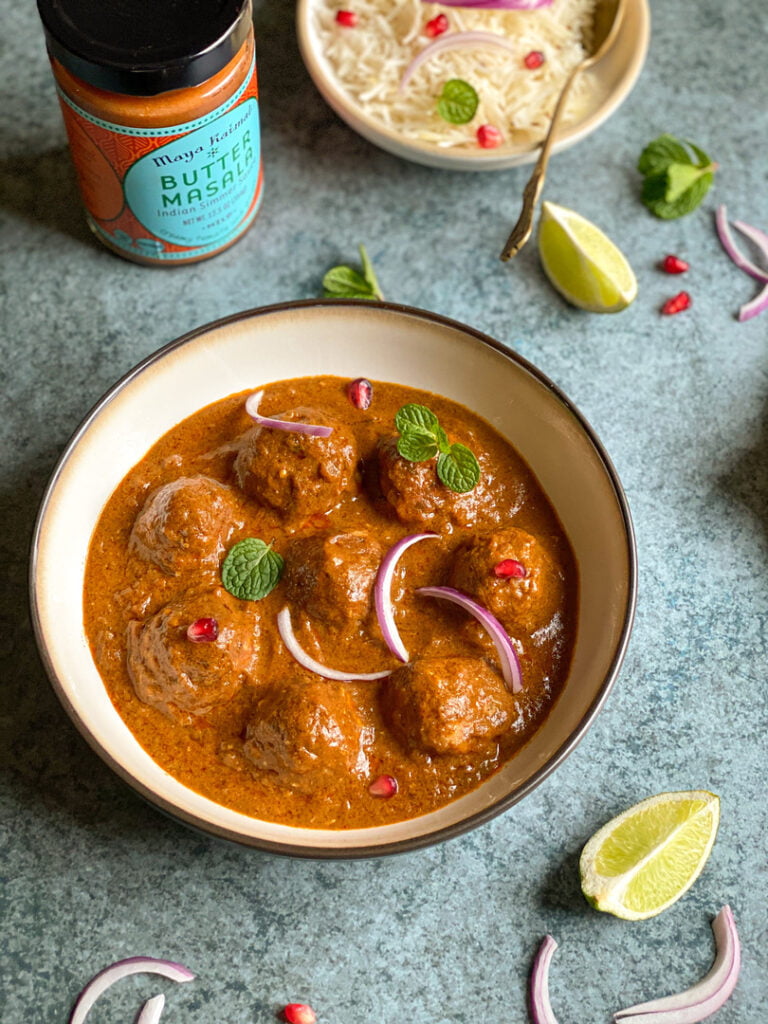 To make these Butter Masala Chicken Koftas, I have used store-bought chicken mince and mix in basic spices that are mild and do not overwhelm the dish. I add an egg to the mince so that it binds well but that is completely optional. To make the meatballs or koftas, I like to grease my palms to make even and nice, round spheres. Also, because the koftas/ meatballs will swell later when we simmer them, I like to make small size balls initially.

You only need to simmer and not overcook the sauce here. I'd suggest removing one kofta to check while they cook. Slice it mid-way – the inside should be a pale pink color that will indicate it is cooked.

Once done, I like to garnish with finely chopped fresh cilantro, mint and add a dash of heavy cream. Above all, it is always a good idea to let a meat curry sit covered for about an hour to let all the flavors soak in.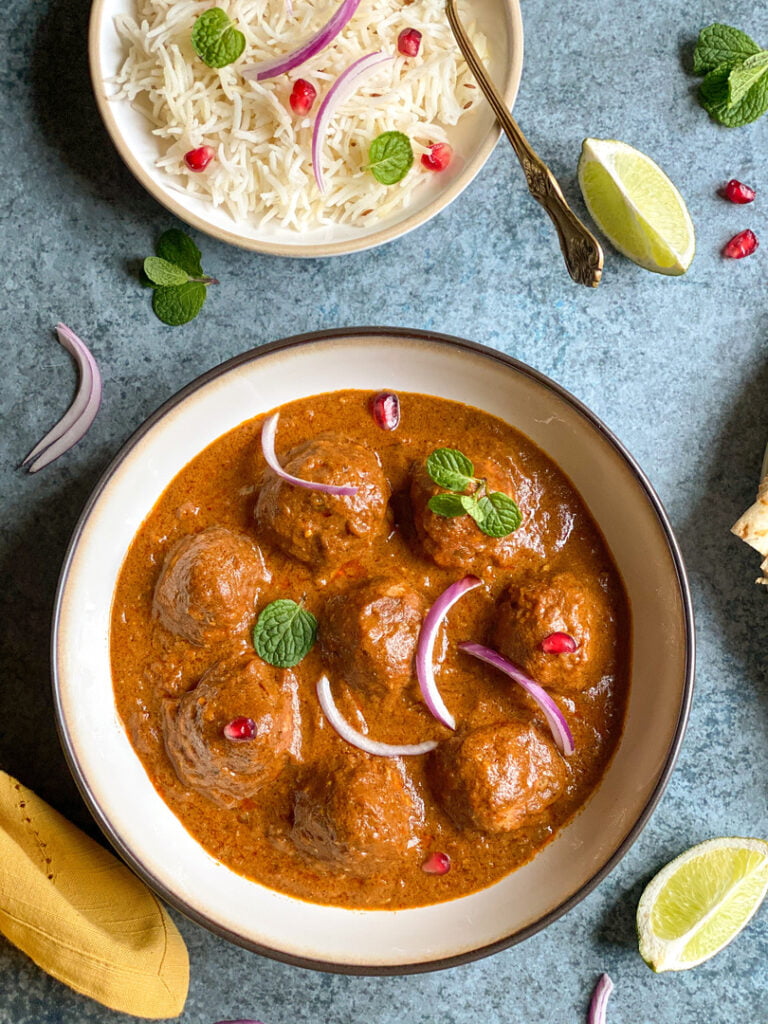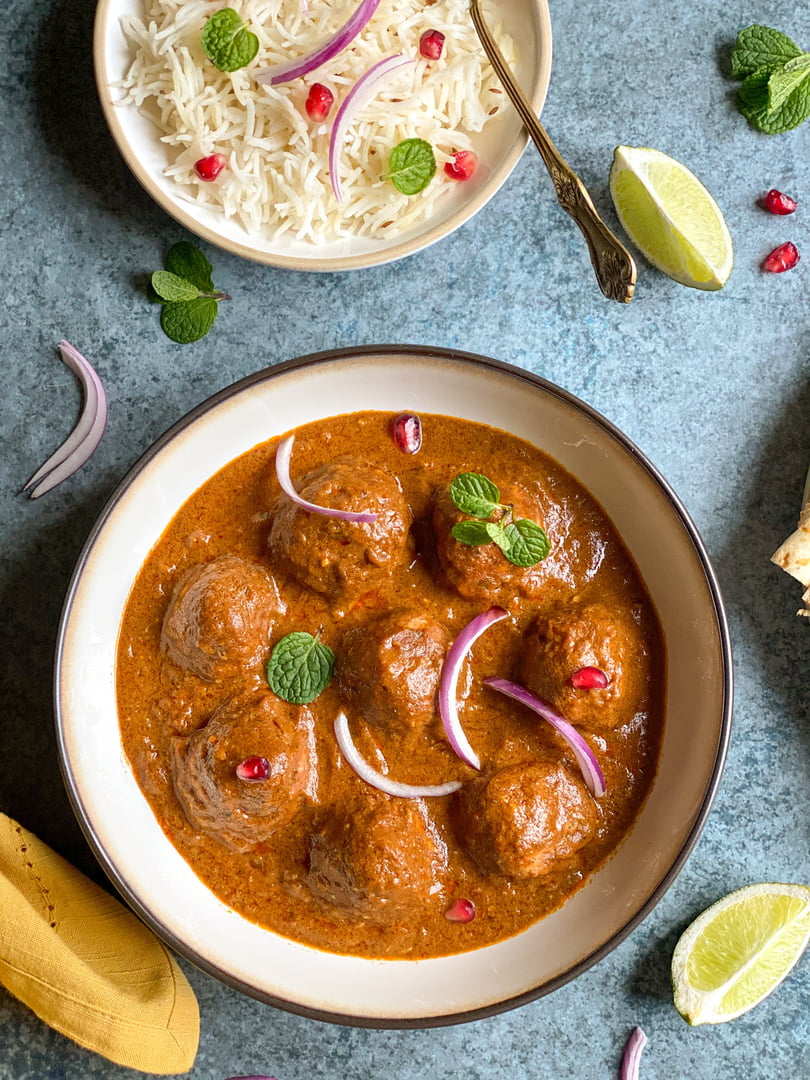 I like to serve these koftas hot with some steamed basmati rice and/ or warm flatbreads.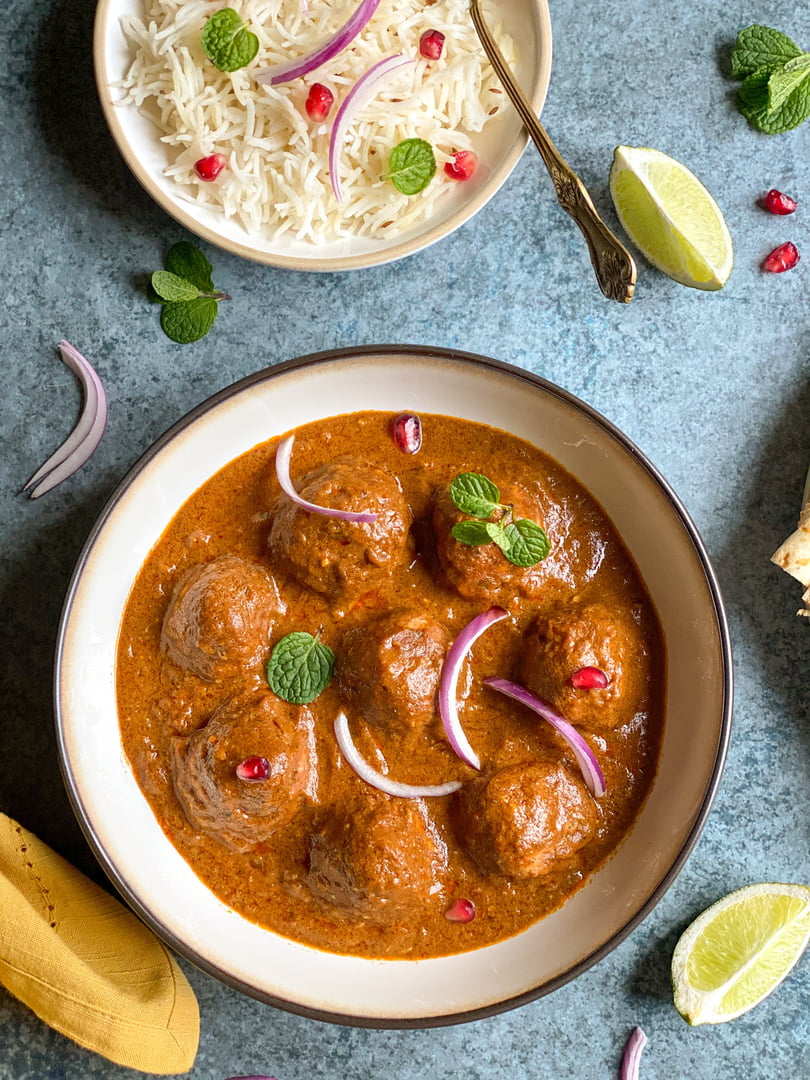 Butter Masala Chicken Koftas
Butter Masala Chicken Kofta. These are delicious chicken koftas that are simmered in a beautiful, warm and rich, butter masala gravy.
Ingredients
For the Chicken Kofta
1

lb

Chicken Mince/ Ground Chicken

1.5

tbsp

Ginger Garlic Paste

1

tsp

Ground Green Chillies

½

tsp

Red Chilli Powder

⅛

tsp

Freshly Grated Nutmeg

¼

tsp

Freshly Ground Black Pepper

½

tsp

Roasted Cumin Powder

1

Large Egg

½

cup

Crisy Fried Onions

(or Birista)

¼

cup

Finely Chopped Fresh Cilantro Leaves

1

tsp

Salt
For the Butter Masala
1

bottle

MayaKaimal Butter Masala Sauce

1

tbsp

Oil of your choice

(I used Avocado Oil)

1

Small Red Onion

(finely chopped)

2

tbsp

Heavy Cream

1

tbsp

Salted Butter

(optional)

¼

tsp

Garam Masala

⅓

cup

Finely Chopped Fresh Cilantro Leaves

(for garnish)

⅓

cup

Finely Chopped Mint Leaves

(for garnish)
Instructions
In a mixing bowl, take all the ingredients for the chicken kofta except the salt. Mix well with gently hands. Cover and refrigerate for an hour.

After an hour, take the bowl out. Add the salt and mix well once again.

Lightly oil/ grease your palms and start making small spheres/ koftas. I used a small cookie scoop to measure equal sized koftas. Keep all of them aside. I could make around 20 koftas with this mince.

In a pan, heat 1 tablespoon oil and 1 tablespoon butter. Add the finely chopped onion and saute on medium flame till they turn light golden brown.

To this now add the Maya Kaimal Butter Masala Sauce and mix with the sauted onions. Feel free to add half a cup of warm water and simmer for 2-3 minutes.

Place the koftas on the simmering sauce and cover the pan with a lid. Let this cook on a low flame for 10 minutes. After 10 minutes, very gently turn the koftas, cover and simmer again for aroud 8 minutes.

Remove one kofta when it is time to check for doneness by slicing in half.

At this stage, add 2-3 tablespoon heavy cream or milk along with finely chopped cilantro and mint leaves. Gently mix everything well and cover the lid. Switch off the flame in 2 minutes.

Let the Butter Masala Chicken Koftas sit for about 30 to 60 minutes so that they soak in all the juices and flavors.

Serve hot with steamed rice and/ or flatbread(s) of your choice.