Carrot Raita. Carrot Raita is a seasoned yogurt side dish that includes grated carrots, spices and a very delicious tempering.
Raita is an Indian yogurt side dish. We are big fans of yogurt/ curd and a good raita is all love. Back in Delhi where I grew, I saw Mom setting a good curd all year round, some days even twice a day. Never do I remember a day when she would say that there is no dahi or curd at home. Thanks to her, I make raita(s) so often at home here.
My personal favorite is the Boondi Raita, and after that I love adding carrots my raita as well after grating them. The freshness, flavor and bite here is so good. Seasonal winter red carrots in Delhi and many parts of North India are so good here. Winters in Delhi meant hot parathas, pickles and this delicacy.
All you need to make this raita are some carrots of course and some good curd. I pick the basic spices from the pantry to season the raita. Occasionally I like to chop a small red onion and mix it in along with some coriander leaves. To finish, I also like to add a very simple tadka or tempering of mustard seeds, whole red chili, heeng and some curry leaves. Tadka in raita tastes really, really good. It elevates the flavors in this side dish and takes the raita to a whole new level.
While the recipe is very basic, I know so many people including friends who have not tried this version. The most common raitas in the Indian cuisine are usually boondi, cucumber/ onion, and even beetroot. The texture and bite here is everything.
A good carrot raita pairs equally well with a rice meal like pulao/ biryani and chapatis/parathas. It is a refreshing side during warm summer months, and so good to have on its own for a light summer lunch. I hope you try this recipe and enjoy it as much as we do.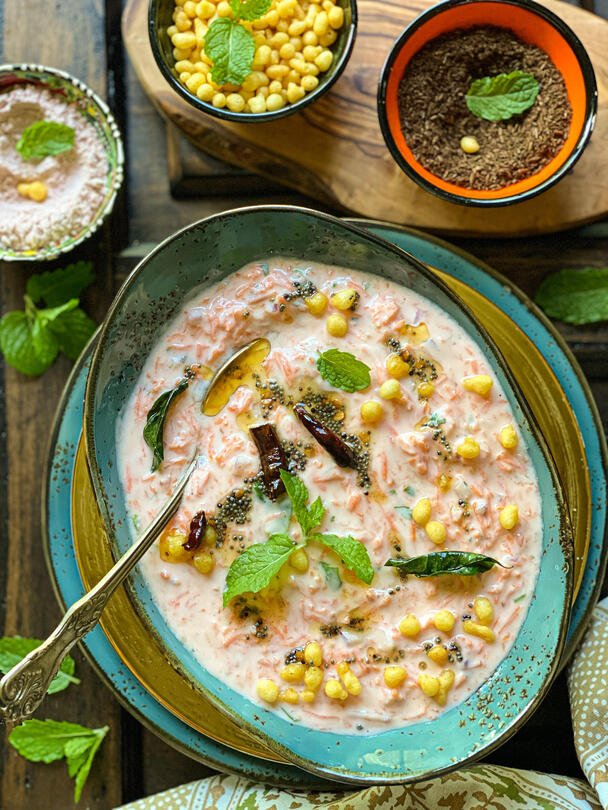 Carrot Raita
Carrot Raita. A seasoned yogurt side dish that includes grated carrots, spices and a delicious tempering.
Ingredients
2

cups

Plain thick white yogurt/ curd

1.5

cups

Grated carrots

1

tsp

Roasted cumin powder

1

pinch

Black pepper powder

½

tsp

Black salt

(to taste)

½

tsp

Sugar

(I used coconut sugar)

¼

cup

Finely chopped red onion

(optional, but recommended)

2-3

tbsp

Finely chopped coriander leaves

½

tsp

Oil

(any neutral oil like sesame/ avocado oil will do)

1

pinch

Heeng/ asafetida

¼

tsp

Mustard seeds

1-2

Broken red chillies

3-4

Curry leaves
Instructions
In a mixing bowl, take 2 cups of thick plain white yogurt/ curd. I prefer to use a well set thick curd because it gives a nice creamy texture.

To this add the roasted cumin powder, black pepper powder, salt and sugar. You may adjust the sugar and salt to your personal preference. I like to add a hint of sweetness here. Mix well.

Now add the grated carrots along with the chopped onions and coriander leaves. If you get red seasonal carrots, nothing quite like it. They taste delicious in the raita. Chopped onions are optional here but I love the crunch they impart. You may choose to leave them as well. Mix everything very well.

We will now make the tadka/ tempering for the raita.

In a small pan, heat ½ tsp oil and add the mustard seeds along with heeng, red chili and curry leaves. Once they splutter and release the aroma, remove from the flame and pour over the prepared raita.

Serve immediately with any rice meal or parathas of your choice.