Creamy Egg Curry. A delicious family recipe to make a creamy egg curry that is so good with hot ghee rice and appams.
Egg curry is a popular curry in Indian cuisine. Be it in the north or the south, a large part of the population loves eggs. There is a large part of the vegetarian population that is fond of eggs. Egg curry or egg masala is basically boiled eggs sauteed in a curry/ masala base that can vary as per individual taste and flavors.
We all have our own versions to make a base for an egg curry, and honestly, I can never follow a single version too. There is so much one can do with masalas and spices to suit our flavors and taste buds. While a thicker masala is good for scooping with rotis/ bread/ dosas/ appams, I like to maker a thinner curry whenever we have egg curry with steamed rice.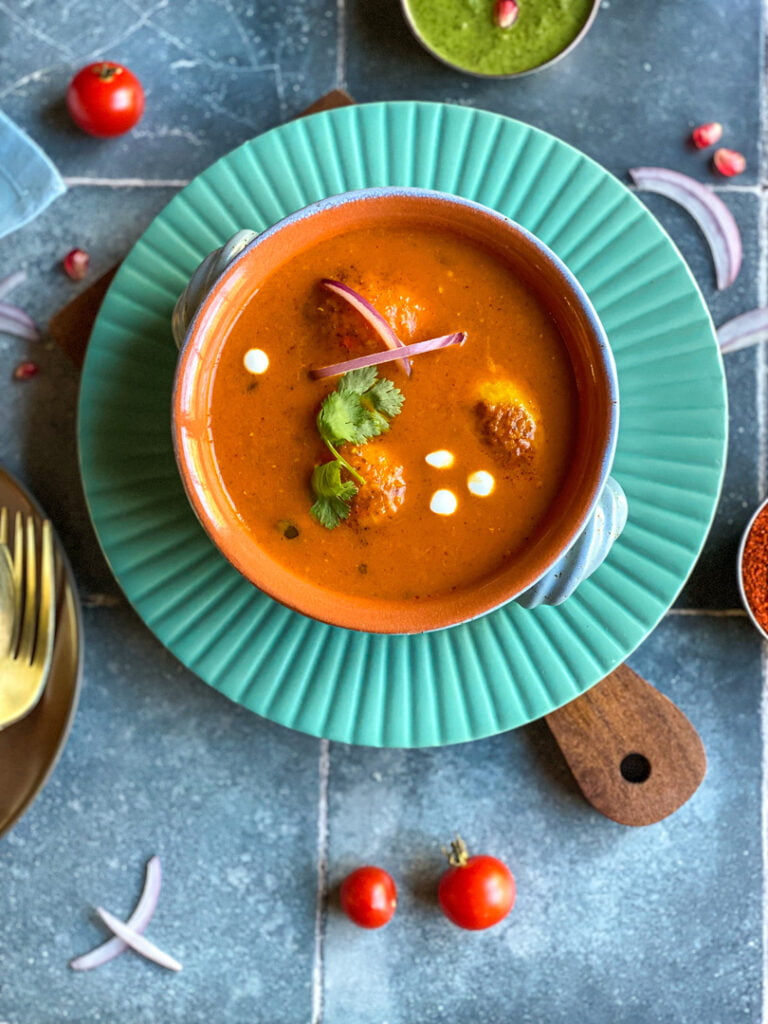 Eggs have always been an important source of nutrition across the country. Many vegetarians consume eggs as a source of protein even if they do not eat meat/ poultry. Eggs form the base of many classic regional dishes. Egg bhurji or scrambled eggs are a popular breakfast in the north and west. They are especially so good with buns or pav/ dinner rolls. Egg curry is much loved down South where there are so many versions. We like to have egg curry with rice and roti both. I would accordingly alter the curry base to suit our flavors and mood that day of course.
In this particular egg curry, I have kept the curry thinner and creamier. Hence it tastes delicious with rice and appams for example. I have kept the flavors and spices mild here as well. A detailed recipe is as below for you to try. I am sure you will love it as much as we did. You have an option to use regular (dairy) milk here or substitute it with coconut milk for those South Indian flavors. We love it both ways.
Creamy Egg Curry – Recipe
Creamy Egg Curry. A delicious family recipe to make a creamy egg curry that is so good with hot ghee rice and appams.
Ingredients
6

Large eggs

4

Large tomatoes

2

Medium onions

1-2

Green chilies

2

Garlic cloves

1

Small piece of ginger

1

Bay leaf

1

Cinnamom stick

1

Green cardamom pod

½

tsp

Turmeric powder

1.5

tsp

Kashmiri Red chili powder

1

tbsp

Oil

1

tbsp

Ghee

1

tsp

Cumin seeds

8-10

Curry leaves

½

tsp

Black pepper powder

Salt

(to taste)

½

cup

Chopped coriander leaves
Instructions
Boil 6 large eggs for 6-7 minutes and keep them aside. Peel when you are able to work with them.

Heat 1 tablespoon oil in a pan. Add 1 bay leaf, 1 green cardamom pod, and 1 cinnamon stick, followed by the chopped onions. Saute these until they are light brown. 

Smash the garlic cloves along with the ginger and add them to the pan. Slit the green chili and add it as well. Stir for another 2 minutes.

Now add the chopped tomatoes and continue to cook them for about 5-7 minutes until they are soft. Add 1/2 tsp turmeric powder and 1/2 tsp Kashmiri red chili powder as well. Mix. To this add 2 cups of water. Give this a good mix and let this simmer on low flame covered, for about 10 minutes.

Remove from flame and let this cool. Remove the bay leaf, cinnamon stick, and cardamom, and discard. Transfer the mixture to a grinder, and blend into a smooth puree. 

Heat the same pan and add either 1 tbsp ghee/ oil of your choice. Add 1 tsp cumin and the curry leaves. Once they splutter, add the puree and mix everything well. Add 1 tsp Kashmiri red chili powder, 1/2 tsp black pepper powder, and salt to taste. Once this puree starts to simmer, add the boiled eggs and mix gently. 

Very carefully, halve them while they are in the pan and cover for 5 minutes.

Optional – if you like, you may sauté the whole boiled eggs in a hot skillet with a tablespoon of oil and a pinch of salt and red chili powder till they are lightly brown.

Remove the lid and add either half a cup of regular (dairy) milk or coconut milk. Mix gently and add a pinch of garam masala too at this stage. Cover the pan again and switch off the flame in another 2-3 minutes.

Garnish generously with chopped fresh coriander leaves and serve hot.