Dahi Bade. Dahi Bhalle. Lentil fritters dunked into a beautifully set, spiced, slightly sweet, and well-seasoned yogurt. A very popular North Indian Street Food.

We call these Dahi Bhalla in Delhi where I grew up whereas they call these Dahi Bada/ Dahi Bade in most parts of Uttar Pradesh where my husband comes from.

I am the biggest chaat/ Indian street food lover if I may call myself. And if a chaat has dahi bhalle to go along, it has my heart. Chaat counters at Delhi weddings, chaat stalls by the streets of Old Delhi, or in the lanes of famous markets have always had my attention. I always visit the chaat counters at weddings to start with. I can also totally skip dinner for a good chaat.

Ooey gooey, soft and melt in your mouth. That is how I like my dahi bhalle. Good split white lentils soaked in water, ground to that perfect consistency, beaten extremely well till airy enough, deep-fried into small fritters, soaked in warm water, and then dunked into a well-seasoned curd essentially defines the process of making good dahi bade.

The process may seem long and tedious enough, but once you get the hang of it and follow the steps, it comes out pretty well.

The only time-consuming step is while the dal soaks, preferably overnight for convenience. Once ground, the dal mixture needs to be beaten very, very well. Traditionally it has always been done with hands; you may opt for a hand mixer and beat till smooth and very airy.

Sharing the version I've grown to like and make, over years. They are a favorite in the summer and mandatory on festivals like Holi and Diwali in our house.

Make sure to follow the steps well and you'll definitely get fantastic Dahi Bade. Do let me know how they turned out.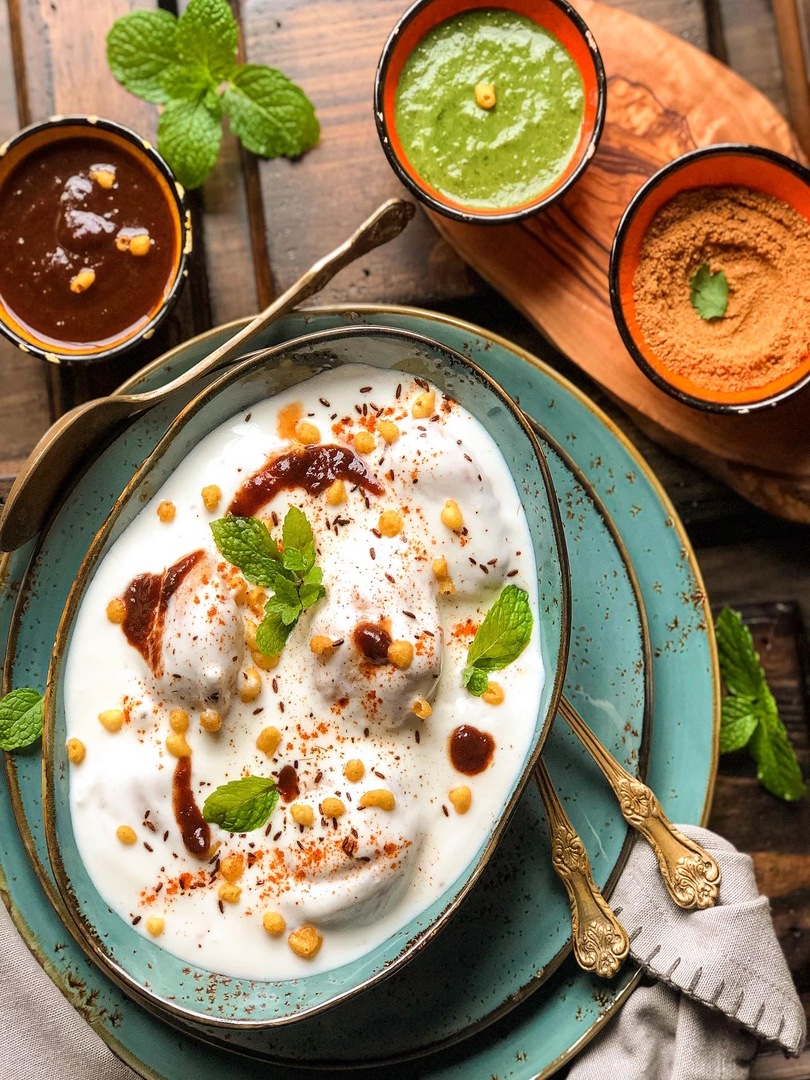 Dahi Bade
Lentil fritters dunked into a beautifully set, spiced, slightly sweet, and well-seasoned yogurt. A very popular North Indian Street Food.
Ingredients
1

cup

split urad dal

1/2

cup

yellow moong dal

2

cups

cold curd/ plain yogurt

1

tsp

sugar

1/4

tsp

coarsely ground black pepper

2

tbsp

chopped coriander leaves

1/4

tsp

cumin powder

1/4

tsp

kashmiri red chili powder

optional – tamarind & date

(green chutneys, sev, pomegranate arils.)

oil for deep frying

salt to taste
Instructions
I usually take 1 C split urad dal and 1/2 C split yellow moong dal. Wash them well and soak overnight or around 6 hours during the day.

Drain the water thereafter and grind to a smooth consistency with 1 tsp salt. Add minimum extra water, not more than around 1/4 cup.

Transfer to a bowl and beat very well with a spoon or a whisk for about 5-7 minutes until it gets nice and airy. This will ensure very soft badas/ vadas.

Once ready, heat oil in a heavy-bottomed pan/ kadhai. Add spoonfuls of batter in batches into the oil (medium flame when frying) using a spoon or your hand.

Fry them until light golden brown on both sides and remove on a paper towel.

Take some warm water in a wide-mouthed bowl and let the badas soak in it for about 15-20 minutes.

Take some thick, chilled plain curd in a bowl. Add salt to taste, 1 tsp sugar, 1/4 tsp black pepper powder and mix well. Gently squeeze excess water from the soaked badas and arrange them in a bowl or a platter.

Pour the seasoned curd over the badas so as to cover them all over. Sprinkle with freshly roasted cumin powder, red chili powder, chutneys of your choice, sev, pomegranate arils and some chopped coriander leaves. Serve chilled.