Dal Bhari Puri. A festive dish from the city of Banaras. These chana dal stuffed puris are mandatorily served along with kheer, dahe bade and kaddu ki sabji on special days.
Dal Bhari Puri. Quintessential on Teej in Eastern UP and Bihar. This is a celebratory meal at my in laws' home in Banaras. My mother-in-law has made this complete meal whenever we go back home. She also mentions that this meal is symbolic of whenever the daughter-in-law goes to her inlaws' house. I have heard that many homes make it for their married daughters as well.
Banaras. Varanasi. Kashi. A city on the banks of the river Ganges in Uttar Pradesh, India. My husband's birthplace. A city so old and so beautiful and there is always so much to learn here about history, religion and food, for instance.
Dal Bhari are essentially chana dal stuffed puris/ parathas. My mother in law initially soaks the chana dal, then cooks, and subsequently tempers the dal with spices and cooks further until all the moisture evaporates. We then cool the mixture and thereafter stuff the same into whole wheat dough balls and made into puris/ parathas. We usually serve these puris/ parathas with kheer, pumpkin or kaddu ki sabji (vegetable side dish) and dahi bade. This meal is beautiful, delicious, wholesome and all things wonderful.
Most families make the dal bhari puri in bulk usually and serve them as excellent breakfast the day after with chai and pickle. This is because they do not spoil for a day or two when kept at room temperature.
The combination of dal bhari, kheer, dahi bade and kaddu ki sabji are quintessential on special occasions like Teej. Teej is the generic name for a number of Hindu festivals that are women centric. Hartalika Teej is one of the three main Teej festivals celebrated by women who hail mainly from Uttar Pradesh, Uttarakhand, Madhya Pradesh, Chattisgarh, Bihar, Jharkhand, and Rajasthan. Women fast all day for their husbands and worship Lord Shiva and Goddess Parvati on this day. The people here make special food(s) of significance on this day and this combination is one of them.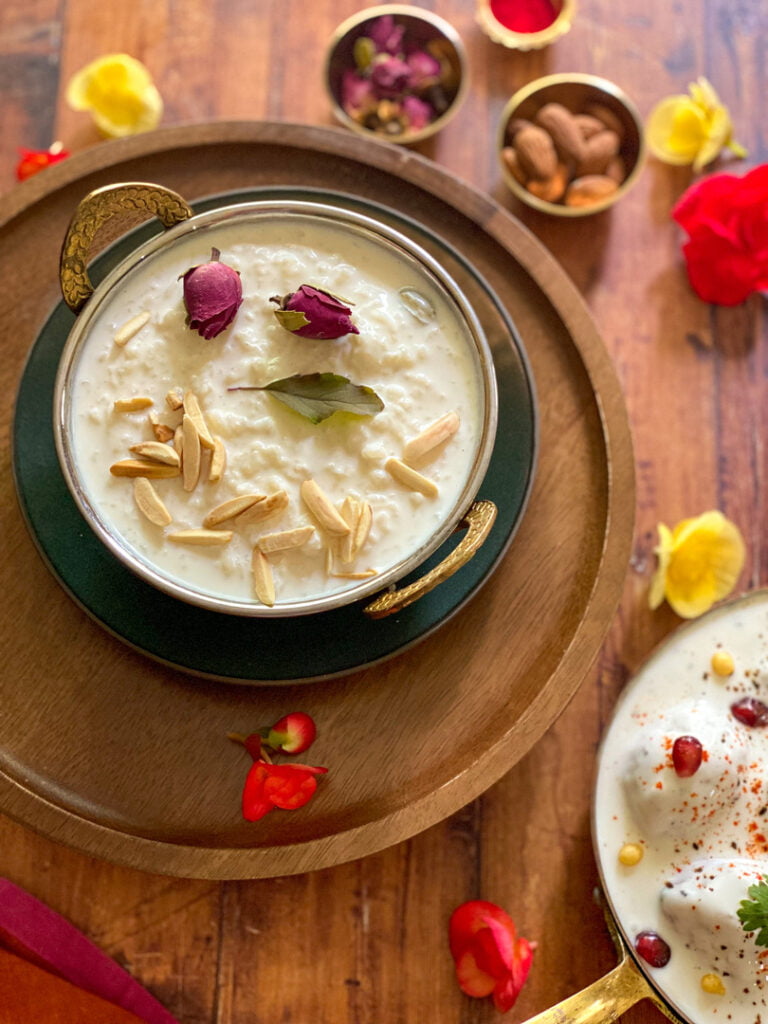 My mother-in-law makes these dal bhari very well as she has been making them forever. I have learned from her to the best of my ability and shared a detailed recipe here. Traditions and festivals are very close to my heart. Hope you do get to have a look and try them someday. They are delicious, wholesome a perfect meal on festive days.
Dal Bhari Puri
Dal Bhari Puri. A festive dish from the city of Banaras. Chana dal stuffed puris that are mandatorily served along with kheer, dahi bade and kaddu ki sabji. This is a celebratory meal.
Ingredients
For the Dough
2

cup

Wheat Flour/ Atta

1

tbsp

Oil

Water for kneading
For the Dal Bhari Puri
1

cup

Chana Dal

1

tsp

Cumin seeds

1-2

Green chilies finely chopped

1

pinch

Hing/ Asafetida

1

tsp

Grated ginger

½

tsp

Turmeric Powder

½

tsp

Red Chili Powder

¼

cup

Coriander leaves finely chopped

Salt to taste

2

tbsp

Oil + more for deep frying
Instructions
For the dough
Take a mixing bowl, add the flour and oil and mix them well, rubbing against each other. Now add water slowly and knead into a soft and yet slightly firm dough.

Cover and keep aside for about half an hour.
To make the dal stuffing
Wash the chana dal well. Soak for an hour in enough water.

Discard the water after an hour. Transfer the dal to a pressure cooker along with 2 cups water. Pressure cook until soft and yet not mushy with 1 tsp salt and ½ tsp turmeric powder for about 2-3 whistles.

Strain the cooked dal so that there is no excess water and keep aside.

Using a potato masher or a hand blender, coarsely mash the chana dal but do not puree it. We want some texture to remain.

Heat 2 tbsp oil in a pan, and add the cumin seeds along with hing. Once they splutter, add the ginger and green chilies and saute them for a minute. Add the red chili powder now and mix again. Add the mashed chana dal to this and keep cooking until all the moisture evaporates and the mixture comes together well. Switch off the flame and mix in the coriander leaves. Keep this mixture aside.

Pinch small portions of the dough. Flatten into a small circle and then stuff with lemon sized portions of the dal stuffing like we stuff parathas.

Bring the sides together gently and close at the center. Flatten using fingers first on a flat board. Roll this with a rolling pin very carefully so that the puri does not rupture.

Heat oil in a pan/ wok/ kadhai. Once the oil is hot enough, gently tip the rolled puri into the hot oil and deep fry the puris one by one ensuring that they fluff well and turn golden brown on both sides. Drain and remove on a plate lined with tissue paper. Fry the remaining puris in the same manner. Optional – you may make parathas in the same way instead of puris if you don't want to deep fry.

Serve the dal bhari puri hot with kaddu ki sabji, kheer and dahi bade.