Dal Makhni. One of the most indulgent and a very famous dal preparation from India; Delhi, India to be precise.
Dal Makhni
It uses whole black lentils, red kidney beans popularly known as rajma, lots of butter and cream to finish it off. Slow cooking is mandatory here which results in that unique flavor.
Lentils are integral to our country; they always have been part of our daily diet. While yellow moong and pigeon pea/ arhar dals are cooked on a nearly daily basis in most homes, Dal Makhni is usually reserved for special occasions and ordering at a restaurant. Black lentils are heavy to digest and because butter and cream is essential to this dal, it cannot be had very often.
Every household has their own family recipe. I remember Mom making this for us on festive occasions and she never used any tomatoes and yet her version was very amazing.She used whole garam masalas, butter, cream and simmered her dal for a very long time.

I have tried many versions over the years and my in house special is now much loved at home by my daughters and friends.

My version is not very heavy on butter and cream yet quite delicious; you are of course welcome to add extra if you want it richer.

Do let me know if you try this recipe !
---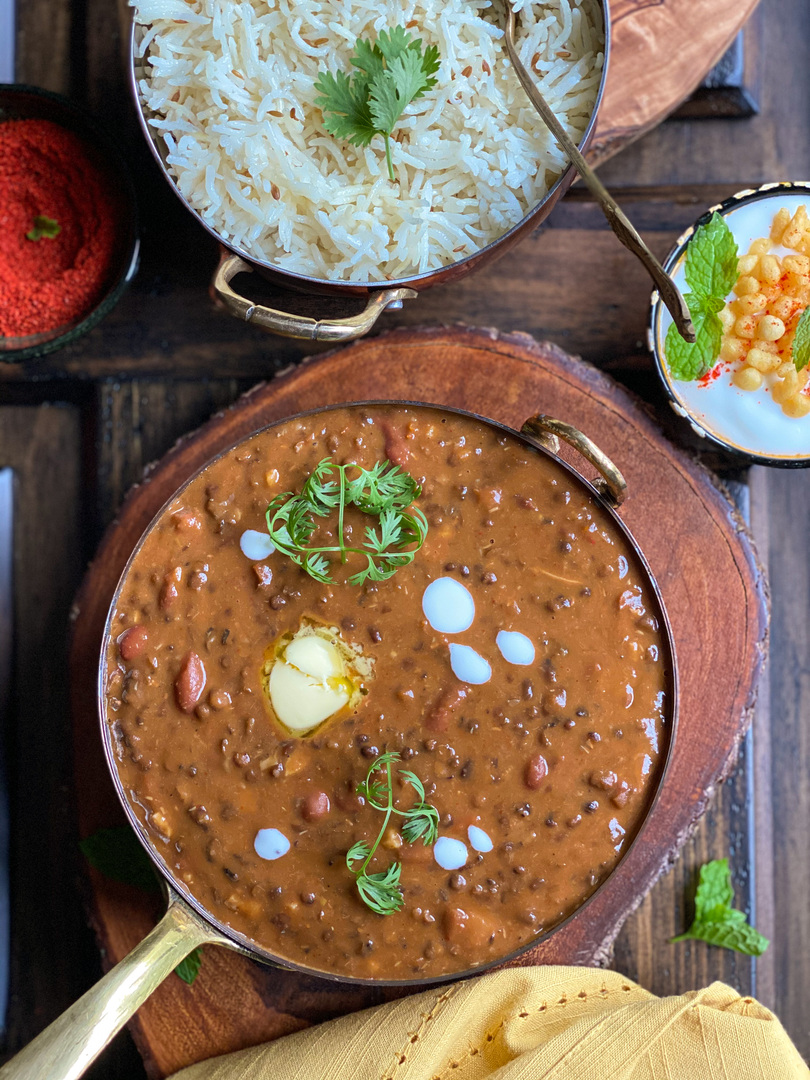 Dal Makhni
Dal Makhni. One of the most indulgent and a very famous dal preparation from India; Delhi, India to be precise. 
Ingredients
1

Cup

Black Urad Dal / whole black lentils

⅓

Cup

Rajma / kidney beans

1

Black cardamom

1.5

Cup

Pureed red tomatoes

1

tbsp

Ginger paste

1

tbsp

Garlic paste

3

tbsp

Kashmiri Red Chili Powder

3

Cloves

Garlic

4

tbsp

Butter

¼

tsp

Garam masala

2

tbsp

Cream/ Whole milk

2

tbsp

Store bought tomato paste

(Optional )
Instructions
Soak 1C whole black urad dal and 1/3 C Rajma preferably overnight. Next morning, rinse well and add to a pressure cooker along with 5 cups of water, 1 tsp salt and 1 whole black cardamom. Pressure cook until soft and cooked completely.

Once the steam is released, gently smash the boiled lentils and leave as such in the pressure cooker or transfer to another wide bottomed cooking pan.

With the flame on, add 1.5 C puréed ripe tomatoes, 1 tbsp each ginger and garlic pastes, 2 tsp Kashmiri red chili powder and 2-3 tbsp butter. 

Keep cooking and stirring every now & then on low flame for up to 45-50 minutes. Slow cooking is a must here for a good dal makhni as we all know.(Optional – mid way you can add 1-2 tbsp of store bought tomato paste and stir) 

After about 45 min, in a separate pan, heat 1 tbsp butter, add 2-3 smashed & finely chopped garlic cloves and let them brown a bit. Add 1 tsp Kashmiri chili powder, mix well and transfer to the cooking dal immediately. Be careful to not burn the chili.

Give the dal a good mix and keep simmering for another 15 min. If you feel the dal has thickened, feel free to add in about 1/2-1 cup hot water and simmer for another 10 minutes. 

Towards the end, add about 1/4 tsp of good quality garam masala and 1-2 tbsp cream/ whole milk and simmer for 5 more minutes.

Stir well and the dal is ready to be served hot with rice/ parathas/ nan. Add a dollop of ghee/ butter towards the end while serving.
Did you make this recipe?
Lovely. Now let me know how you liked it and how much of a cheat it was. Tag @mymasalabox on Instagram and hashtag it #mymasalabox.