Dal Palak. A quintessential winter lentil and spinach dish from North India that is so nutritious, wholesome, and very delicious as well.
Dal. Lentils. So integral to our Indian cuisine. We love our lentils and some dishes and preparations in particular scream nostalgia. One can never have enough of them. Dal Palak is one such version of dal. A delicious lentil preparation that uses lentils and fresh spinach greens. Winter is the season for fresh greens and Mom always made Dal Palak on cold days.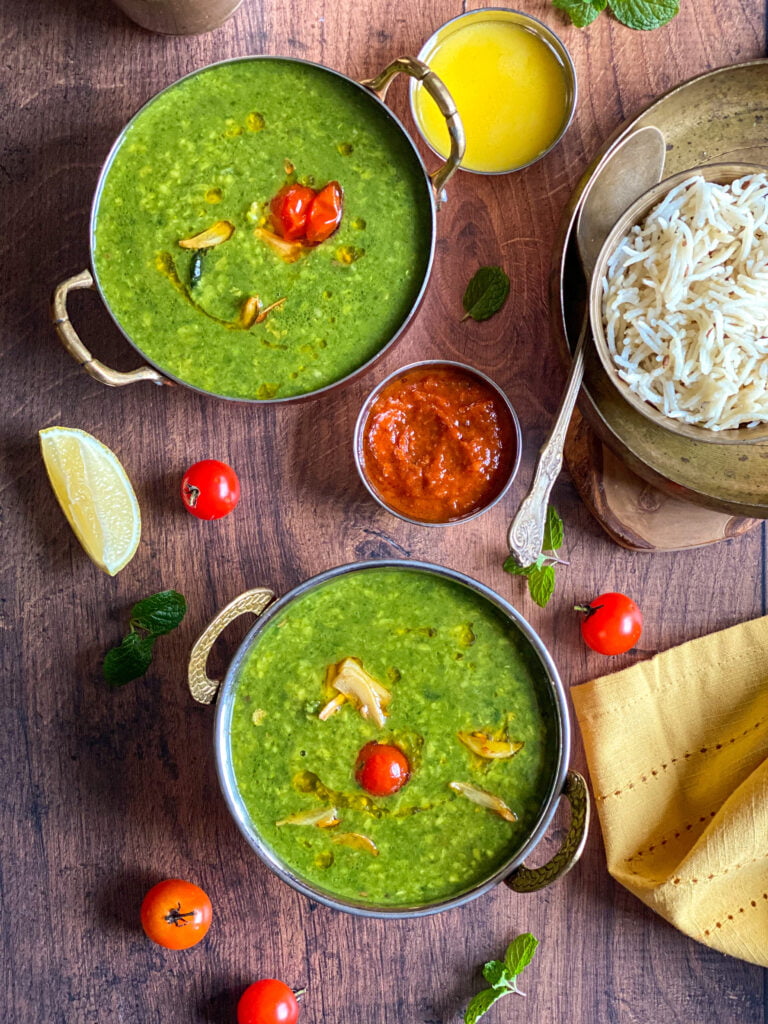 We grew up in a vegetarian household. Lentils, legumes, dals were a must at the dining table every day. Come winter, seasonal greens along with lentils would turn into delicious one-pot meals which we happily enjoyed with hot ghee rotis in particular.
This particular version of Dal Palak, a Mom's specialty, is a favorite here as well. The girls and us included love our green dal and we don't seem to miss a vegetable on the side if we have a big bowl of dal by itself. It is light and so nourishing and gives all the comfort on a cold night. It is rich in fiber and protein and has low calories in particular.
So while most recipes call for mixing in spinach green and dal and cooking them together, followed by tempering or tadka, this version is slightly different. It adds an extra step but doesn't make it complicated at all. The end result is a beautiful green and the dal is very flavorful too. Here I soak the dal and cook it separately. At the same time, I wash, blanch, and puree the spinach greens. I temper or make a tadka in ghee along with cumin, ginger, garlic, and green chilies. I do not add onions and tomatoes here and so it imparts a very delicious and earthy flavor to the final dish.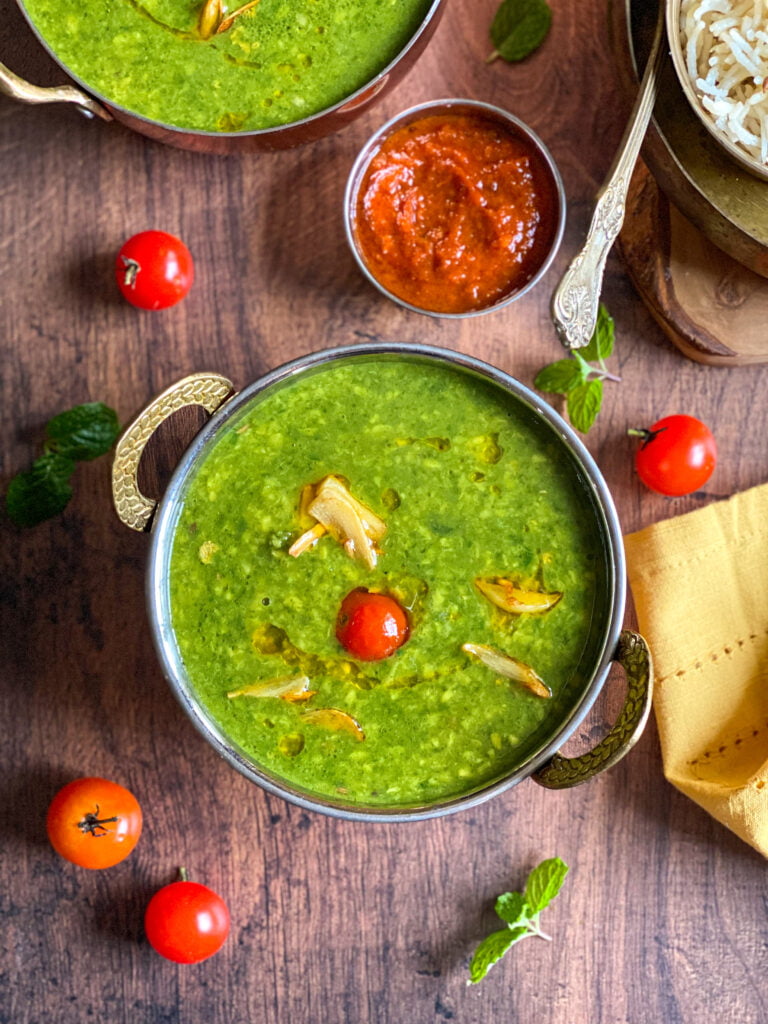 A generous squeeze of fresh lime is so good here to increase the nutritive properties of the spinach dal. Ghee of course is so wholesome and nourishing here, especially on cold winter days. I hope you enjoy this recipe as much as we do. I'd love for you to try this version and do let me know what you have to say. Happy Cooking!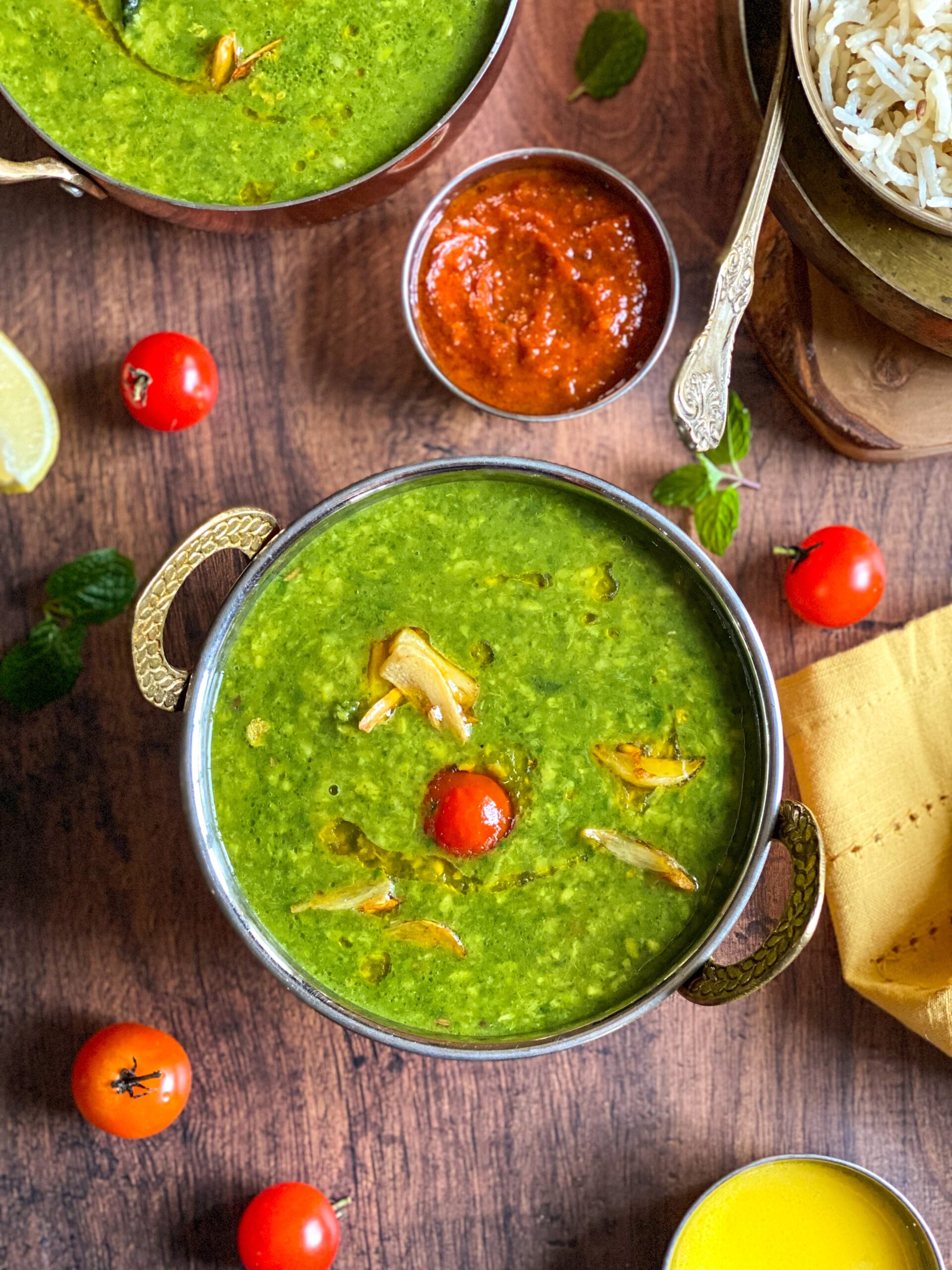 Dal Palak
Dal Palak. A quintessential winter lentil and spinach dish from North India that is so nutritious, wholesome and very delicious as well.
Ingredients
1

lb

Spinach greens

(half kg equivalent)

½

cup

Yellow Moong Lentils

2

big, garlic cloves

2

green chilies

1

small piece of ginger

1

tsp

Cumin seeds

1

tsp

Turmeric powder

½

tsp

Kashmiri red chili powder

(optional)

1

pinch

Heeng/ Asafetida

2

tbsp

Ghee

1

tbsp

Freshly squeezed lime juice

Salt

(to taste)
Instructions
Wash the moong dal and soak in enough water for about 30-60 minutes.

Pressure cook for 2 whistles with approximately 3 cups of water, or as per desired consistency, along with salt and turmeric.

At the same time, wash and blanch spinach. Coarsely puree them thereafter in a blender.

If you have a mortar pestle, coarsely pound the cumin, ginger, garlic, and green chilies along with a tablespoon of water. Alternatively, you may even blitz them in a blender.

Heat a medium-sized pan/ wok. Add ghee and add heeng followed by the coarse wet paste. Saute for a couple of minutes.

Now add the pureed spinach and give it a good mix. Let it start bubbling and then mix in the boiled dal. 

Check for desired consistency and seasoning, and add water/ salt if needed. 

Cover and let it simmer on low to medium flame for about 5 to 7 minutes. 

Feel free to drizzle a tablespoon of ghee before serving hot with chapatis/ rice. A spoonful of freshly squeezed lime juice is so delicious and good for you.