Delhi Style Aloo Chaat. Crispy pan-fried potatoes tossed in a mix of spices and lemon juice and loads of chutney. A very popular street-style dish in Delhi.
Delhi street food is delicious and class apart. It is vast and the variety is unlimited. Aloo tikkis, pani puri, golgappe, aloo chaat, moong cheela, chole bhature, the list is endless. Delhi street is famous across the country and the world as well.
Everyone loves their potatoes. They are delicious carbs that make so many people happy, be it kids or grown-ups. My Dad and my husband are big fans of potatoes, be it fried potatoes or potatoes in a curry. They cook fast and provide instant comfort.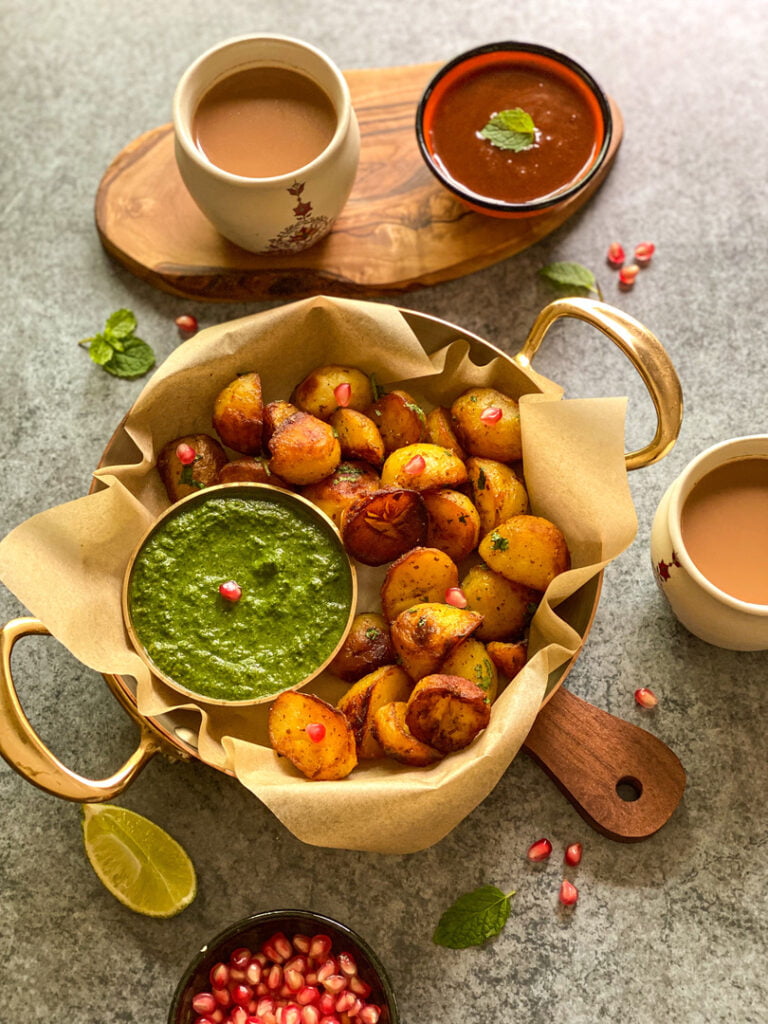 Delhi style aloo chaat is a known street food in Delhi. It is popular in evening markets, weddings and celebrations. The key here is to cook the potatoes and fry them well at the perfect temperature. Aloo chaat doesn't require too many spices apart from the basic kala namak aka black salt and chaat masala. Chaat masala is a delicious blend of cumin, black pepper, coriander, ginger, and mango powder that provides tang and flavor.
Once the potatoes are boiled well, they are fried (either deep/ shallow) so that they become golden brown, after which we coat them in spices and finish off with lemon juice and coriander leaves, and lots of chutney. The most popular chutneys in Indian street food are a delicious;y spicy green coriander chutney and a tamarind and date chutney.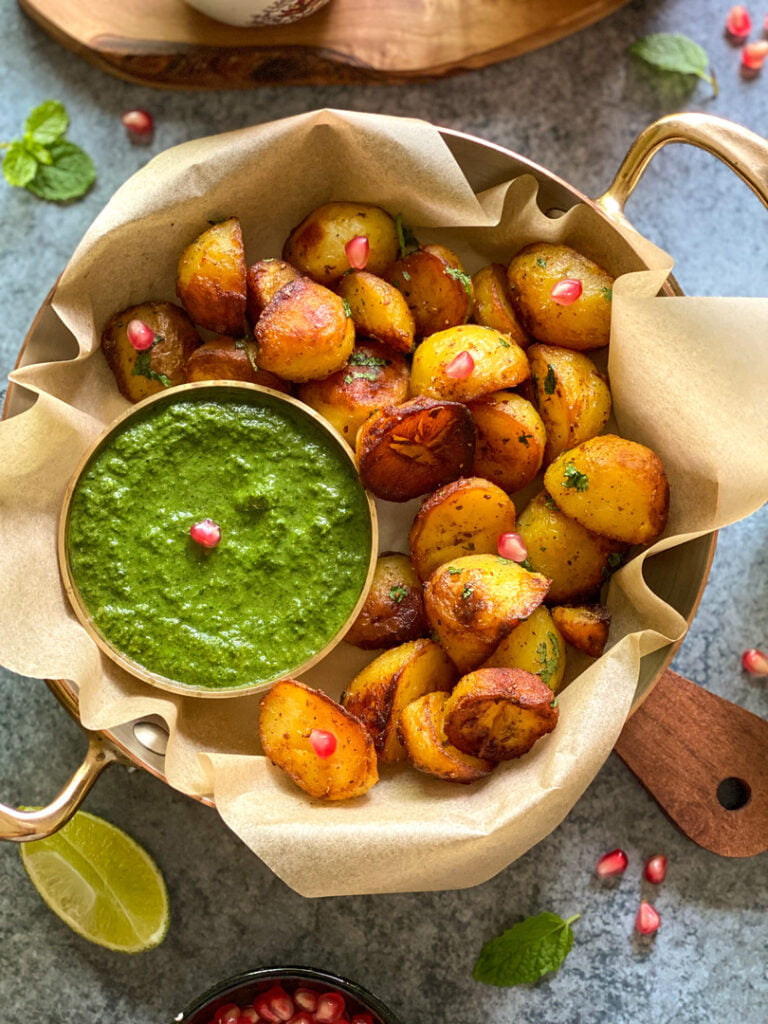 We recommend serving Delhi-style aloo chaat warm with the chutneys of your choice. This recipe is basic, simple, and very quick to put together. And therefore of course, extremely quick to eat as well. Hope you give this a try and love it as well.
Delhi Style Aloo Chaat
Delhi Style Aloo Chaat. Crispy pan fried potatoes tossed in a mix of spices and lemon juice and loads of chutney. A popular street style dish in Delhi.
Ingredients
1

lb

Baby Potatoes

1

tbsp

Chaat Masala

1

tsp

Black Salt/ Kala Namak

1

tbsp

Freshly squeezed lemon juice

½

tsp

Kashmiri Red Chili powder

1

tbsp

Coriander chutney

1

tsp

Tamarind chutney

¼

cup

Chopped coriander leaves

1-2

tbsp

Ghee

¼

cup

Pomengranate Arils
Instructions
Wash, boil, peel and thereafter halve the baby potatoes. You may alternatively use big potatoes and cube them as well.

Heat a flat bottomed pan, preferably a cast iron pan. Add the ghee or oil as per preference.

Once warm, add the potatoes and pan fry them on medium heat. Fry the potatoes so that they are nicely golden brown all over.

While frying the potatoes, add the chaat masala, black salt and kashmiri red chili powder on the potatoes and mix well until the spices are coated well.

Finish off with the lemon juice and chopped coriander leaves once the potatoes are nice and crispy. Remove them into a serving bowl. You may either mix in the chutneys at this stage or drizzle them on individual portions.

Serve hot immediately garnished with pomengranate arils.