Goan Prawn Curry. A deliciously spicy and tangy, popular prawn/ seafood curry from the Konkon, Goa. Quick and extremely easy. Vegetarians can comfortably swap the prawns here with tofu and/ or blanched vegetables.
This is one of my favourite prawn curries to prepare and have. I do love a well-made prawn/ shrimp dish. My older daughter and I are the only two at home who like some (not all) seafood. Salmon and prawn are our personal favourites.

A trip to Goa is on my wish list. I grew up in the heart of India that is Delhi and the coastline has always attracted me. We lived in Singapore for nearly a decade and the beaches in South East Asia are beautiful. Seafood and coastlines go hand in hand and that is where we get the very best.

Regional cuisines always fascinate me and I love exploring local recipes. The Goan Prawn Curry is a very popular curry from the Konkan and it is my daughter's favourite. A very dear friend shared her version with me a few years back and I never got to document it.

The base of the recipe is more or less similar to most of the recipes available online. It is a personal preference whether you want to make the curry spicy or keep the heat mild if you have young kids at home.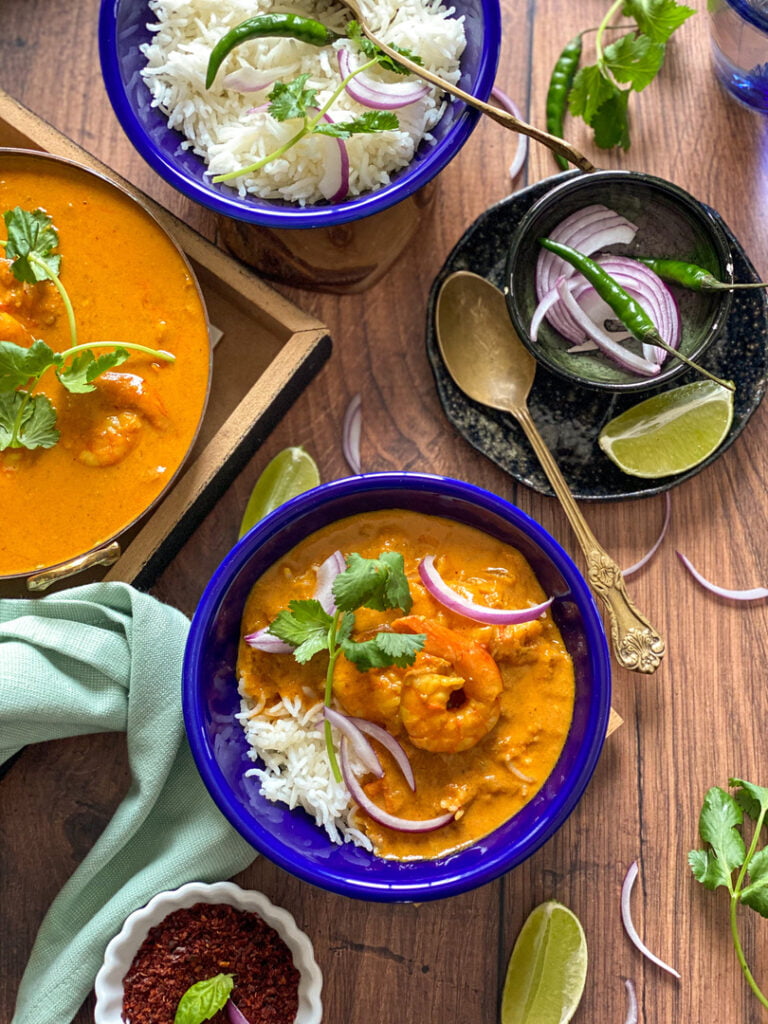 I have used the Spice Tribe Maras Chile Flakes here instead of the whole red chillies. The Maras Chile Flakes are my current favourite due to their versatile mild heat, and warm, fruity and tomato-like flavour. If you are not fond of very spicy food, this chile is perfect for you.
Their single-origin spices are sourced directly from small farms around the world to highlight the unique terroir of each spice while improving the livelihood of the farmers that grow them.

The essence of this curry lies in the wet paste or the masala that combines whole spices and fresh coconut (milk) yielding a beautiful colour that is the life of the curry. A dash of tamarind does wonders to this curry and that hint of jaggery balances the coconut milk and the sour tamarind. You may use coconut or brown sugar in the absence of jaggery.
If you can source fresh coconut and fresh coconut milk, there is nothing like it. Canned coconut milk is a very good and convenient option as well.

The prawns usually cook very fast so please do ensure to not simmer them for more than 10 minutes on medium flame. Remove from heat when done and serve hot immediately with steamed rice.
Vegetarians may choose to add a mix of blanched seasonal vegetables and/ or tofu instead of the shrimp here. I love the base of the curry as such and love turning it into a vegetarian curry as well.

Hope you do get to try this delicious regional recipe and love it as much as we do. Don't forget to share your pictures !
Goan Prawn Curry
Goan Prawn Curry. A deliciously spicy and tangy, popular prawn/ seafood curry from (the Konkon) Goa. Quick and easy. Vegetarians can comfortably swap the prawns with tofu and/ or blanched vegetables. 
Ingredients
1

lb

Fresh/ frozen Prawns

deveined and cleaned (about 25 medium sized)
For the Wet Paste/ Masala
3

tbsp

Spice Tribe Maras Chile Flakes

2

tbsp

Spice Tribe Coriander Seeds

1

tsp

Cumin Seeds

1

tsp

Black Peppercorns

4-6

Garlic Cloves

1

tbsp

Grated Ginger

1

tsp

Tamarind Paste

or a small knob of deseeded tamarind soaked in 2 tbsp water

½

cup

Grated Fresh Coconut or Coconut Cream

½

cup

Warm water
For the Curry
2

tbsp

Coconut Oil

or any other oil of your choice

½

cup

Fresh/ canned coconut milk

½

cup

Water

1

tsp

Turmeric Powder

1

cup

Finely chopped red onion

½

cup

Finely chopped red tomatoes

2

Green chillies

slit lengthwide

1-2

tsp

Jaggery powder

or brown/ coconut sugar

¼

cup

Chopped coriander leaves

to garnish

Salt

to taste
Instructions
 Wash, pat dry and keep the prawns/ shrimp aside.

In a small pan, dry roast the coriander seeds, cumin and black peppercorns for 2 minutes only until lightly fragnant. Do not burn. Cool and keep aside.

In a blender, add all the ingredients for the wet paste/ masala and grind to a smooth paste. Feel free to add a tbsp of extra water to make a smooth paste.

Heat a heavy bottomed pan and add the oil. Once warm, add the chopped onions and saute them over medium heat until they are light golden brown.

Add the chopped tomatoes and let them cook and soften for about 5 minites.

Keep the flame low and add the ground wet (masala) paste. Cook this for 5 minutes after which stir in the mix of coconut milk and water. Bring this mixture to a boil.

Add the prawns and let them simmer. At this stage, you may add in 1-2 slit green chillies depending upon your heat tolerance.

After the prawns have simmered on low to medium flame for about 7-9 minutes, mix in 1-2 tsp jaggery powder and add salt to taste.

 Switch off the flame after 2 minutes and mix in chopped coriander leaves.

Serve hot with steamed rice.