Horse gram Lentil Kebabs. Delicious, wholesome, and very nutritious vegetarian kebabs that make great evening snacks.
Horse gram Lentils. One of the most nutritious and yet not so commonly consumed dals in our country. It is a superfood, a real miracle pulse.
It is a traditional elixir for ailments like diabetes, heart diseases, kidney stones, asthma, and obesity. Horsegram is highly protein-rich, high in calcium, low in fat, and full of antioxidants.
This low-profile, humble legume took its English name from its use as a staple food for horses primarily and some other cattle.
Horsegram is known by various names across our country, the more common being Kulith, Kuleeth, Gahat, Kulthi, and Kollu.
Lipids in horse gram have been shown to have anti-ulcer activity and help to keep heart diseases at bay. It is also low in fat and high in carbohydrate content, making it healthier for the heart.
Did you know that Horse gram – especially in the form of soup – has the ability to generate heat and therefore keeps one warm on a cold winter day?
Sprouting horse gram makes it easier to digest as compared to when consumed otherwise. Lentils are nutritious and very wholesome when consumed as sprouts.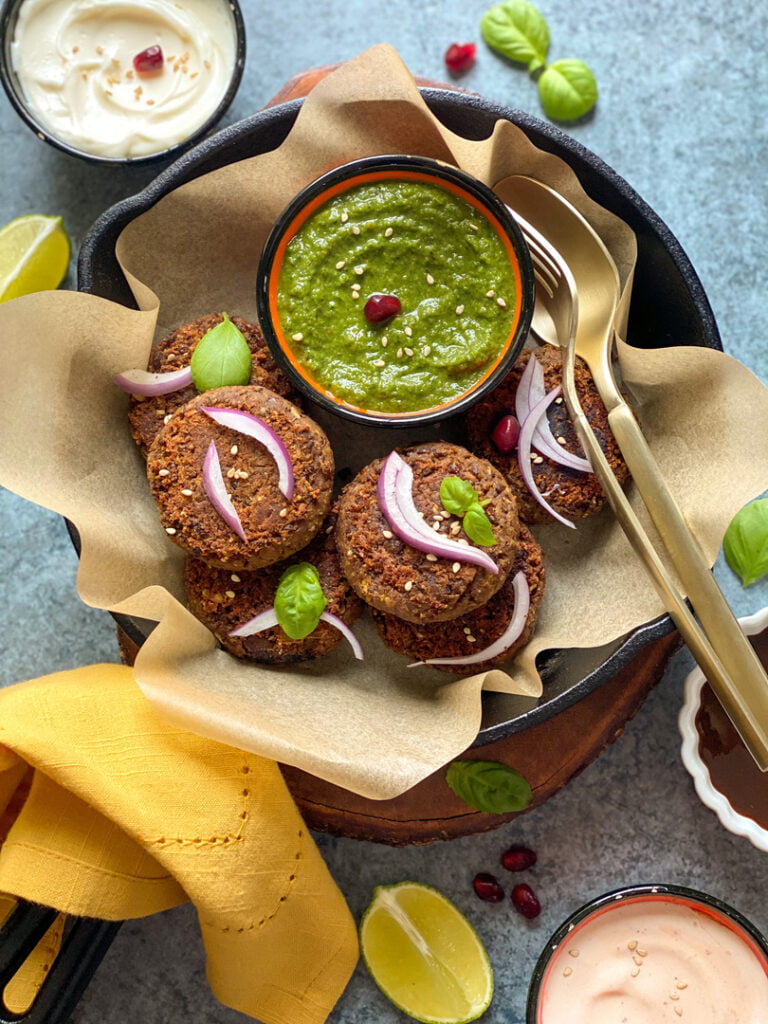 I love lentils of all kinds. Lentils and pulses have been integral to our diet for the longest time.
Having read on the nutrition factor of horse gram lentils, I decided to make kebabs out of them. Our family is a big fan of vegetarian kebabs and patties/ tikkis. They are so wholesome and power packed and a wonderful way to create something fun and interesting out of the daily pantry essentials.
To make these kebabs, I used some chana dal as well because it is a good binder along with a medium potato and some toasted and powdered oats. I cooked the dals to start with and thereafter tempered them with the spices. They are cooked further to remove all excess moisture.
A cast iron skillet works best for me when I pan fry my kebabs and tikkis purely for that extra nutrition and a beautiful golden sear.
I made a batch of these Horse gram Lentil Kebabs for an evening get-together recently and they were a big hit with our friends! Hope you try these very soon and love them as much as we did.
Horse gram Lentil Kebabs
Horsegram Lentil Kebabs. Delicious, wholesome and very nutritious vegetarian kebabs that make great evening snacks.
Ingredients
1

cup

Horsegram Dal

¼

cup

Chana Dal

¼

cup

Powdered Oats

or bread crumbs

1

medium

Boiled Potato

½

tsp

Cumin Seeds

¼

tsp

Fennel Seeds

1

tsp

Grated Ginger

2-3

Green Chillies

finely chopped

1

tsp

Red Chili Powder

¼

tsp

Freshly ground Black Pepper powder

¼

tsp

Chaat Masala powder

optional

½

tsp

Lime Juice

½

cup

Coriander Leaves

finely chopped

4-6

tbsp

Oil

for pan frying

Salt

to taste
Instructions
Wash and soak the horse gram and chana dal/ lentils in enough water overnight or for a minimum of 4 to 6 hours.

Drain and pressure cook the dalss until well cooked and yet not mushy in 4 cups water and 1 tsp salt for about 5-6 whistles.

Meanwhile boil the potato, peel and keep aside.

Once cooked, strain the lentils and keep the water aside. You can use this as a stock for soups separately.

Heat 1 tbsp oil in a pan and add the cumin seeds and fennel seeds. Let them splutter and add add the green chillies and the grated ginger. Mix and saute for about 2 mintes.

To this now add the strained lentils and keep stirring. Continue this process until no excess moisture remains. This may take about 8-10 minutes on medium flame.

Mix in the chili and black pepper powder at this stage. Remove from flame and let this cool.

In a mixing bowl, add the dal mixture, grated the boiled potato, add lime juice, coriander leaves, chaat masala powder, bread crumbs/ powdered oats and salt to taste.

Knead this mixture with gentle hands, mashing the mixture well at the same time.

Rub some oil on to your palms and shape this mixture into equal portion kebabs. I coud make about 10 medium kebabs out of this mixture.

Heat a cast iron skillet/ pan (preferably) and 2-3 tbsp oil of youe choice. Cook the kebabs over medium heat on both side until you see a nice golden sear. They'll be soft so please do handle with care.

Once cooked, remove onto a serving plate and serve hot with a chutney/ sauce/ dip of your choice.