Kala Chana Chaat. One of the most nourishing and wholesome Indian-style legume-based salads that is power-packed and full of nutrition.
Kala Chana is the Indian name for brown chickpeas that are smaller and darker than the commonly used white chickpeas. Chickpea seeds are high in fiber, protein, and one of the earliest cultivated legumes.
Our Indian cuisine makes wide use of brown chana to make curries, stir fry dishes, and salads as well. The nutrition value here makes it very popular in most families. Most mothers like to introduce this chana to their young children. I remember Mom used to cook these so often for us. She also ensured we had the stock that remained after boiling the brown chana.
Kala Chana curry is a delicious way to enjoy brown chickpeas. The chaat or salad version is a fun and healthy way to enjoy them as well. This is essentially a quick and easy healthy yet very flavorful snack.
Did you know, an advantage of these legumes is that they are power-packed and keep you satiated for long periods? Variety, diversity and more than one way to cook with them make these brown chana so attractive.
Chana Chaat is one of our favorite salad(s). It is delicious and very hearty. It is a complete meal in itself or a perfect side to meals like biryani or pulao. While I mostly boil these brown chana, drain the water and mix in the cucumbers, onions, tomatoes, spices, and lime. There are days when first I like to quickly saute the boiled chana in a teaspoon of oil and cumin. After this, I add the chili and coriander powders and let the chana cook. Later I mix in chopped onions, tomatoes, and cucumbers. I also add chopped green chilies, fresh coriander leaves and a dash of lime juice for that flavor.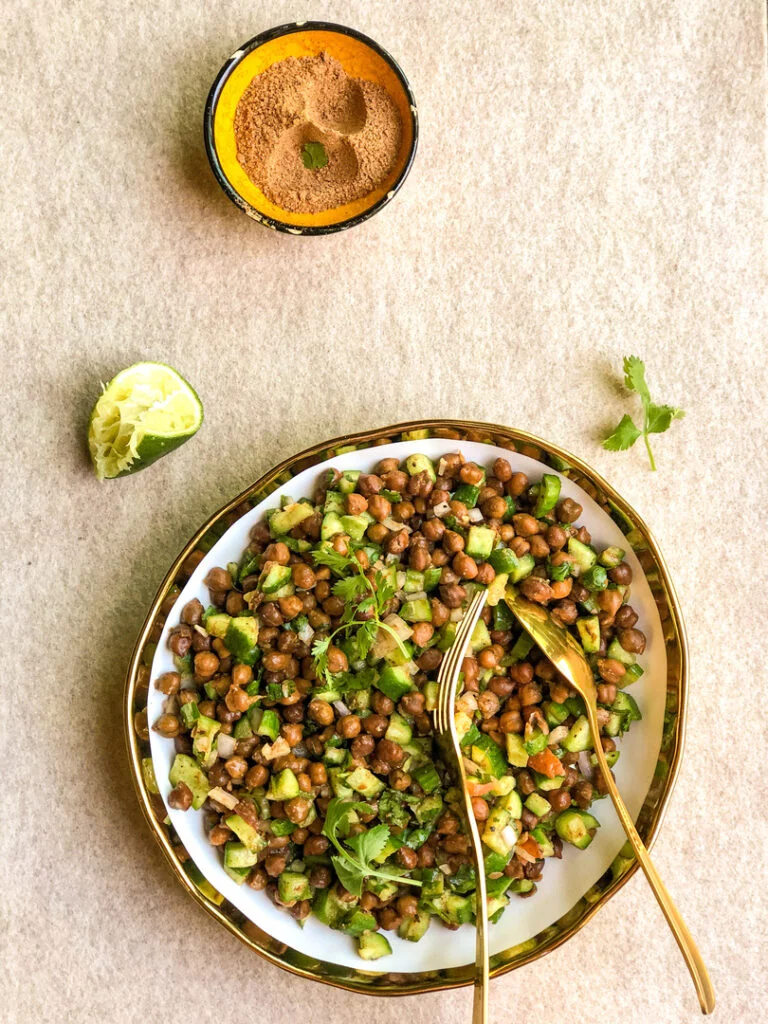 People usually make a dry stir-fry version of this kala chana on the Hindu Navratri festival as an offering or prasad. They serve the chana alongside poori and halwa and offered to the Goddess. I have grown up enjoying this prasad and love it till date. I love converting the leftover chana made on this day into a healthy salad.
Hope you try and make this Kala Chana Chaat which serves as a healthy salad and a side as well. It is nutritious and very filling on a hot summer day. Do let me know if you made this version.
Kala Chana Chaat
Kala Chana Chaat. One of the most nourishing and wholesome Indian-style legume-based salads that is power-packed and full of nutrition.
Ingredients
1.5

cup

Brown Chickpeas

or Kala Chana

½

cup

Finely chopped red onion

½

cup

Finely chopped red tomatoes

½

cup

Medium chopped cucumber

1-2

Finely chopped green chillies

½

cup

Fresh coriander leaves finely chopped

¼

cup

Fresh mint leaves finely chopped

1

tbsp

Fresh Lime Juice

2

tsp

Oil

¼

tsp

Roasted Cumin powder

1

tsp

Chaat Masala powder

¼

tsp

Raw mango/ amchur powder

½

tsp

Cumin Seeds

1

tbsp

Coriander powder

½

tsp

Red Chili powder

1

tsp

Salt
Instructions
Wash the chana well and soak in enough water ( 3 to 4 cups) overnight or for a minimum of 6 hours.

Drain the water, add to a pressure cooker along with salt and 4 cups water and pressure cook until soft.

Remove the boiled chana once the steam from the pressure cooker releases naturally. Separate the stock and keep the chana aside.

Take a cast iron or a regular iron skillet/ wok and add 1 tablespoon oil. Let it warm and add 1 teaspoon cumin seeds. Add the red chili and coriander powder ans saute for a minute.

Transfer the boiled chana to the pan and give it all a good mix. Cover this for 5-7 minutes and let cook under medium flame.

Keeping the flame low, add the raw mango and cumin powder and mix again.

Switch off the flame and transfer the sauted chana into a mixing bowl and let the chana cool down to warm/ room temperature.

Once the chana cools down to your desired temperature, mix in the chopped tomatoes, onions, chilies, cucumbers, coriander and mint leaves, fresh lime juice and chaat masala powder. Adjust the seasoning and add more salt if required.

Serve immediately in individual bowls as an afternoon salad or a tea-time snack.