Malpua. Fried Indian-style pancakes that are crispy yet soft. A very popular regional delicacy made on festivals like Holi in North India.

Malpua is a fried pancake that is usually made in North India on Hindu festivals like Holi and other celebrations like weddings. It is commonly made using flour, milk, and sugar deep fried thereafter. The common flavors in a malpua are that of cardamon and/ or fennel. They may be dunked in sugar syrup and are usually served alongside a creamy rabdi. Rabdi is nothing but slow-cooked and thickened flavored, sweet milk.

Amalu (Malpua) is one of the Chapana Bhoga of Lord Jagannath and is included in the Sanja Dhupa (evening prayer). Bengali, Maithili, and Odia malpua is traditionally made only with thickened milk and a little flour. They may use either rice or wheat flour.
Malpua is sweet, indulgent and all things wonderful. I have usually had them at weddings in Delhi. Whereas it is mandatory at my in-laws' house in Banaras on Holi.

My mother-in-law grew up in Jamshedpur and makes excellent malpuas. Malpuas are extremely popular in that region. Malpua, gujjiya, and dahi bade are mandatory on Holi in their house in Banaras.
She makes them with refined flour (maida) and at times wholewheat flour too. She mixes the flour with milk, sugar and at times adds khoya as well to make it indulgent. The batter is left to stand for a few hours or even overnight before being spooned into a kadhai of medium hot ghee (preferably) or oil to form a bubbling pancake.
The peculiarity of a good malpua is that it should be crisp around the edges and yet soft in the center. The pancakes are then dunked in warm thick sugar syrup. This step isn't a norm in UP/ Bihar households; they are usually soaked in sugar syrup in restaurants and sweet shops.
Malpua along with mutton curry is also served in many non-vegetarian Maithil homes during Holi.
There is a variation in Bihar where they flavor the malpua with a ripe banana that makes it so soft and nearly melts in your mouth. I was pleasantly surprised to see my mother-in-law make a big batch the night before to be enjoyed for breakfast the next morning with chai.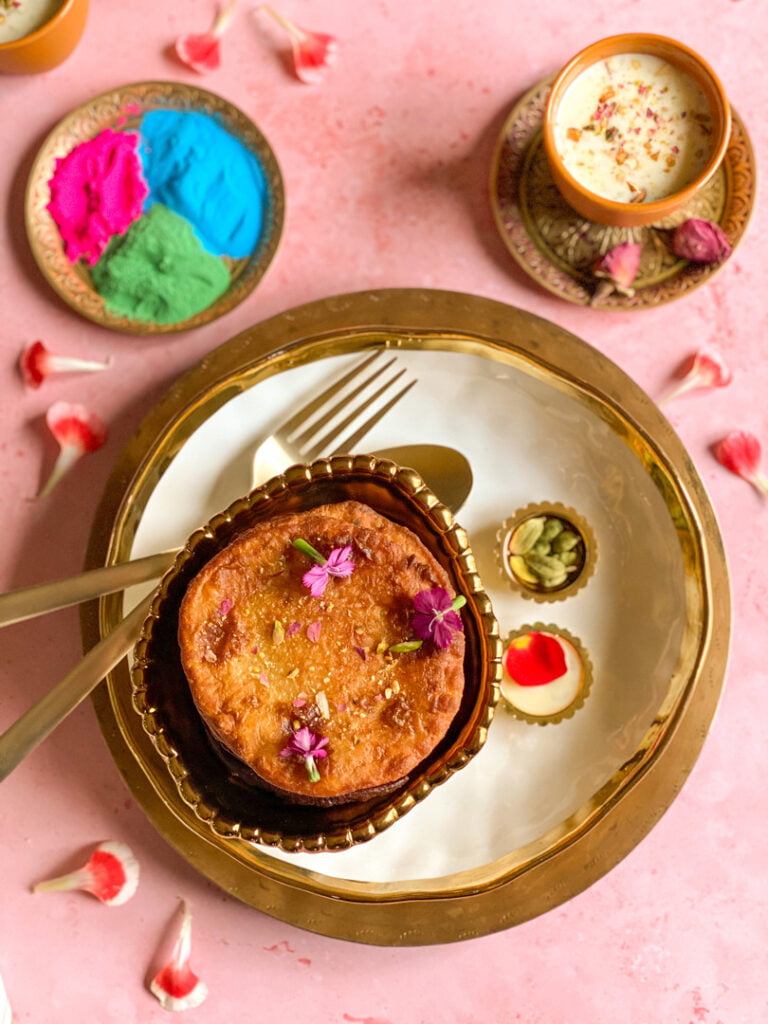 I have read that Malapua in Nepal also known as Marpa is specially made in the Kathmandu Valley which uses maida, mashed up ripe bananas, fennel seeds, peppercorns, milk, and sugar into a batter and prepared in a similar way as in India.
The recipe is very straightforward and simple. But I like to take care of a few things while making malpuas
The batter must be of pouring consistency. Before deep-frying, I usually beat the batter very well to make it airy enough. You must also maintain the temperature of the oil to medium and not very high else the malpua will burn. I usually pour a ladle full of the batter from a height to fall into the medium hot oil and let it cook slowly on both sides until crispy on the sides and well cooked till inside. Once they're fried and cooked well, dunk them into sugar syrup for 20-30 seconds and transfer them to a plate.
I like to serve them as such topped with sliced nuts or alongside a chilled rabdi. They make for a delicious after-meal dessert or as an occasional healthy breakfast sans the sugar syrup. A quick recipe for the rabdi is in the notes below.

Do make these malpua on Holi this year or the day after; I am sure you and your family will love them.
Malpua Recipe
Malpua. Fried Indian style pancakes that are crispy yet soft.  A very popular regional delicacy made on festivals like Holi in North India. 
Ingredients
1

cup

All Purpose Flour

or Maida or Wheat Flour

¼

cup

Sugar

1¼

cup

Milk

that is slightly warm

2

tbsp

Fresh Milk Cream

or heavy cream

1

tsp

Cardamom Powder

optional

1

tsp

Fennel Powder

optional

1

pinch

Salt

Ghee or oil for frying

¼

cup

Sliced or chopped pistachios and almonds

to garnish
Instructions
Take a bowl and add the flour, sugar, salt, cardamom and fennel powders. Whisk everything well.

Warm the milk and start adding to the dry mix part by part, whisking well at the same time. Make sure the batter is lump free and smooth. To test, it should fall freely when spooned and lifted. Add the cream and mix again. I used about 1 and 1/4 cups milk and 2 tablespoons cream. Feel free to mix in a tablespoon or two of extra milk until you reach a pouring consistency.

Cover and let the batter rest for an hour minimum. The recommended time for the batter to sit is 4 to 6 hours. The longer it rests, the more delicious the malpuas will be.

Now is a good time to make the sugar syrup in case you are going to soak the malpuas in it to make them more indulgent. If so, you may omit the sugar in the malpuas or lower the quantity.

When you are ready to fry, heat ghee or oil in a broad, heavy bottomed pan. The malpuas should not be fully drowned or submerged in the oil when they are being fried. I would add ghee or oil to fill upto about one fourth of the pan or kadhai.

Whisk the batter very well for about 2-3 minutes before frying. This ensures soft malpuas with a longer shelf life.

Take a ladle or a size 1/4 cup and spoon the batter. Pour the batter from a height to fall freely into the medium hot oil so that it takes a rough round shape on its own.

Fry the malpua on low to medium heat until you see the edges turning golden brown. Again, please note that the malpua isnt fully immersed in the oil.

When the bottom side is cooked, flip gently and let the other side cook completely and turn a light golden brown.

If you have made a sugar syrup, remove the malpua while draining any excess oil and add it into the warm sugar syrup and let both the sides soak for about 20-30 seconds.

Remove onto a serving plate and garnish with sliced pistachios and almonds.

Serve warm as such or with a side of chilled, creamy rabdi.