Matar Kachori Pinwheels. A fun take on the classic matar kachori that are a speciality during festivals in India. They are flaky, crispy with a delicious spiced green peas filling. Best served with a variety of chutneys.
Kachori are mandatory on Holi in many families including ours. Matar Kachoris make use of delicious fresh green peas that are stuffed in a dough and deep fried thereafter. These Matar Kachori Pinwheels make use of the versatile puff pastry or Kawan frozen paratha that are baked and not deep fried. The stuffing is a delicious spiced green peas filling that holds very well when rolled, cut and baked thereafter.
They are a perfect appetizer for your friends and family this Holi. Serve them with chutneys of your choice; a green cilantro and/ or a tamarind and date chutney go so well with these kachori pinwheels.
Holi. One of my favorite Indian festival(s). Holi is synonymous with the onset of Spring. The end of long, cold winter. Holi is the festival of love, happiness and color. Lots of good food is mandatory on Holi and hence the excitement. I have memories of playing Holi year after year in Delhi with family and friends. As kids, we would shop for colors and water balloons a day before from our neighborhood market and get everything ready for the day after. Mom would start preparing sweets and savory snacks a few days in advance.
The morning of Holi was always exciting. We would wear our oldest clothes. and get our colors ready and fill the balloons with colored water. The children in the neighborhood would start playing early in the day. The parents would slowly come out and start wishing each other by applying dry, powdered color on each other and offering sweets and snacks. The morning hustle was always so much fun!
The days around Holi would start getting warmer and hence our parents let us play with water balloons that we would throw at each other. As kids we loved this so much. While playing, we would try out the finger food and appetizers made by our mothers. There was always so much variety and good food around that day.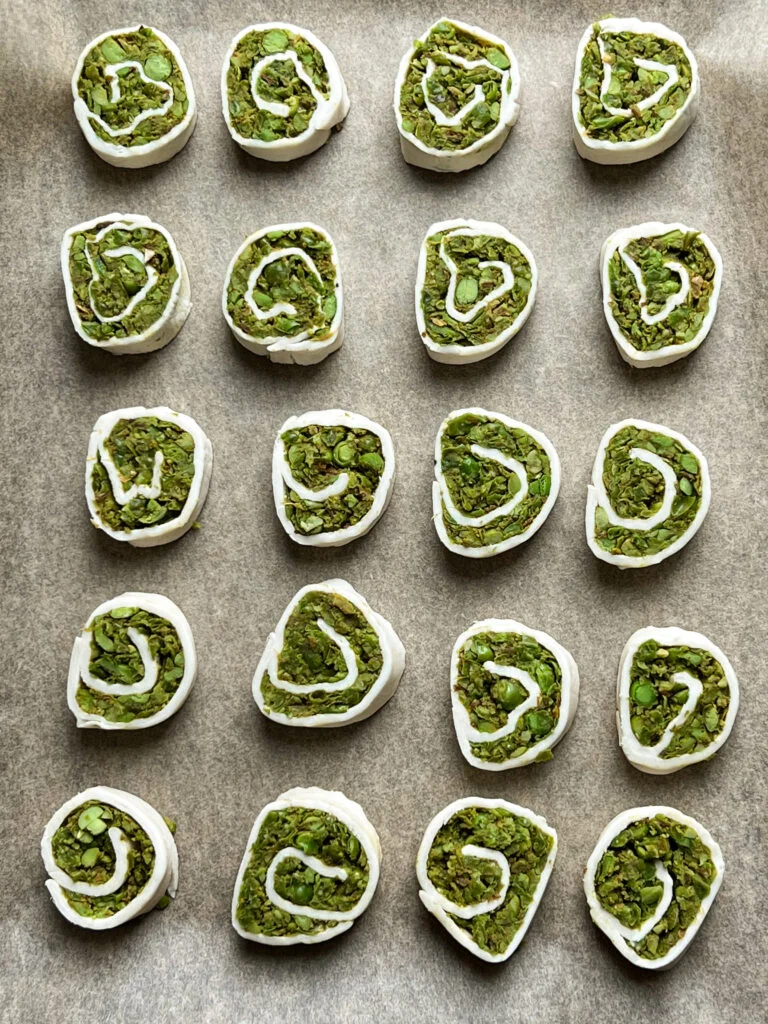 The most popular foods on Holi usually are dahi bada, puri, chole bhature, chat, kachori, and sweets like gujjiya, malpua, phirni, seviyan. The emphasis always was mostly on enjoying, playing with colors, greeting each other and enjoying a variety of appetizers.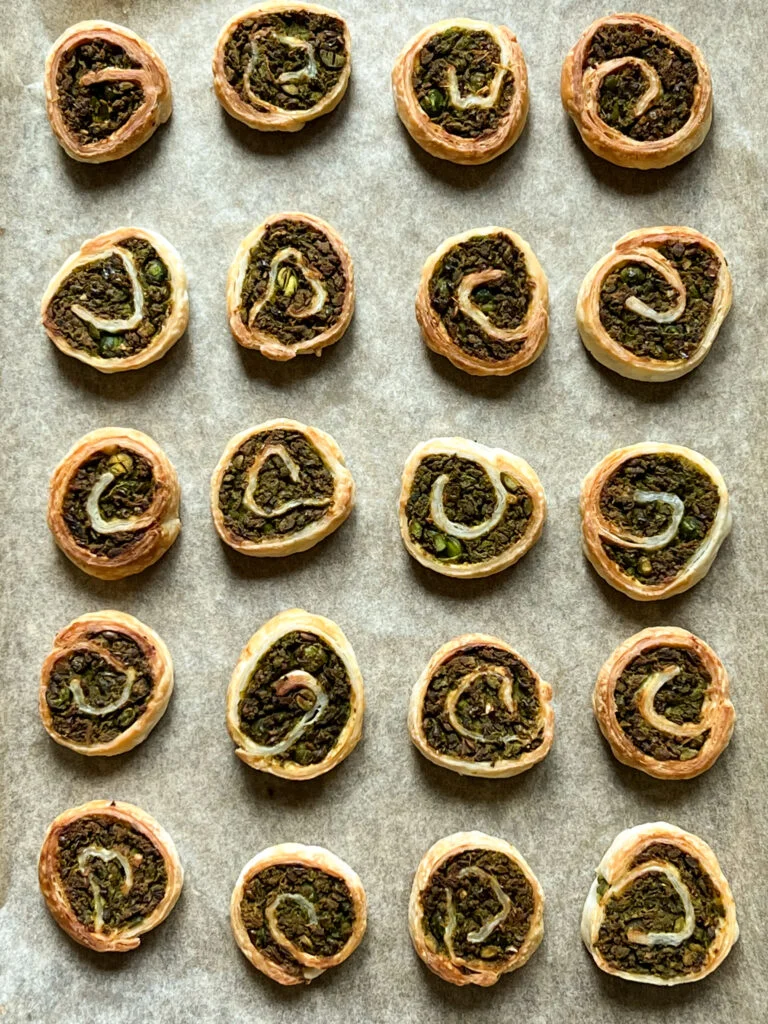 Coming back to the Matar Kachori Pinwheels, I decided to create a fun snack for Holi this year that requires minimal effort and yet is very popular with familiar flavors. All you need to do is make a delicious spiced green peas filling and chutneys of your choice and the process is very simple thereafter.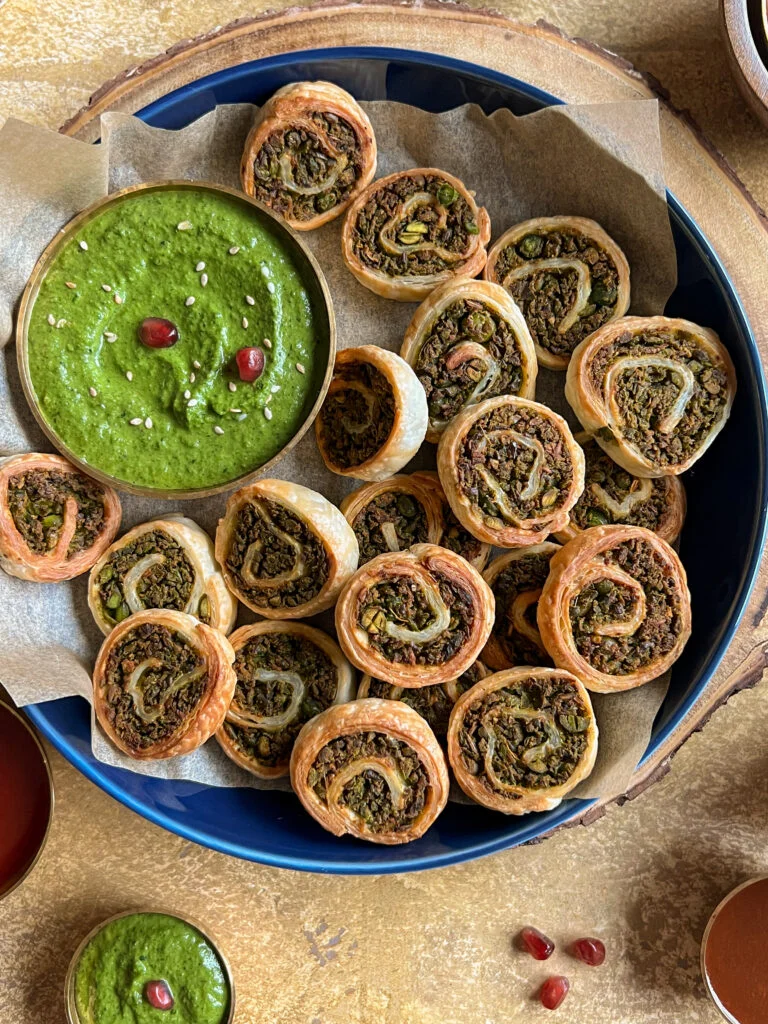 They are fun, easy to make, delicious in taste and do not take much effort in planning and cooking. I hope you try these delicious appetizers this Holi.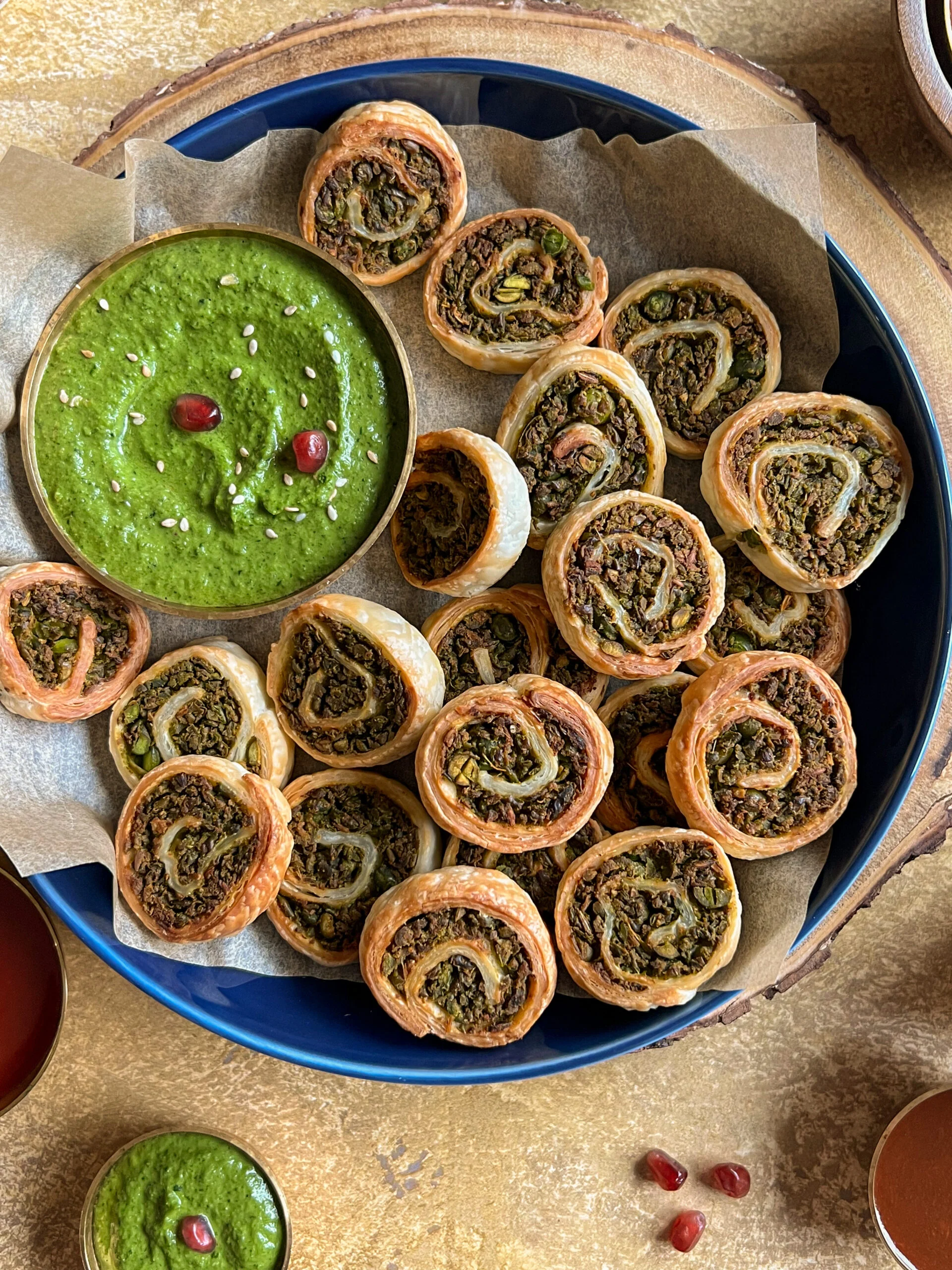 Matar Kachori Pinwheels
Matar Kachori Pinwheels. A fun take on the classic matar kachori that are a speciality during festivals in India. They are flaky, crispy with a delicious spiced green peas filling. Best served with a variety of chutneys. 
Ingredients
3

Kawan Plain Parathas

(frozen)

2

tbsp

Melted butter

2

tbsp

Flour mixed with 4 tbsp water to make a slurry

250

gm

Fresh green peas

(you may use thawed frozen peas as well)

2

tbsp

Oil or ghee of your choice

1

Pinch Asafetida/ heeng

2-3

Green chilies

1

inch piece of ginger

1

tsp

Cumin seeds

1

tsp

Kashmiri Red Chili powder

1

tbsp

Coriander powder

1

tsp

Powdered Saunf/ fennel seeds

½

tsp

Garam Masala powder

1

tsp

Amchur/ raw mango powder

Salt

(to taste )

½

cup

Finely chopped coriander leaves
Instructions
For the green peas filling
Let us first make the green peas filling. 

In a pan, boil 4 cups of water. Add the green peas and boil for 5 minutes. Remove, drain and keep aside.

Once the peas are cool, coarsely grind them in a mixer. Do not puree them.

In a mortar pestle/ grinder, coarsely grind the cumin seeds, ginger and green chili. 

Heat a pan. Add the ghee/ oil and add the heeng followed by the wet paste. Saute this for 2-3 minutes. 

Now add the coarsely ground green peas and mix well. Add the dry spices like red chili, coriander, garam masala, saunf and amchur powder as well.

Add salt to taste and keep stirring this mixture until you don't see any excess moisture.

 Keep this aside and let the mixture cool completely. Mix in the chopped coriander leaves. You may prepare this mixture a day before as well.
Preparing the pinwheels
Remove the Kawan paratha from the freezer and keep your working counter ready. Let the paratha thaw for a couple of minutes in the open, but not any longer as they will become sticky.

Take 1 paratha and dust flour on the rolling board and on the paratha too. Roll it evenly all over. Work on them one by one while they are cool.

Take about 4 tablespoons of the peas filling and spread all across the rolled paratha, leaving half an inch on the side. Spread some slurry around the edges of the rolled out paratha.

Begin to roll from one end, tightly to form a uniform log until you reach the other end. Secure the edges and seal well.

Wrap this log firmly with plastic wrap and refrigerate for 30 to 60 minutes. Work with other parathas one by one similarly and refrigerate all. If you have the time, freeze them for an hour or even longer if it works. They slice way better if frozen for some time. 

Preheat the oven at 400F and line a baking sheet with parchment paper.

Remove the logs when ready to bake and slice them equally about an inch wide with a sharp knife and arrange on the lined tray leaving enough space.

Brush some butter uniformly on all the pinwheels before placing the tray in the oven.

Bake at 400F for about 20 to 25 minutes until well done and light golden brown. Do check both the sides regularly to avoid any burning.

Serve the Matar Kachori Pinwheels with sauces and chutney(s) of your choice.