Mushroom Makhani Masala. A delicious buttery, no cream mushroom masala dish that is simple and so flavorful. This dish is quick and easy, and a perfect weeknight meal.
Mushroom Makhni Masala. A dish that came together one day just like that, completely by chance. I had some leftover makhani sauce one day and baby bella mushrooms that needed to be used. Sauteed some onions in ghee and added the makhani sauce along with the mushrooms, and a super delicious mushroom dish was put together.
I love mushrooms. Always have. Dry stir-fries, saucy curries, both have my heart. I love a well-made white sauce mushroom pasta as well. Mom makes a mean matar-mushroom (mushroom and peas in a red sauce). I haven't known anyone who makes it better, and like always it is difficult to replicate those flavors.
The standard for the name "mushroom" is the cultivated white button mushroom. A mushroom or toadstool is the fleshy, spore-bearing fruiting body of a fungus, typically produced above ground, on the soil. Mushrooms are used extensively in cooking, in many cuisines. Mushrooms are a rich, low-calorie source of fiber, protein, and antioxidants. They may also mitigate the risk of developing serious health conditions. Mushrooms have unusually high levels of the essential vitamin, vitamin D.
Mushrooms, especially dried shiitake, are sources of umami flavor.
Coming back to the mushroom makhani masala, the key here is to have some makhani sauce on hand. You may also quickly make some. a typical makhani sauce may have a lot of cream/ nuts and butter but I kept it simple here. I began by making a simple makhani gravy using good-quality red tomatoes and Kashmiri red chili for that beautiful color. Thereafter, I simply sauteed some onions in ghee and added mushrooms to the gravy. Since the mushrooms cook very fast, this dish comes together very quickly.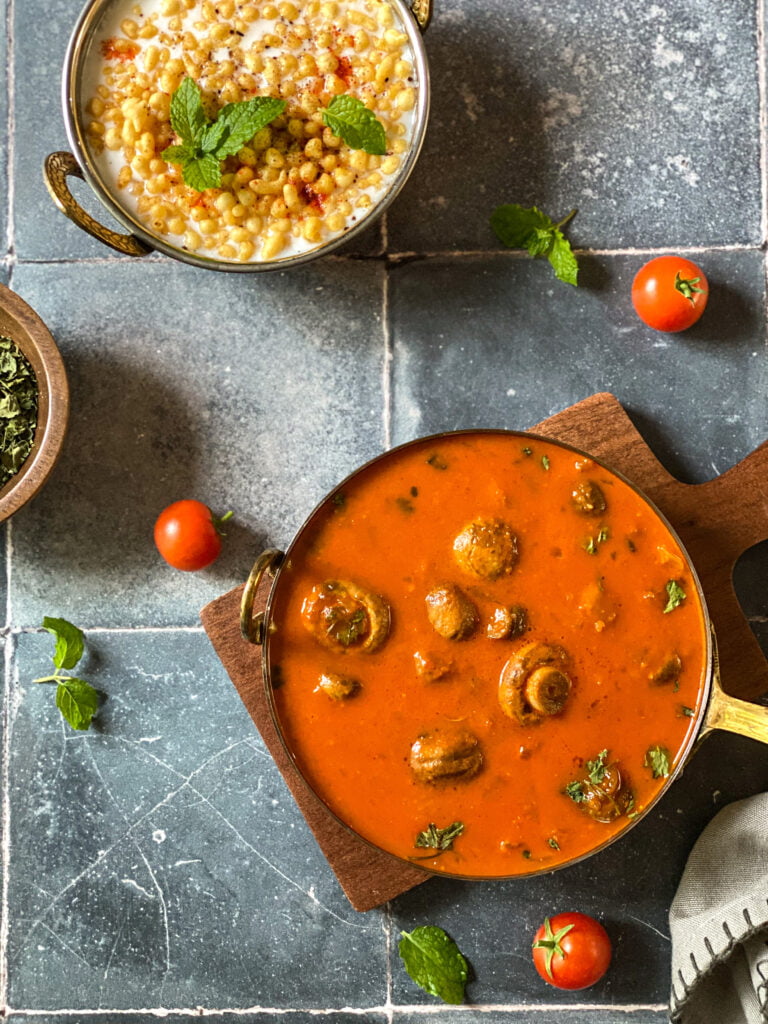 I like to add Kasuri methi here instead of garam masala for that delicious, earthy flavor. It is completely optional to add cream towards the end. If you do not eat mushrooms, you may choose to use paneer here instead or a choice of mixed vegetable. The sauce here is so good that I do recommend trying this version.
I hope you try this mushroom makhani masala and love it as much as we did.
Mushroom Makhani Masala
Mushroom Makhani Masala. A delicious buttery, no cream mushroom masala dish that is simple and so flavorful.
Ingredients
350

gm

Baby button mushrooms

about 3 cups

1

Finely chopped large red onion

4

Large red tomatoes

4

Garlic cloves

1-2

Green chilies

1

1-inch piece of ginger

2

tbsp

Butter

1

tbsp

Ghee

2

tbsp

Kashmiri Red Chili Powder

½

tsp

Kashmiri Red Chili Powder

1

tsp

Honey

or brown/ coconut sugar

1

tbsp

Kasuri Methi

Salt

to taste

¼

cup

Chopped coriander leaves
Instructions
Wash, clean and keep the mushrooms aside. If they are big, cut them into halves.

In a pan, add 2 cup water along with halved tomatoes, whole garlic cloves, green chili and the piece of ginger. Add the kashmiri red chili powder, butter and cover the pan. Simmer this mix on low flame for about 20 minutes.

Switch off the flame after 20 minutes and wait until the mixture is cool. Transfer to a blender and grind this into a smooth puree.

Heat a heavy bottomed pan. Add 1 tablespoon ghee. Once warm, add the chopped onions and saute them until light golden brown. Add the tomato puree, mix well and let this simmer covered for about 5 minutes. At this point you may add a teaspoon of kashmiri red chili powder too for color (optional).

Add the mushrooms to the puree and let them cook for about 10-12 minutes covered on low to medium flame.

Feel free to add half or one cup of warm water depending upon your desired consistency.

Once the mushrooms are cooked, add a tablespoon of kasuri methi and mix well. Let the mushrooms simmer for another 5 minutes after which you may switch off the flame. Keep the pan covered for about 15 minutes.

Garnish with chopped coriander leaves and serve hot with either steamed rice or hot rotis and some refreshing raita on the side.