Palak Paneer. Also known as Saag Paneer. Saag is essentially a mix of seasonal greens distinctive to North Indian Cuisine.
The onset of winter means fresh, seasonal leafy green vegetables. Spinach, Fenugreek, Mustard Greens are the more popular leafy greens that we all look forward to in the winter. They have that distinct, unique flavor and texture that makes food so delicious and nostalgic.

Palak Paneer takes me back to our growing up days in Delhi. Mom loved her seasonal produce. She would behave like a small kid in a toy store whenever she visited the local farmers' market during the winter months. Spinach was always bought in bulk for all the nutritive properties associated.

Growing up, Paneer was a luxury. On good days, she would get the freshest block of paneer from the neighborhood store and whenever she had spinach at home, Palak Paneer would be made. I have almost always been around her whenever she cooked. She would never share her secrets/ tips while cooking; she has to date never shared her recipes with any of us.

But some dishes have always been special and I (secretly) know of her special tricks whenever she cooked our favorite dishes.

This version of palak paneer is without any onion and tomatoes; it is by far my favorite and one of mom's recipes I always follow to the point. The masala here is freshly ground on a mortar & pestle and powdered masalas do not overpower here.

I guess this will always be special for the memories associated. Do give it a try if you want to try a new spinach curry base with a difference.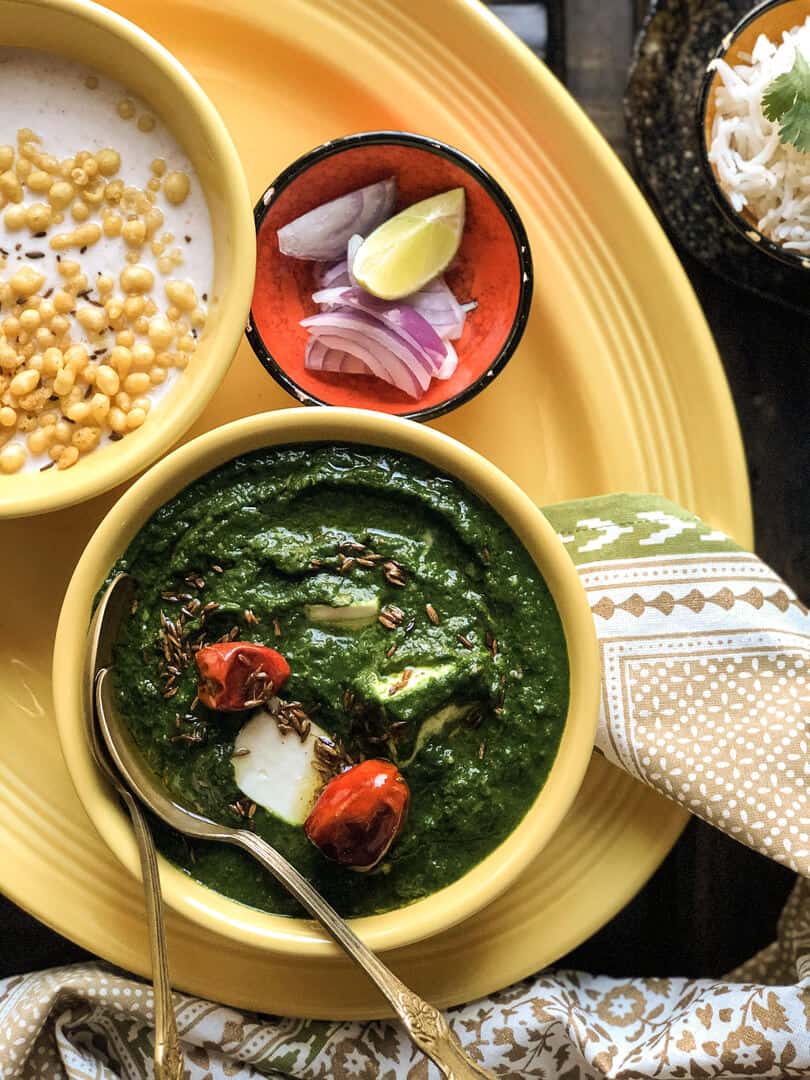 Palak Paneer
Palak Paneer. Also known as Saag Paneer. Saag is essentially a mix of seasonal greens distinctive to North Indian Cuisine.
Ingredients
400

gm Paneer

2

cups

blanched and pureed spinach/ palak

1

tsp

cumin seeds

3

garlic cloves

1

small piece of ginger

2

green chilies

2

tbsp

ghee

1

tbsp

besan / gram flour

1

tbsp

plain curd/ yogurt

1

tsp

garam masala
Instructions
In a kadhai/ deep pan (I usually prefer a cast iron base), heat 1.5 tbsp of ghee.

Make a coarse paste of 1 tsp jeera, 2-3 garlic cloves, a small piece of ginger & 1-2 green chilies in a mortar-pestle preferably; if not you may use a grinder.

Add this paste to the pan and sauté on low flame for 1-2 minutes.

Now add 1 tbsp of besan (gram flour), sauté for a minute. Now add a tbsp of thick curd/ yogurt, and mix well for another 2 minutes.

The besan gives a very nice texture to the gravy.

Now add the blanched & puréed spinach. I personally like it coarsely pureed so I don't blitz much. Mix well. Add salt to taste.

Mix in the cubed paneer/ cottage cheese cubes (which ideally should've been kept in warm water for about 10-15 min prior to adding to the pan).

Cover & cook for 5-7 mins on low to medium flame. We do not want to overcook either the paneer or the spinach here.

Add a tablespoon of ghee/ 2-3 tablespoons of cream in the end if you like.

Finish off with a teaspoon of good homemade garam masala and give it a gentle mix.

Serve hot with a bread of your choice or some steamed basmati rice.