Peanut Gajak. This Indian style peanut brittle is a seasonal delicacy in many Indian homes during the winter months. It is delicious and very easy to make at home.
Winter months in Delhi have always been so special. Just the thought of childhood back then brings a smile to my face. Each month and every season was always so special with something new to offer. We always associate food and memories, isn't it ? Winter and peanut gajak or chikki are no different. Foods like peanut, sesame, jaggery and ghee are warming and so essential during cold months. Gajak or chikki are brittle made using peanuts, sesame and jaggery with a dash of ghee. They are made and sold a lot in North India in particular. I can still visualize street side vendors selling whole roasted peanuts and so many versions of these Chiki and gajak. The crunch and bite from these is unbeatable.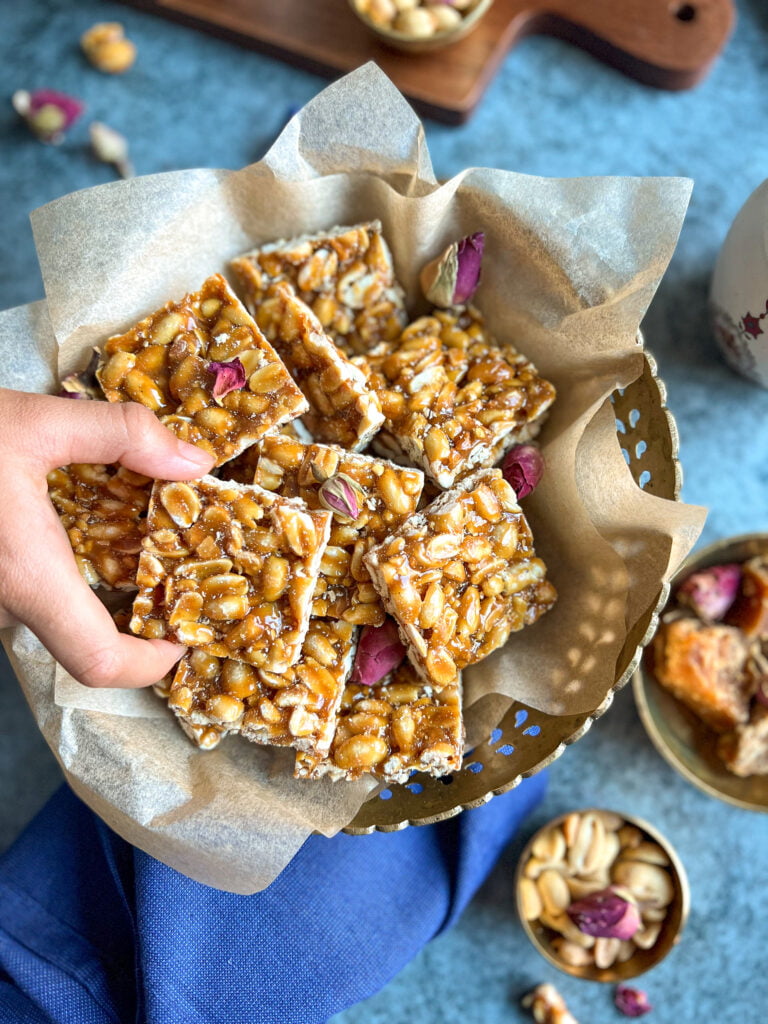 Big stores and small road side vendors would sell these peanut gajak and til/ sesame chiki all through the cold months. I remember mom buying so much for us whenever she got back home. Because they were always sold everywhere and there was never any scarcity, no one made them at home. Winter months would mean sitting out on the balcony or on the terrace with a chatai or picnic mat and loads and loads of roasted whole peanuts that we would peel and munch on and so many versions of these gajak.
Because India is so diverse, every area would have their own speciality and taste for the same gajak. Now that we are in the US, we crave for authentic flavors so much. We always bring back some whenever we come back from our December trips to India. Despite the fact that most foods are available at the store here, the packaging spoils the freshness and authenticity most of the times. This is the reason that I make small portions sometimes during the winter months. You basically need only peanut and jaggery here, or some sesame added if you prefer to mix the two. The key here is to cook the jaggery well; if you do not perfect the jaggery step here, you may not get a good texture.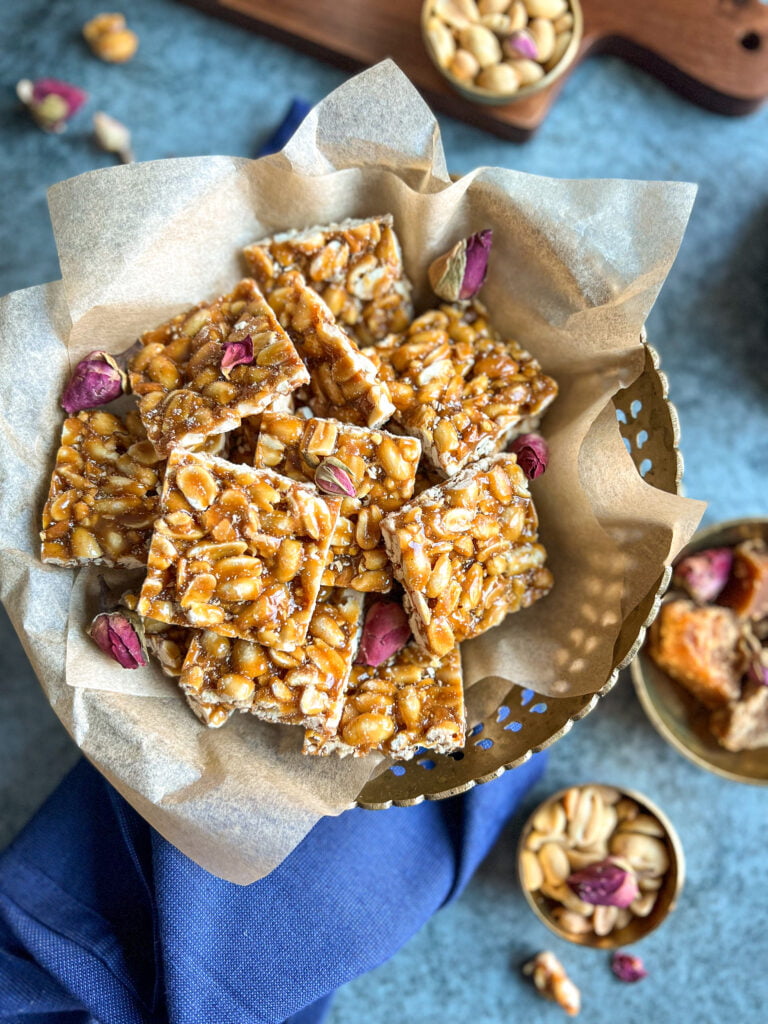 This time of the year is so special across the country. Lohri, Makar Sankranti, Pongal. One week and celebrations across the country. Chikki. Gajak. Til Gud. Khichdi Chokha. Each food has its own significance.
I have shared a detailed recipe below with all the do's and do nots. Hope you make a batch this week.
Happy Makar Sankranti and Happy Lohri !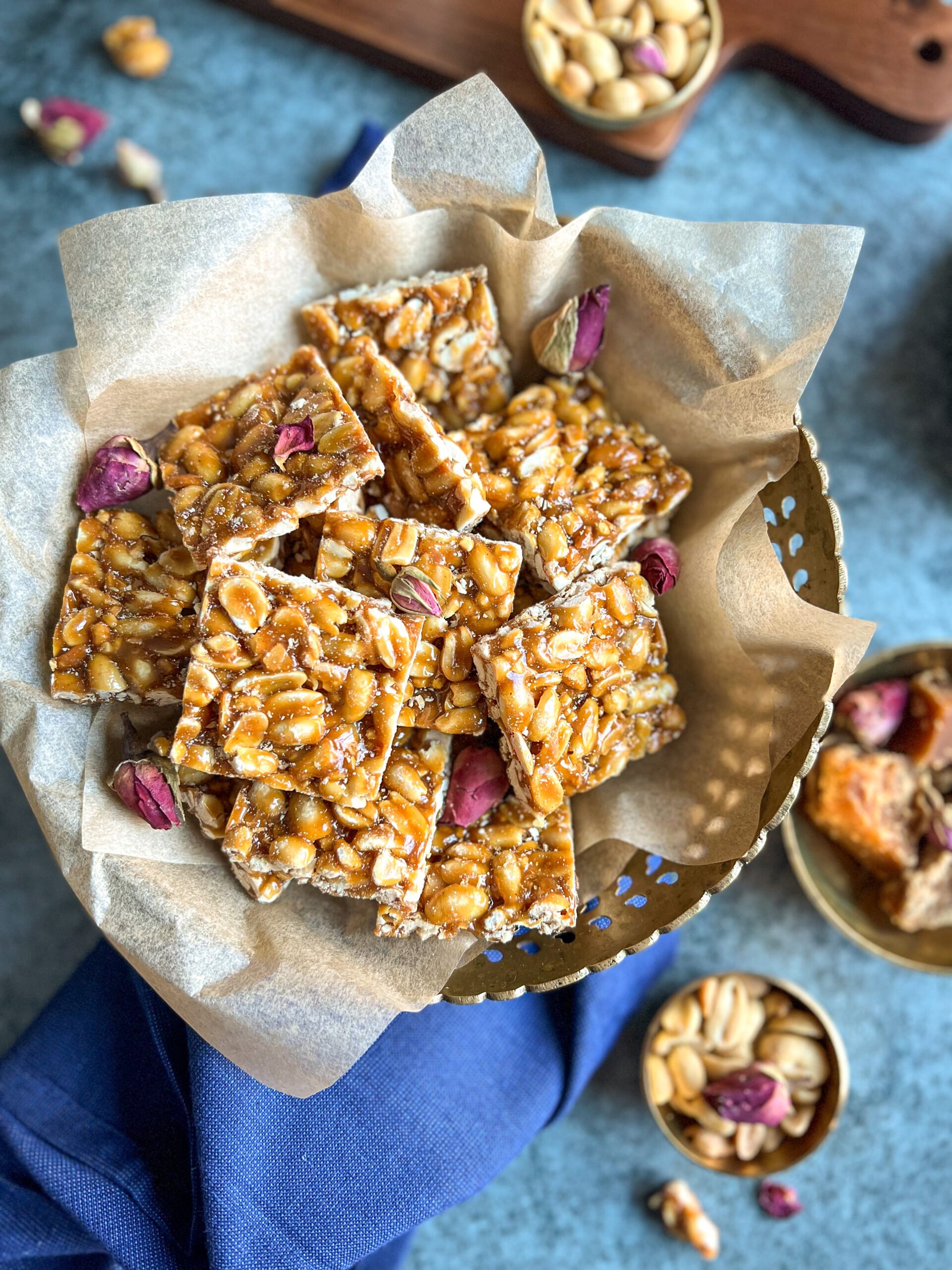 Peanut Gajak
Peanut Gajak. This Indian style peanut brittle is a seasonal delicacy in many Indian homes during the winter months. It is delicious and very easy to make at home.
Ingredients
1

cup

Grated jaggery

(I used jaggery powder)

1

tsp

Ghee + ¼ tsp ghee for greasing a plate

1

cup

Roasted, unsalted peanuts preferable chopped coarsely

1

pinch

Salt
Instructions
Grease the back of a stainless steel plate/ flat pan with ghee or line a baking sheet with parchment paper.

Heat a heavy bottomed pan over medium heat. Add 1 tsp ghee, the grated jaggery and 1 tbsp water. Give this a good stir.

Cook this mixture, stirring continuously for about 8 to 10 minutes, until the jaggery mixture starts to melt, soften and then caramelize. Make sure the heat is not high so that the mixture doesn't burn.

You must look out for the hard ball stage which is the point where a drop of the jaggery mixture when dropped in cold water sinks and hardens into a toffee.

Switch off and remove the pan from heat.

Immediately fold in the roasted peanuts, salt and cardamom powder if using, and stir until combined well.

Quickly thereafter, transfer this mixture onto the back of the plate or on the parchment paper, and using a rolling pin, roll this to an approximately ¼ inch thickness.

Let this now set until cool and you can then break into rough shapes using your hand after about an hour.

You may also cut across the set mixture with a knife or pizza cutter while still warm to allow symmetrical shapes to come out later.

Store the gajak or brittle in an airtight container.