Phirni. A classic creamy rice pudding dessert that is delicious and best served chilled. It is popular across North India during festivals and celebrations.
Phirni is a rice pudding that is slightly different from kheer. Here, to start with, we coarsely grind the rice and thereafter slow-cook it in whole milk until the consistency is nice and creamy. You may choose to cook the phirni with/ without saffron/ kesar and this is most often served chilled. Once cooked and sweetened, we transfer into individual earthenware and set overnight or for a few hours. This process is very important for perfect consistency. You may garnish the phirni with sliced dried fruit of your choice.
Rice and milk are essential to festivals in India. They are pious if I may say so. Almost all regions across the country prepare an offering peculiar to their culture using rice, milk, and sugar. Kheer, payasam, phirni are some of the most common names.
Phirni is typically prepared during festival seasons; it is also famous during the holy month of Eid/ Ramazan as an Iftar dish. It is also a very popular sweet/ dessert during Diwali as part of the festivities and enjoyed by many people.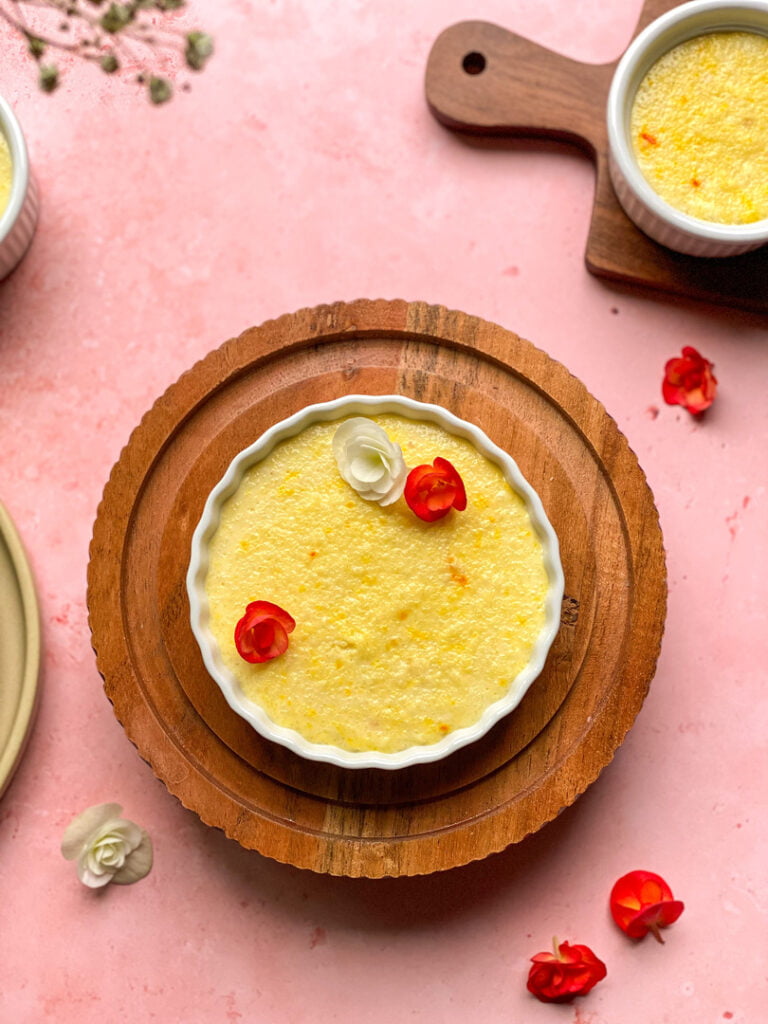 To start with, we wash the regular white rice and soak it thereafter. We then coarsely grind it without water and then slow cook it in whole milk until it gets thick and the rice cooks well. Thereafter, we add either sugar or jaggery as a sweetener. We then transfer the phirni to individual bowls, preferably earthenware serving bowls. We then let the phirni set here and thereafter in the refrigerator. You may choose to garnish the same with chopped/ sliced dried fruit/ nuts of your choice and serve chilled.
Kheer is one of my all-time favorite and evergreen sweets from Indian cuisine. Chilled kheer especially is a big favorite at home. For preparing kheer or phirni, you may choose to use either basmati rice or sona masuri rice. The milk should preferably be full cream/ whole milk to ensure a creamy consistency.
I hope you like the recipe and make this for the upcoming festive season. I bet you will love it!
Phirni – How to make the Perfect Creamy Phirni
Phirni. A classic creamy rice pudding dessert that is delicious and best served chilled. It is popular across North India during festivals and celebrations.
Ingredients
¼

cup

Basmati Rice

1

litre

Milk

preferably whole/ full cream

½ – ¾

cup

Sugar

¼

tsp

Freshly ground green cardamom powder

¼

tsp

Saffron

soaked in 2 tbsp warm milk for 15 minutes

¼

cup

Almonds

soaked/ blanched and later peeled
Instructions
Wash the rice and rinse well. Soak in clean water for about 30 minutes to 1 hour.

Later, drain away the water and spread the rice on a paper towel.

Ensuring there is no excess water, grind the rice in a coffee/ spice grinder until the ground rice resembles sooji (rava/ semolina).

Keep the ground rice aside.

Heat the milk in a thick/ heavy bottomed pan. Let it warm and slowly come to a boil on low flame.

In the meantime, take the saffron strands in 2 tablespoons of warm milk in a small bowl and keep it aside.

Take the peeled almonds and thinly slice them for garnish later.

Once the milk comes to a boil, lower the heat and let it simmer for about 10 minutes. Thereafter, add the ground rice and continue to cook. Stir and add sugar after about 5 minutes.

Continue to cook the ground rice in the milk, and do not cover the pan. Also ensure that no lumps are formed while the rice cooks.

After about 10 minutes, add the almonds, cardamom powder and saffron milk.

Mix well and cook for another 5 minutes. By now, the phirni should be thick, cooked well and creamy at the same time.

Pour the phirni in individual ceramic or glass serving bowls. Garnish with sliced almonds/ pistachios (optional).

Cover the bowls well and let cool at room temperature first. Once cool, refrigerate the phirni for about 4 to 6 hours. Serve the phirni chilled.