Pistachio and Tahini Bliss Balls. Indulgent and very healthy bite-sized treats for your loved ones.

Bliss balls, also known as protein balls or even energy balls, are a very healthy treat. They are very versatile and can be made in so many different ways! Bliss balls are often filled with energy-boosting ingredients, such as dates and nuts.
They make a very good post work-out snack as well. The fibre in these bliss balls helps you stay full for a longer period. Rest assured, the following essential components below will be taken care of when you make these bliss balls.

Carbohydrates.
A good carbohydrate is important for the body and incorporating a dried fruit like for example dates helps provide the energy a body typically needs.

Healthy Fats.
Fats are good. Sesame seeds and other nuts like almonds/ pistachios take care of the good fat here.

Protein.
The nuts and seeds here take care of the vegetarian protein requirement for our body. You may also choose to add a protein powder of your choice here for that boost.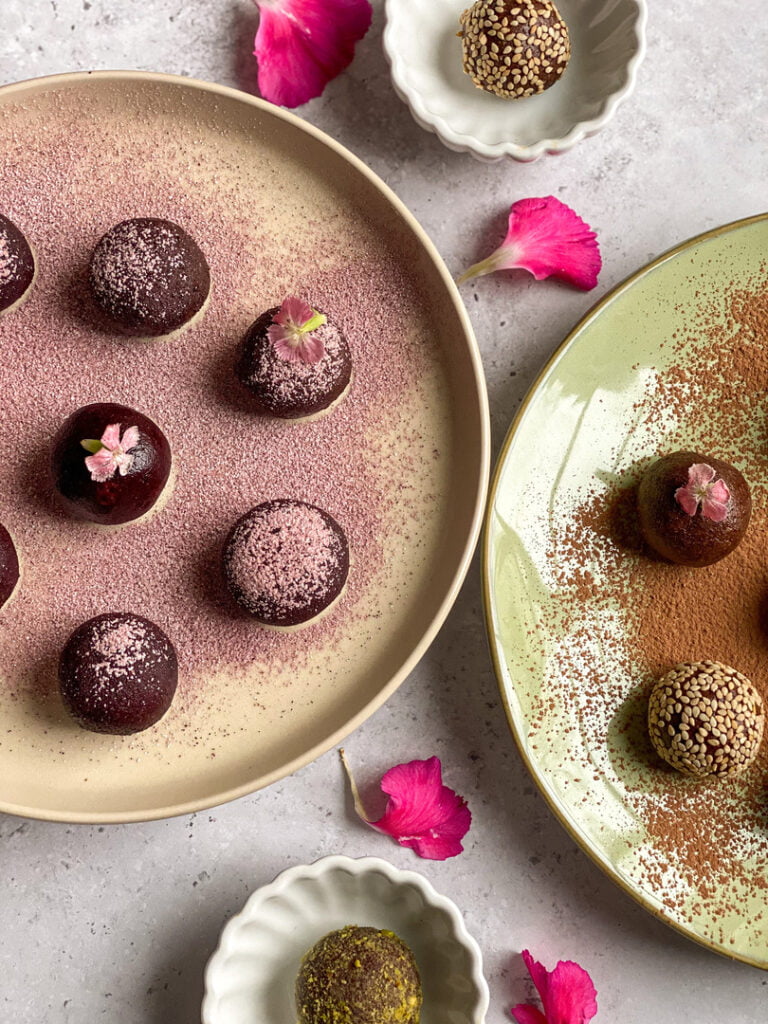 Bliss Balls. We love different versions of these mini energy bites. They easily convert into treats for kids and grown-ups alike, especially when you're trying to cut down on refined sugar and processed foods.

These bliss balls, in particular, have some of my favourite ingredients, Tahini, cardamom and pistachio to name a few. I have used dates here as a sweetener that get mixed along with the tahini, pistachio, oats, and cocoa in a food processor or you can simply use some maple/date syrup.
Make sure that the dates you use here are not old and hard. Do try and use some good quality and soft dates for these bliss balls.

If you do not have tahini, you may even substitute it with another nut butter of your choice and create some delicious mini treats.
Tahini is made by grinding sesame seeds into a smooth paste. Sesame seeds are high in healthy fats and have a scant amount of sugar. We all know that they're really good in the winter season and help in lowering cholesterol.
The unsweetened cocoa powder here is completely optional. A good quality cocoa powder is known for its antioxidants and chocolate is always a mood uplifter.

Bliss balls typically only take 10 minutes to prepare whatever may be the main ingredients. This makes them all the more perfect for those busy days when you need a mid-day pick me up.
These bliss balls are perfect as a holiday gift and they make a guilt-free dessert post an indulgent dinner when entertaining.
Do give these a try and let me know how you liked them. Make them for your loved ones and your friends around this Valentine's Day!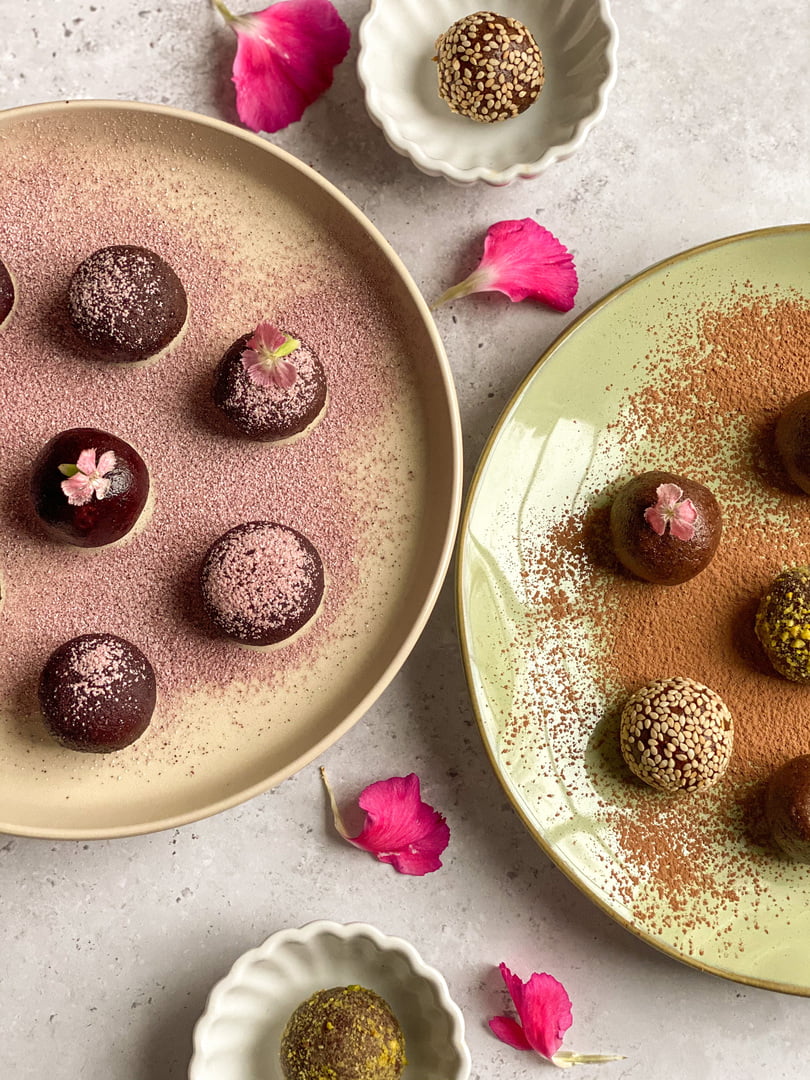 Pistachio and Tahini Bliss Balls
Pistachio and Tahini Bliss Balls. Indulgent and very healthy bite sized treats for your loved ones.
Ingredients
2

cups

Toasted Oat Flour

¼

cup

Unsweetened Cocoa Powder

1

tsp

Green Cardamom Powder

¾

cup

Tahini

¼

tsp

Sea Salt

½

cup

Ground Pistachios

¾

cup

Pitted Dates
Instructions
In a pan, toast 1 cup oats on low flame until lightly toasted, for about 5 minutes.

Cool and grind to a powder.

In a food processor, add the dates along with the oat flour, ground pisatchio, tahini and all the other ingredients. Pulse till it all comes together into a dough.

Open and scrape the sides of the food processor using a soft spatula. Pulse one more time.

Remove the dough into a mixing bowl.

Shape into equal, bite-sized bliss balls and coat them with your desired toppings.

You may choose from toasted sesame seeds, coconut powder, cocoa powder, gorund pistachios or even beet powder.

Store them in the refrigerator in an airtight container and consume within 5-7 days.