Sambar with pumpkin and drumsticks. A delicious vegetarian, lentil-based stew from Southern India. It is nourishing and extremely wholesome.
A quintessential stew made using vegetables and yellow lentils from the South of India. It has the goodness of seasonal vegetables and dal which are synonymous with Indian cuisine.
I watched a series on TV recently where I learned that the mention of sambar in literature can be dated way back to the 17th century. Sambar surprisingly originated in the kitchens of Thanjavur Maratha ruler Shahuji all the way back then.

A well-made and fresh sambar powder is the key to a good sambar. I grew up in New Delhi which is the North of India. Despite that, South Indian cuisine was much loved at home by our family of four. Mom made fresh idli-dosa batter almost every month. We looked forward to the weekend because it used to be a feast for us. I have memories of her grinding her own sambar powder in a huge stone mortar and pestle. I can still go back to those days and almost recreate her hustling kitchen scenes in my mind. The highlight of the meal for us was the fresh coconut chutney always; I will make a note to share that recipe separately. Indian stores outside India will usually carry sambar powder of various brands; make sure you check the ingredients and pick a good one.

Apart from enjoying sambar at home, our favorite restaurant in Delhi was and still is, Sagar. We used to visit their flagship store in New Delhi and absolutely love the place. That is one of the busiest restaurants all year round with no compromise of flavor and hygiene. I remember mom and dad ordering second and third helpings of sambar along with our idlis dosas.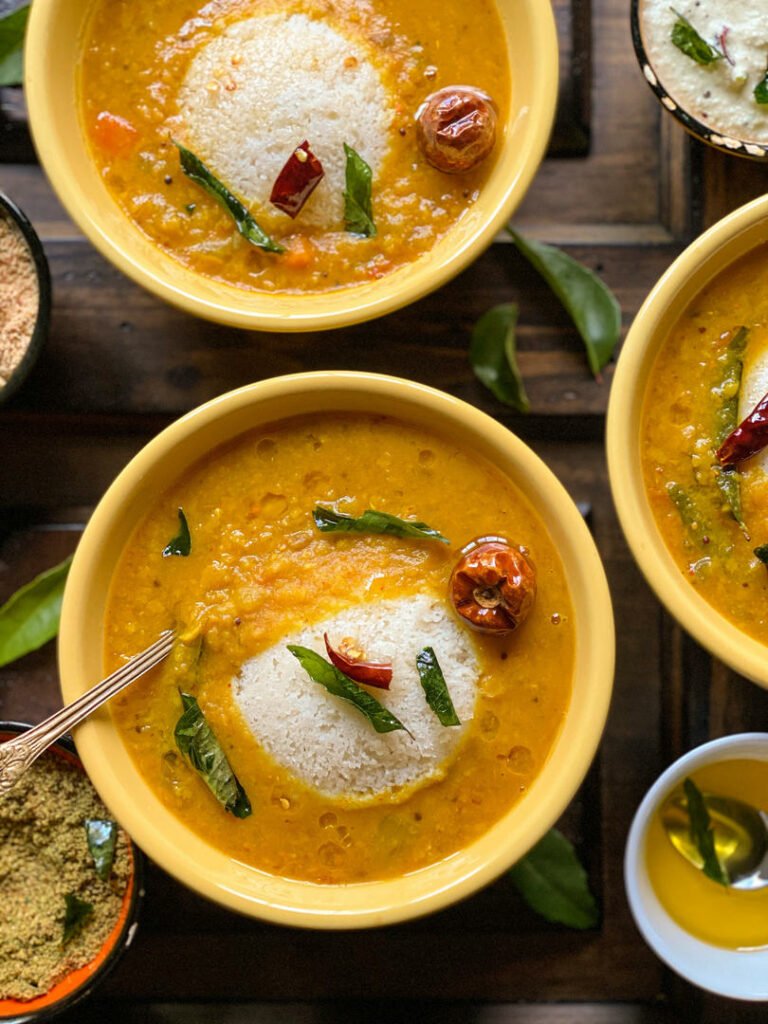 Although a variety of vegetables can be used here, my favorite is a combination of seasonal pumpkin and drumsticks; pumpkin for that fruity sweetness to balance the sourness from the tamarind. Mom would use vegetables by the season; I would love it when she used okra and eggplant while making sambar.

Usually, I boil the lentils along with the vegetables followed by the addition of sambar powder and other spices, tamarind extract, and jaggery. A tempering in oil/ ghee of mustard seeds, cumin, curry leaves, and dried, broken chili completes the procedure. You may also choose to boil the dal and vegetables separately, and mix thereafter. Most of the recipes do not use onion and garlic; I however like to add some sliced onions purely for the sake of flavor.
Sambar is usually served with steamed rice as one of the main courses of everyday south Indian cuisine. A two-course meal of sambar mixed with rice and eaten with a side of vegetables, followed by yogurt mixed with rice, is a southern Indian staple.
Vada and idli with sambar are popular breakfast and snack items; it is also served alongside dosas and uttapams.

Hope you do get to try this delicious regional recipe and love it as much as we do. Don't forget to leave your valuable feedback!
Sambar
Pumpkin and Drumstick Sambar. A delicious vegetarian, lentil based stew from Southern India. Nourishing and extremely wholesome.
Ingredients
¾

cup

Pigeon Pea Lentils

(arhar/ toor dal)

4-5

cups

Water

1

cup

Pumpkin

cut into cubes

2

Drumsticks

cut into 2 inch long pieces

2

tbsp

Sambar Powder

1

Red Onion

finely sliced

½

tsp

Red Chili Powder

optional

½

tsp

Turmeric Powder

½

tsp

Tamarind Paste or a small knob of Tamarind soaked in ¼ cup warm water

1-2

tbsp

Jaggery Powder or grated jaggery

2-3

Whole Red Chillies

roughly broken

¼

tsp

Cumin Seeds

¼

tsp

Mustard Seeds

⅛

tsp

Fenugreek Seeds

8-10

Fresh Curry Leaves

2-3

tbsp

Oil

1

tbsp

Ghee

Salt

to taste
Instructions
Wash the lentils well under running water and transfer them into a pressure cooker along with 4 cups of water, turmeric, and salt.

Keep aside and let soak for about 30 minutes.

Add the chopped vegetable into the pressure cooker, close the lid, and pressure cook for 2 whistles. Switch off and let the pressure release naturally. Once done, gently mash the dal/ lentils only with the back of a spatula

If you have soaked the knob of tamarind, mash it slightly and strain the tamarind pulp/ juice and keep it aside in a bowl.

Take a small pan and heat oil. Add the cumin, mustard seeds and asafetida. Once they splutter, add the fenugreek seeds and sliced onions and let them cook until light brown.

Add the broken red chilies and curry leaves followed by red chili powder (optional) and let this mixture cook for another minute on low flame.

Place the pressure cooker back on the flame and let the lentils simmer. Add the sambar powder and jaggery, and mix well.

Feel free to add 1/2-1 cup water if the lentils have thickened.

Let this mixture simmer on low to medium flame after which add the tamarind extract as per the desired flavor. Mix well and continue to simmer for another approximately 10 minutes.

Adjust the seasoning and switch off the flame. Add a tbsp ghee before serving hot with steamed rice/ idlis/ dosas or deep-fried vadas!