Sabut Moong Dal. Whole Green Lentils. A delicious green lentil recipe that is wholesome and very nutritious.
Dal. Lentils. The lifeline of Indian cooking. Be it North, South, East, or West India, lentils are integral to Indian cuisine. We love our lentils. I love my dal. Always have. Mom has never stuck to one or two varieties; she would always rotate different varieties of dals whenever she cooked. As a result, we grew up loving them all!
Green moong lentils, popularly known as sabut hari moong dal are one of the very nutritious dal(s) in our cuisine. Sabut moong is very underrated and yet so very delicious. It is protein-packed and hence very filling. I love the texture and bite here whenever I cook this dal.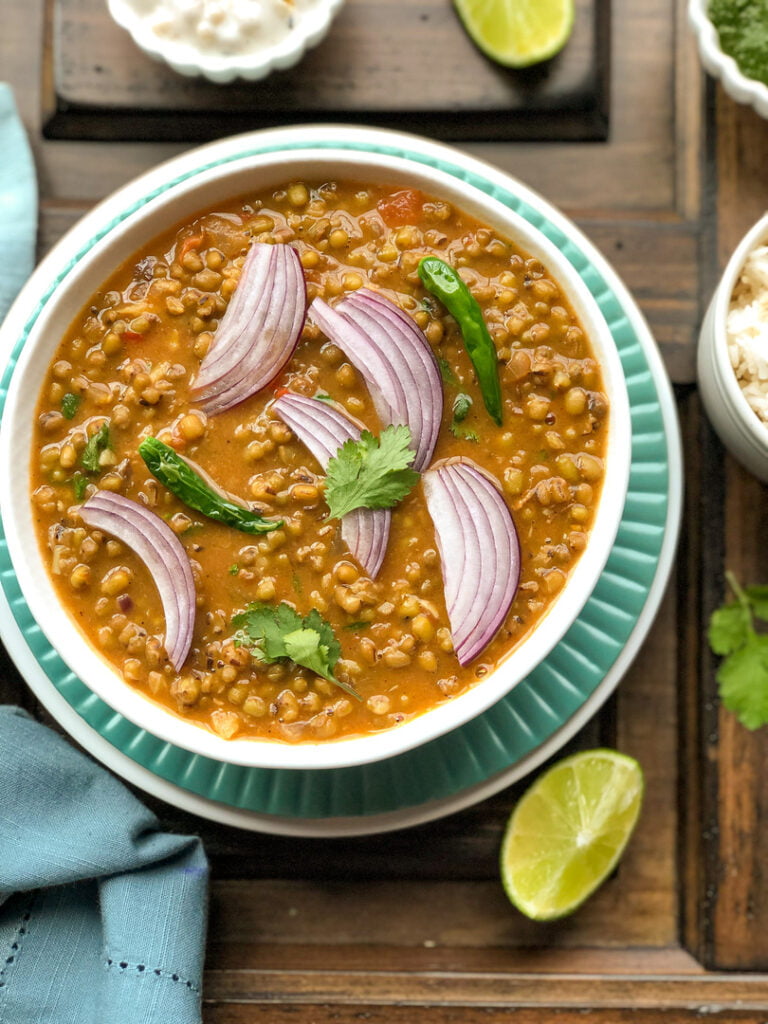 Sabut moong makes excellent dal when cooked; it is also excellent for sprouting and for making savory crepes/ dosas called Pesarattu. Pesarattu is a common lentil crepe in South India that is delicious and a very convenient meal option, especially at breakfast.
Cooking this dal is very straightforward. I decided to document this only because we usually tend to ignore this lentil in our routine cooking. Daily cooking usually involved yellow dals like arhar/ toor/ split yellow moong. Most of the times, if you make this dal at lunch, you can easily skip a vegetable on the side and have a kachumber salad instead.
I usually like to soak my lentils for an hour or two before boiling them in the pressure cooker. In this dal for extra flavor, I add some smashed ginger and garlic along with salt in the pressure cooker. I like to cook this dal until it is well done, but yet firm so that it doesnt lose its shape. Once cooked, I temper/ make a tadka in ghee with the usual onion, tomatoes, more ginger, garlic and chilies and try to avoid many extra dry masalas. I also add minimum haldi/ turmeric so as to maintain the green color of the dal.
Once ready to serve, do not forget to add a generous amount of fresh cilantro or coriander leaves and a squeeze of fresh lime juice for that extra flavor. Ghee of course makes everything so good and therefore it is mandatory here as well.
This particular sabut moong dal recipe is one of our favorites and it is so good on its own. Some days I like to enjoy it without any bread/ rice and it is delicious with a side of plain yogurt.
Hope you try this recipe soon. It is best when served with ghee-smeared rotis and even with some dahi and rice. It is a perfect combination of flavor and nutrition.
Sabut Moong Dal – Whole Green Lentils
Sabut Moong Dal. Whole Green Lentils. A delicious green lentil recipe that is wholesome and very nutritious.
Ingredients
1

cup

Green Moong Dal

Sabut Hari Moong dal

1

Finely chopped red onion

4

Garlic cloves

2

1 inch ginger pieces

2-3

Green chilies

2

Finely chopped red tomatoes

¼

cup

Finely chopped coriander leaves

1

tsp

Cumin seeds

¼

tsp

Turmeric powder

½

tsp

Kashmiri Red Chili powder

¼

tsp

Garam masala powder

1

tbsp

Lime juice

Salt

to taste

3

tbsp

Ghee
Instructions
Wash the green moong dal well under running water. Soak in about 4 to 5 cups water for a minimum of 1 hour.

After an hour, drain away the water and reuse the water for your plants.

Add the dal in a pressure cooker and add about 3 to 4 cups water along with salt to taste, 2 smashed garlic cloves and a small piece of smashed ginger.

Cover the lid, and pressure cook on medium flame for about 15 minutes until the lentils have cooked well and yet arent too mushy or soft.

In the meantime, make a coarse paste of 2 garlic cloves, ginger and green chilies either on a mortar pestle or a grinder. Keep it aside.

In a separate pan, heat 2 tablespoon of ghee. Add a pinch of heeng/ asaftedia followed by cumin seeds and let them splutter.

Add the wet paste of garlic, ginger and green chilies to this and saute for about 2-3 minites. Now add the onions and let them cook well until light golden brown.

Add the tomatoes along with turmeric and red chili powders. Cook the tomatoes until they soft and the ghee starts to separate.

Once the tomatoes have cooked, switch off the flame and transfer this tadka/ tempering mix into the pressure cooked dal. Simmer the dal on low flame for about 5 minutes. Be careful to break/ mash the lentils while the flame is on.

Add 1 tablespoon ghee and 1 teaspoon garam masala, mix and switch off the flame.

Serve hot with ghee rotis/ rice after a garnish of coriander leaves and some lime juice.