Seviyan kheer is a popular milk-based pudding made using thin vermicelli, milk, and sugar. It is a popular dessert made on Eid.
Seviyan is quintessential for Eid. Delicate thin vermicelli ghee roasted till golden brown and then simmered in cardamom-scented whole milk and sweetened thereafter.
Eid and meethi (sweet) seviyan are nostalgic about growing up in Delhi. I have very fond memories of visiting my father's very good friend's home on Eid. We looked forward to the delicious kebabs and those very delicate and well-made kheer. There was always a lot of good food to be enjoyed that day.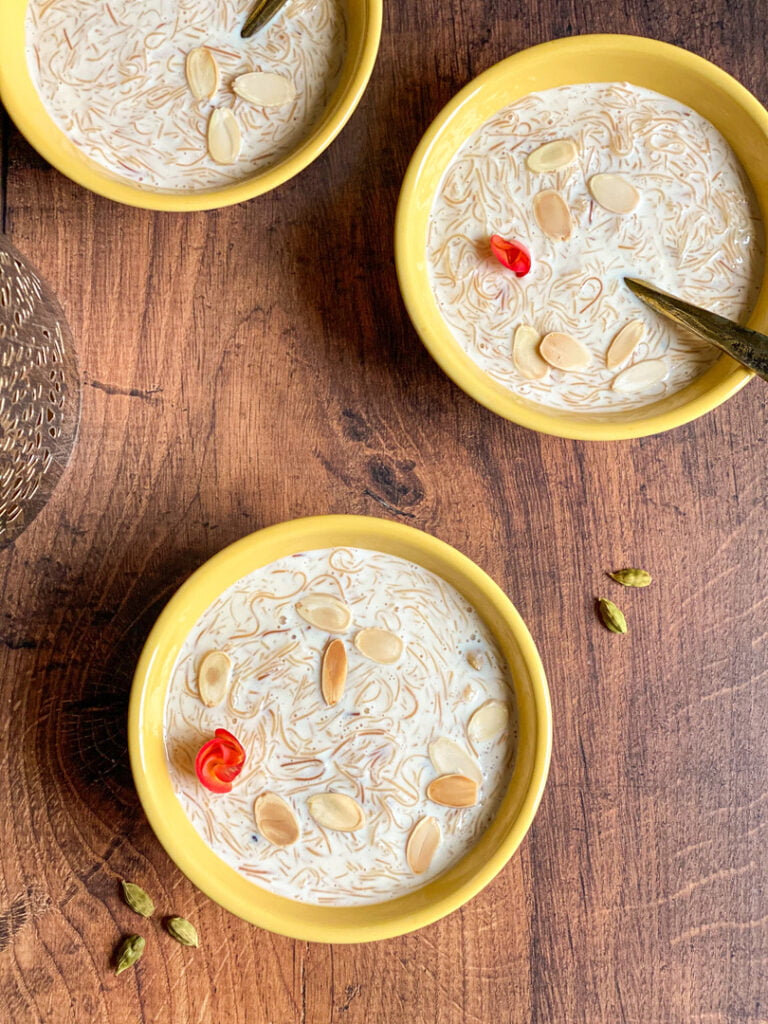 After Delhi, we enjoyed Eid with our very dear friends in Singapore as well. It was a warm day full of love, celebration and good food of course !
There are two kinds of seviyan preparations that are made in a house celebrating Eid, either Sheer Khurma and/ or the delicious Kimami Seviyan. The former is the most common preparation on Eid to which dates and other dried fruit are added. The latter, more popular in Lucknow, Banaras, and other parts of the erstwhile Awadh, is a more elaborate preparation that is dry and loaded with ghee. My version here is lighter and not very heavily flavored.
I like to use thin and long vermicelli for making this dish. Usually, I break them mid-way and roast them lightly till golden brown in 2-3 tablespoon of ghee for that nutty flavor. Thereafter I boil the whole milk along with some green cardamom for that flavor. I do not like to reduce the milk much; only simmer and cook the vermicelli while the milk boils. Once cooked, I add sugar and sliced almonds before serving.
Hope you try and make this delicious creamy dessert and love it as much as we do.
Seviyan
Seviyan kheer is a popular milk-based pudding made using thin vermicelli, milk, and sugar. It is a popular dessert made on Eid.
Ingredients
¾

cup

Seviyan

Thin Vermicelli

5

cups

Whole Milk

you may use low fat milk as well

2

tbsp

Ghee

⅓

cup

Sugar

4

Green Cardamoms

¼

cup

Blanched and sliced almonds
Instructions
Heat ghee in a pan and add the vermicelli/ seviyan. I like to use the thin, long vermicelli and break them lengthwise in half.

Saute the seviyan gently in ghee over low heat so that they turn fragnant and light golden brown. They should not burn and neither should they break/ crumble. Remove and keep aside.

Take a heavy bottomed pan and add the milk. Heat the milk and let it simmer. Add the whole green cardamom while the milk simmers.

Add the fried vermicelli to the milk and keep simmering. The milk will slowly reduce and thicken as it simmers and the vermicelli will cook as well.

Mix in the sliced almonds and add the sugar. Mix everything well and cook this for another 5 to 7 minutes.

Adjust the consistency of the seviyan kheer to your personal preference. Feel free to add some more milk if you do not like it very thick.

Remove from heat and serve warm/ chilled. Garnish with some more dried fruit of your choice.