Smashed Podi Potatoes. A deliciously healthy Indian spin on smashed potatoes using podi or a delicious lentil and spice mix. It is a fun and flavorful side.
Smashed potatoes are a popular potato side in America. I discovered these a couple of years ago while browsing Instagram. They almost taste like fried potatoes. My family and I fell in love with smashed potatoes ever since and therefore I love trying out new flavor mixes here. A basic salt and pepper version tastes as good as a detailed spice mix with a drizzle of a nice, flavorful chutney or dip.
Almost everyone likes potatoes, irrespective of the country or region. French fries bind people across the world. Potato wedges, mashed potatoes, potato stir-fries, or be it potato parathas in India; everyone loves potatoes.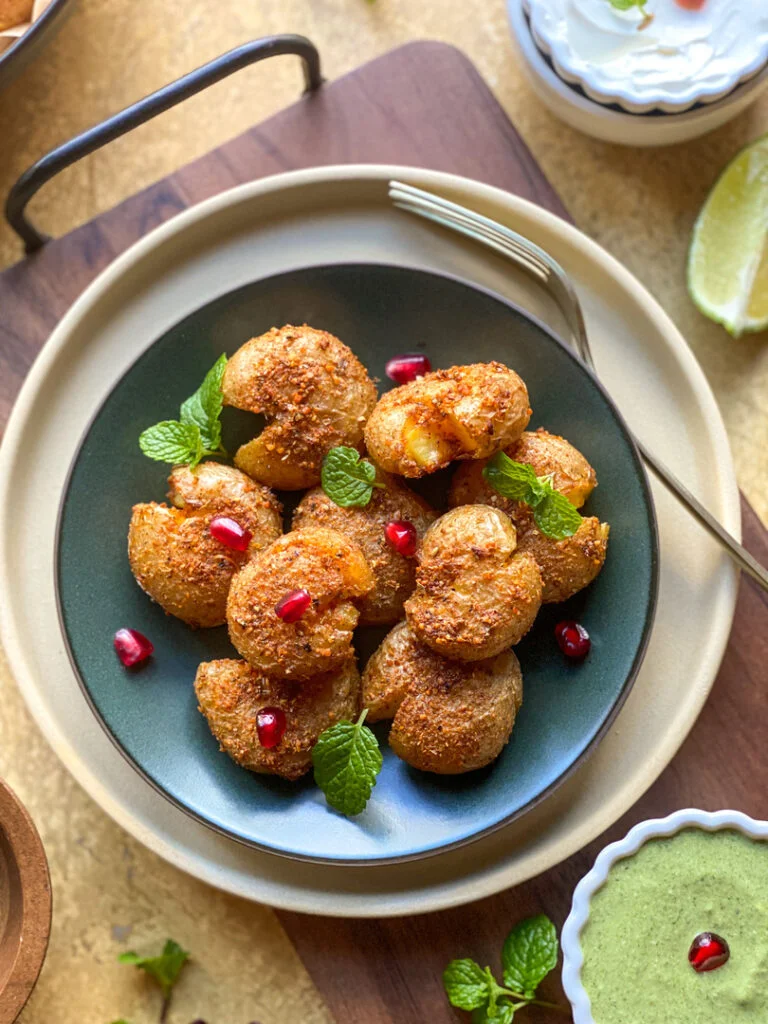 There are many times I give an Indian twist to smashed potatoes and create my own spice mix. After they roast well, the potatoes and the crispy bits, in particular, are so close to aloo chaat or a samosa for that matter. When paired with a nice green chutney, the combination is absolutely amazing.
The version I have shared here today uses Podi or more commonly known as Idli Podi. It is a coarse spice mix, originating from the Indian subcontinent, with a mixture of ground dry spices that typically contains dried chilis, a lentil, chickpeas, salt, and sesame seeds. The spice mix is commonly referred to as "gunpowder" or chutney powder. The most common pairing of podi is with ghee and idli, dosa or even hot rice for that matter. It is very nutritious and I have over time been making my own podi at home. There are endless versions of podi, and each family has their own recipe. I am in particular very fond of curry leaf podi for its amazing nutrition factor and flavor as well.
It is very easy to make your own podi powder at home, but it is easily available at the store as well. The podi powder pairs so well with potatoes, and if you follow the simple recipe below, I assure you that you will love this potato dish as well.
I hope you do attempt this version of smashed potatoes at your next gathering. It is perfect for the holiday season, and even if you are entertaining over the weekend. The girls loved this version so it is definitely kid-approved. Don't forget to tell us how you liked the smashed podi potatoes.
Smashed Podi Potatoes
Smashed Podi Potatoes. A deliciously healthy Indian spin on smashed potatoes using podi or a delicious lentil and spice mix. It is a fun and flavorful side.
Ingredients
15

Baby Potatoes

3

tbsp

Oil of your choice – I used avocado oil

2.5

tbsp

Podi Powder

1

tsp

Chat Masala

1

tsp

Freshly crushed black pepper

Salt

to taste

Juice of 1 lime

½

cup

Chopped coriander leaves
Instructions
Wash the potatoes in fresh water and boil them in a pot of water for about 15 minutes until they are about 90% cooked. Do make sure that they are not too soft and hold their shape well.

Once they are cooked, remove from the flame and drain away the water. Keep the potatoes on a kitchen towel lined plate. 

Separately in a bowl mix the oil and the podi powder well along with half a teaspoon of salt. Keep aside.

Line a baking sheet with parchment paper and preheat the oven to 400F  

Arrange the cooled potatoes on to the baking tray. With the back of a measuring cup or a flat bottom bowl, gently smash the potatoes but not all the way so much so that the shape still holds.

Brush all the potatoes one by one with the oil and spice mix very well on all the sides. We want the potatoes to be very flavorful once they roast. 

Coarsely crush and sprinkle the black pepper along with some salt uniformly on all the potatoes.

Bake the potatoes for about 25 to 30 minutes at 400F until you see that they have roasted well.

Remove from the oven and transfer to a serving dish. Squeeze some lime juice and garnish with the coriander leaves. A dash of chat masala here does wonders.

Serve the smashed podi potatoes as such or with a chutney / dip of your choice.