Sumac Roasted Potatoes. A deliciously crispy roast potato dish with the dominant flavour of Sumac, a popular Middle Eastern spice.
We have recently discovered Sumac and seriously, what a beautiful explosion of flavors.

Roast Potatoes are loved globally. We all have our unique ways to roast potatoes be it with the simple salt and pepper. I love roasting potatoes for my family in several ways. There are times I love creating a rich spice mix for our roast potato dish. Potatoes are filling and pretty good carbs when not deep-fried!

Sumac is a spice that comes from the fruit of a bush that is native or local to the Middle East. The fruits of Rhus coriaria are ground into a deep red powder that is used as a spice in Middle Eastern cuisine. It adds a tart, fruity almost lemony flavour to salads, vegetables or meat. It is also used as a garnish on the very popular hummus and it can also be added to falafel.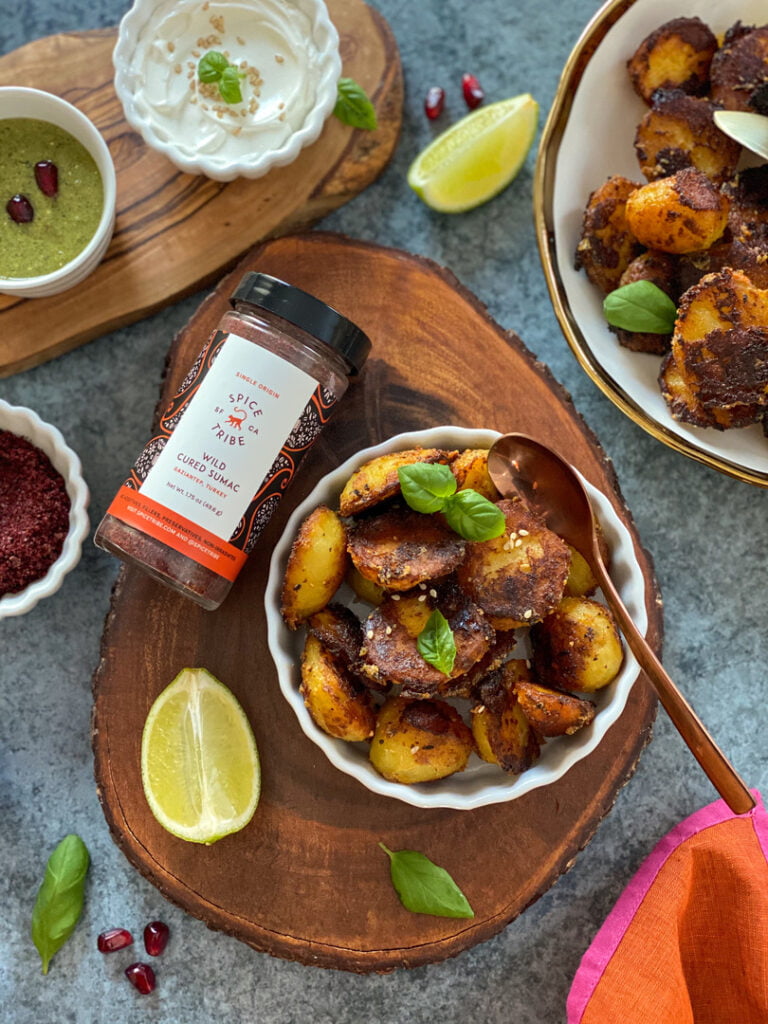 I have also read that in North America, sumac is also used to make a beverage called sumac-ade or rhus juice.
In addition to the culinary delights, this spice also boasts of certain antiseptic qualities hence making it so special.
Coming back to our dish, I have used Spice Tribe Wild Cured Sumac as the main ingredient here in the marinade for the baby potatoes. I decided to make a marinade that is similar to the way I would make the famous, Tandoori Paneer Tikka. The marinade ensures moist and very flavorful potatoes even after they have been cooked and roasted well.

These roast potatoes come together in absolutely no time. You just need to partially boil the potatoes, marinate them for not more than 1-2 hours and pan roast them till they are well done.

The key to good potatoes lies in a good marinade and roasting them at the right temperature thereafter. I prefer to marinate for about an hour in the refrigerator and take them out at least 15-20 minutes I would toss them in a hot cast iron pan.
The end result is a lip-smacking main/ side dish and some of the crispiest potatoes you would have ever had.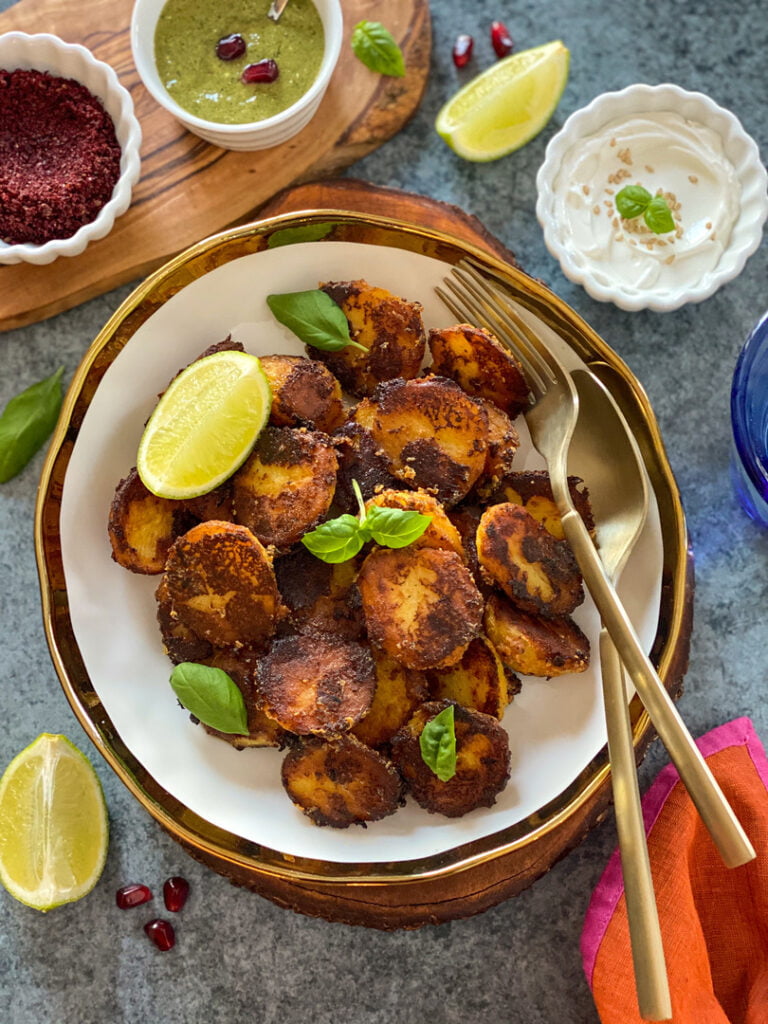 The Sumac Roasted Potatoes serve as excellent snacks in the evening, or as a side at your dinner table.

Do give them a try and I am sure you will love these. Don't forget to share your pictures with me on Instagram!
Sumac Roasted Potatoes
Sumac Roasted Potatoes. A deliciously crispy roast potato dish with the dominant flavour of Sumac, a very popular Middle Eastern spice.
Ingredients
1.5

lb

Baby Potatoes

2

tbsp

Chickpea Flour

optional, but recommended

½

cup

Greek Yogurt

3

tbsp

Spice Tribe Wild Cured Sumac

1.5

tbsp

Ginger Garlic Paste

1

tsp

Chilli Powder or Paprika

½

tsp

Black Pepper

freshly ground

2-3

tbsp

Oil

of your choice

1/2

cup

Chopped Coriander Leaves

1

tbsp

Lime Juice

Salt

to taste
Instructions
Roast the chickpea flour for about 5 minutes until it turns fragrant and nutty; do not brown. 

Wash the baby potatoes and add them in boiling water. Cook until 50% done, drain and keep aside. Peel and halve them. You may choose to keep the peel on as well.

In a mixing bowl, add the yogurt, cooled chickpea flour, sumac, ginger garlic paste, chilli powder, black pepper and 1 tbsp oil.

Cover and marinate in the refrigerator for about 1 to 2 hours.

Remove 15 minutes before you are ready to cook the potatoes.

Heat a heavy-bottomed pan. I like to use a cast iron wok. Add 1-2 tbsp oil followed by the marinated potatoes.

Toss them around and let cook on a medium flame for about 15 minutes. Keep turning every now and then so that they get roasted evenly.

Once the potatoes have a good sear on all side, remove from the flame.

Transfer to a serving plate and serve hot immediately after garnishing with coriander leaves and a drizzle of some lime juice.