Thandai Mawa Cake. A delicious cake with the goodness of mawa and thandai. Served along with a creamy rabdi. A perfect treat for Holi.
We all are well aware of the Mawa Cake. It is a Parsi/ Irani specialty and very commonly made in the Mumbai-Pune area. I decided to combine the delicious flavors of thandai with the decadence of the mawa cake and create this perfect twist for Holi. After a couple of trials, I got the perfect texture and flavor combination.
Thandai is a refreshing drink that is synonymous with Holi in India. Holi. The ancient Indian festival of colors. The festival of love and the onset of spring. It lasts for a night and a day, starting on the evening of the Purnima (Full Moon day) falling in the Hindu calendar month of Phalguna. The first evening is known as Holika Dahan (burning of demon Holika) and the following day as Holi or Rang wali Holi.

After a morning of playing with colors and wishing family and friends, people celebrate with food. The most commonly made in most families are gujiya, mathri, malpuas and other traditional delicacies. I have fond memories of Mom making all this and more on Holi.

Thandai is essentially a drink that is popular on Holi. The thandai powder is made by grinding poppy seeds with almonds, cashews, pistachios, black peppercorns, green cardamom, rose petals and some melon seeds.
It is a refreshing drink that is enjoyed by so many on this festive day once spring arrives. I like to make my own thandai powder at home. It is usually available as a premix in the stores, But in my honest opinion, a homemade version is of course cleaner and preservative-free. I have mentioned the easiest recipe in the notes below. Do give it a try and I am sure you will love it.
If you have any nut allergies, make sure you take note of that and exclude that when grinding. I love adding the thandai powder in my kheer, rabdi, and this mawa cake. It almost reminds me of the chilled thandai milk and the milk-based sweets at our favorite sweet shops in India. Did you also know that apart from being delicious, thandai is healthy too? Thandai provides energy, immunity and has a cooling effect on the body.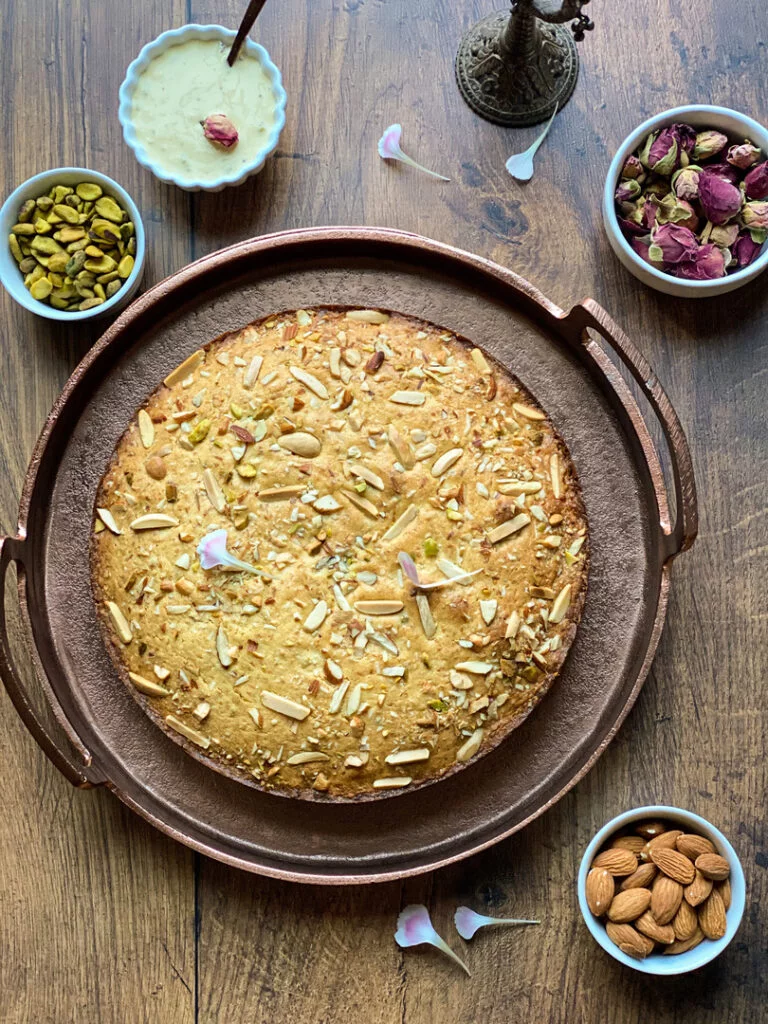 Holi is one of my favorite festivals and I have all the memories of my childhood. We used to celebrate with friends around our neighborhood, splash colors on each other, play outdoors on a warm, sunny afternoon, and enjoy all the good food after.

We love milk-based sweets at home here and the mawa cake is nostalgic of neighborhood bakeries in India. Mawa cakes are dense and made with all things wonderful. I have used store-bought mawa/ khoya here and mixed in some thandai powder. You may also make your own khoya at home if you have time and prior experience. You must ensure that the khoya you buy is of good quality and not very old. I also added some chopped almonds and cashews to make this a perfect dessert for Holi. Cardamom and saffron are some of my favorite flavors, and I always love adding extra of these two.

The recipe is very straightforward and bakes in just over half an hour. I usually cream the butter, sugar, mawa and eggs and then gently fold in the dry ingredients and the nuts. You must ensure that you do not overmix the batter and add the right amount of milk for that moistness. Because overmixing causes the cake to harden while it bakes. Once done, I would advise to let it cool within the pan and thereafter on a wire rack and slice only when completely cooled.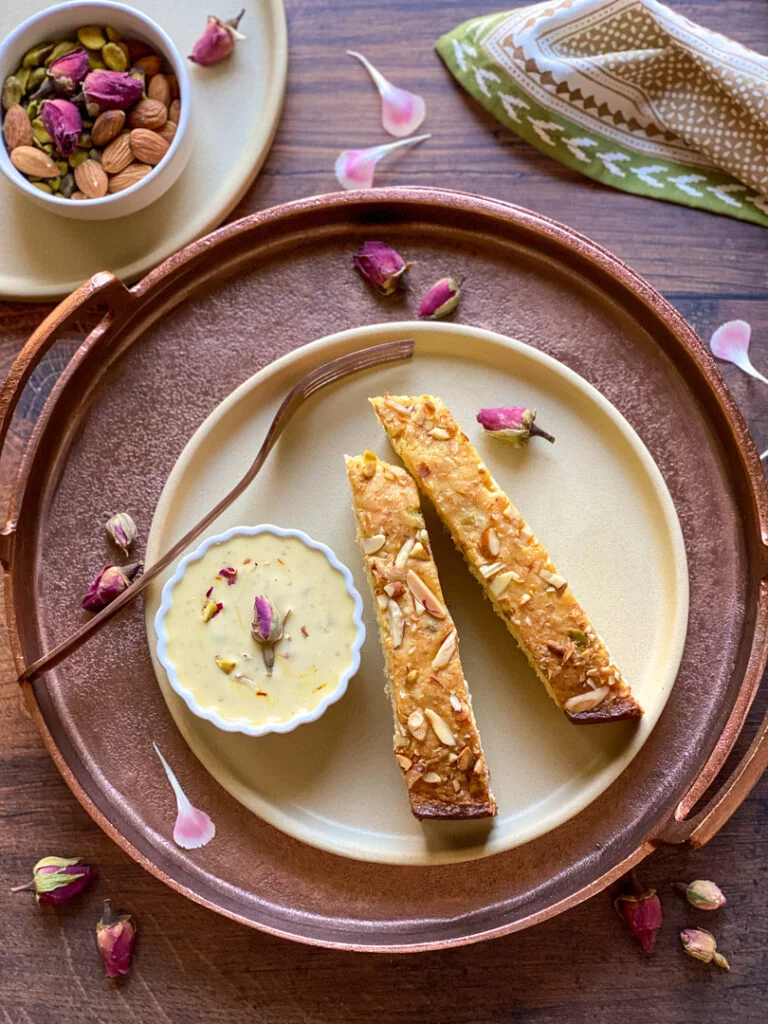 To make it even more indulgent, I decided to serve the mawa cake slice with a side of homemade rabdi which is sweetened and thickened, slow-cooked milk that is so rich and delicious. I slow cook whole milk or full-fat milk in a heavy-bottomed pan for about 1.5-2 hours until it reduces to nearly one-third and collect all the cream that forms along the process. The combination is truly decadent and you're left wanting for more. I would suggest making extra because it is truly so rich and flavorful!
I love chilled rabdi. There is a quick recipe in the notes for your reference. My favorite combination is jalebi-rabdi and I remember weddings in India when I think of this delicacy. I would suggest slicing the mawa cake and serving the same with a drizzle of chilled rabdi and some roasted nuts on the side.

Hope you do try this combination and love it as much as we did!
Thandai Mawa Cake
Thandai Mawa Cake. A delicious cake with the goodness of mawa and thandai served along with a creamy rabdi. A perfect treat for Holi.
Ingredients
1¼

cup

All Purpose Flour

¾

cup

Granulated Sugar

1

cup

Grated Khoya

½

cup

Sweetened Condensed Milk

2

Large Eggs

½

cup

Unsalted Butter

1½

tbsp

Thandai Powder

8

Green Cardamom Pods

remove the seeds and grind on a mortar pestle

¼

cup

Warm Milk

plus 2 tbsp

¼

tsp

Salt

½

tsp

Baking Powder

¼

cup

Roughly sliced Toasted Almonds

¼

cup

Roughly sliced Toasted Cashewnuts

¼

tsp

Saffron

soaked in 2 tbsp warm milk
Instructions
Ensure all the ingredients are at room temperature when you start.

Preheat the oven to 350F/ 180C. Take a baking pan (I used a 9-inch round pan) and grease it all over including the sides. I line the bottom with parchment paper as well.

In a bowl, sieve together the flour, baking powder and salt. Mix in the cardamom powder and the thandai powder.

Take a large mixing bowl and add the butter and sugar. Beat this well using a hand mixer for about 2 minutes until creamy. Add in the grated khoya and condensed milk and whisk for another 2 minutes.

Add the eggs, one by one, and whisk until well incorporated.

Now add the dry flour mixture in two batches and whisk on medium speed again.

Add the milk and the soaked saffron milk mixture and beat well till everything gets mixed well. Make sure to not over-beat/mix.

If adding nuts, fold in the roughly chopped/ sliced nuts now using a spatula.

Pour the batter into the cake pan and make sure the top is evenly spread.

Optional – spread any extra nuts on top of the batter.

Bake the mawa cake in the oven for about 30-35 minutes until it is done or a toothoick when inserted in the center comes out clean.

When the cake has baked, remove from the oven and place the pan on a wire rack for 15 minutes. Gently unmould and let it cool completely on the wire rack before slicing.
Notes
Thandai Powder
To make the thandai powder, simply grind the below and store the powder in an airtight glass jar.
1/4 cup almonds, 1/4 cup cashew nuts, 1/4 cup pistachios, 2 tbsp fennel seeds, 1 tsp black peppercorns, 2 tbsp poppy seeds, 2 tbsp dried rose petals, 1/4 tsp saffron strands, 1 tbsp melon seeds, and seeds of around 8-10 green cardamom pods.
Rabdi
To make the rabdi, simmer about 1.5-liter whole milk in a wide, thick-bottomed pan, preferable a kadhai. Keep stirring gently every now and then, and collect the cream as it forms on the sides of the pan. Once the milk starts to reduce and reduces by half, add 3-4 tbsp sugar as per desired sweetness, ground cardamom, and a few strands of saffron soaked in 1/4 cup warm milk. Mix well and let the milk simmer. The cream will continue to form and collect slowly. The entire process may take around 1.5 to 2 hours so make sure you have a lot of time and patience at hand. You may choose to reduce the milk either to 1/3 or 1/4 of the original volume of milk. Once the milk has reduced, collect all the cream from the sides of the pan and mix it into the thickened milk. Add cardamom powder, saffron, and sliced dried fruit of your choice and serve the rabdi either warm or chilled